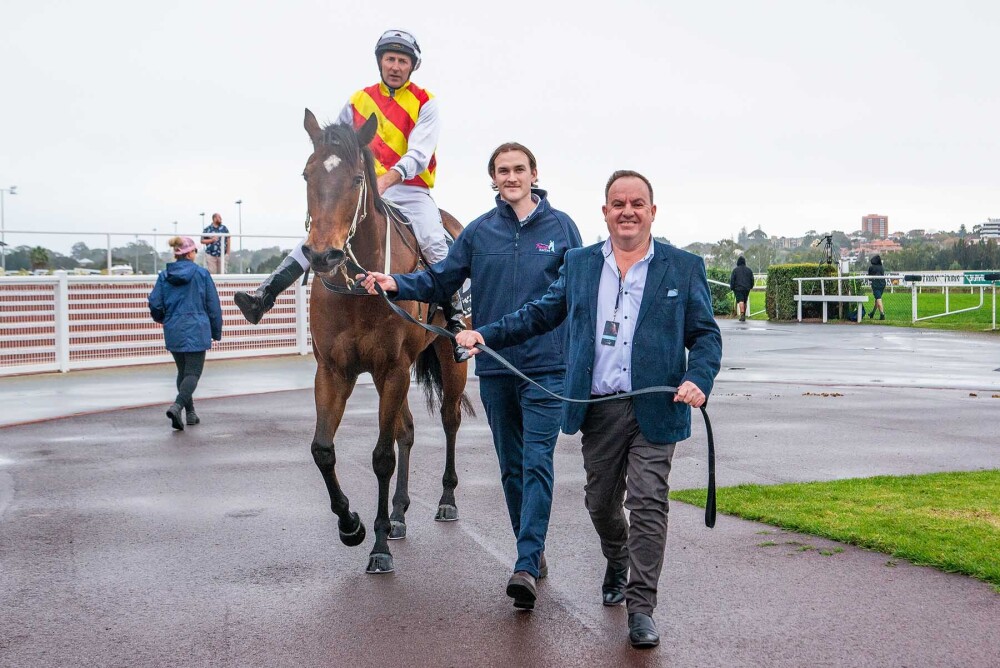 A – AUSSIE INVASION
It might be a stretch to declare two Australians playing key roles for the Philadelphia Eagles in week one of the NFL season an invasion, but it's certainly worth mentioning. Giant Sydneysider Jordan Mailata has been given the nod at left tackle, where his No.1 job is to protect the "blindside" of quarterback Jalen Hurts, making him the most important player on the offensive line. Mailata was joined on the Eagles' 53-man roster by former St Kilda forward Arryn Siposs, whose performances during the pre-season saw him earn the nod as the team's punter, continuing a strong Australian tradition at the position. 
B – BEAST MODE
At a time of the year when many former high-priced yearlings come to the fore, Behemoth gives hope to those without a bulging chequebook. A $6000 purchase from an Adelaide yearling sale in 2017, the apt-named gelding dwarfed his rivals to claim back-to-back Memsie Stakes (1400m) at Group 1 level last weekend. Behemoth was perfectly ridden by Brett Prebble and unlike we saw a fortnight earlier in Adelaide, there was no need for stewards to get involved to deliver him victory.
C – CAT-ASTROPHE
This is not Geelong's first rodeo. As they prepare for tonight's qualifying final against GWS at Optus Stadium, the Cats can take solace that their opening-week wipe-out in the post-season is nothing new. Importantly, they know how to rebound. We have seen it time and time again. Most expect Geelong to again be the best version of themselves in the cut-throat encounter and advance to another preliminary final. If they don't? Well, that's another matter entirely. This list is in need of regeneration and anything but a premiership will be deemed as disappointing.
D – DUMBO
I'm not sure if Elephant has a stable name. If he does, it could well be Dumbo. Those punters who backed him at his successful Australian debut were full of praise, not vitriol, after he scored at Caulfield and many will follow up again tomorrow when he runs in the Group 2 Feehan Stakes (1600m) at Moonee Valley. Unbeaten in five starts, Elephant has an inside draw and the services of Luke Currie as he attempts to win a golden ticket into the weight-for-age championship of Australasia, the $5 million Cox Plate (2040m), next month.
E – EYE TO THE FUTURE
Whilst on the topic of Moonee Valley, many of those who like to get involved in futures markets will be keenly awaiting the spring return of Argentia. The three-year-old filly, a daughter of superstar English stallion Frankel out of the former outstanding Kiwi mare Princess Coup, was seen just once as a two-year-old, winning at Flemington. She heads up TABtouch's Thousand Guineas market ahead of her return in the Listed Atlantic Jewel Stakes (1200m) and has that X-factor which will carry her a long way.
F – FADING STAR
Nick Krygios has been called a lot of things throughout his turbulent time on the ATP Tour. Until now, fading star hasn't been one of them. Sadly for the tempestuous Aussie, it is very much a reality. Kyrgios' reticence to commit 100 per cent to the grind required, coupled with his disdain for a coach who would work him hard, is conspiring to short-circuit a career that promised so much. His pathetic final set in a straight-sets spanking in the first round of the US Open earlier this week further highlighted how far he had fallen.
G – GREENE IN THE GILLS
Toby Greene is a bona fide star. He is also a recidivist. And unfortunately for GWS, Greene's inability to control his tempo has once again left his teammates pushing you know what uphill. From the moment Greene walked into field umpire Matt Stevic at three-quarter-time last weekend, we all understood what was to follow. He deserved to be suspended and could consider himself fortunate to only receive a three-week ban after being found guilty. It was little surprise the league appealed the sanction having initially asked for a six-match suspension.
H – HELLO HAKA
Cannot wait to see the rescheduled Bledisloe Cup clash between Australia and the All Blacks again showcase all that is good about Optus Stadium. The two countries have met previously at the venue, back in 2019, when the Wallabies stunned the rugby community with a 47-26 win before a massive crowd of 61,241. It would be a shock if the result was again in Australia's favour. Regardless, we will fortunately have an opportunity to witness one of the most spine-tingling pre-match rituals … the Haka. It is compulsory viewing.
I – IN THE HUNT
Cameron Smith's hopes of being crowned the FedExCup champion after this week's season-ending Tour Championship in Georgia remain alive after the opening round concluded this morning. The Australian carded a two-under-par 68 to be six shots adrift of Patrick Cantlay, who shot a 67 but had the benefit of a two-shot lead going in the first round as part of the PGA Tour's staggered-start system for the season finale. If Smith can shoot the lights out over the final three rounds and have a little slice of luck, he will walk away with $20 million. You read correctly … $20 million.
J – JUNGLE DRUMS
They were beating at Kembla Grange last weekend when In The Congo upstaged his more fancied (and expensive) rivals to claim the Group 3 San Domenico Stakes (1100m). The Snitzel colt showcased his undeniable speed to leave those in the camp of Golden Slipper winner Stay Inside scratching their heads and having to fend off questions about the so-called "Golden Slipper curse" that we referenced seven days ago.  
K – KORD IS CUT
The upheaval at Collingwood continues. Mark Korda, who succeeded Eddie McGuire as president of the Magpies, informed members last night that he intended to step down at the end of 2022. It means Collingwood will have three presidents within the space of two years. Whether Korda gets to the end of next year could well be influenced by the desire of  Jeff Browne to call an EGM in mid-December where he hopes to spill the board and ultimately become top dog at Collingwood.
L – LEADERSHIP 101
Good on Gillon McLachlan for expressing himself this week when questioned by reporters over the Toby Greene suspension. McLachlan could easily have said he felt the three-week penalty was too light, albeit not worth appealing because it ruled Greene out of the finals campaign. Instead, he questioned why the tribunal was so lenient and hinted very strongly that the league would appeal the decision. And that is exactly what the AFL did, with the hearing set to take place after the grand final. As the CEO of the league, McLachlan runs the game and, at times, needs to protect it from itself. He did both. Good on him.
M – MACCA'S MOMENT
It's hard to find a person with a keen interest in Australian Rules that didn't like the appointment of Craig Macrae as Collingwood coach. A triple premiership forward with Brisbane, Macrae has served a wonderful apprenticeship as a development and assistant coach at Brisbane, Richmond, Collingwood and Hawthorn, where he spent this year alongside Alastair Clarkson. He isn't the headline-grabbing appointment we normally associate with the Magpies. But given where the club is at in terms of a list profile, he is the perfect successor to Nathan Buckley and Robert Harvey.
N – NO-BRAINER
For some time, the AFL had been working feverishly with the WA Government to stage this year's grand final at Optus Stadium. Once it became official this week that the $1.6 billion stadium would play host to the biggest sporting event we see in Australia annually because of the lockdown over east, there was an immense sense of pride at being West Australian. And that is in no way having a crack at Victorians, who sadly miss the opportunity to witness the grand final at the MCG for a second straight year.  
O – OFF TO ADELAIDE
That is the prize for either Brisbane or the Western Bulldogs following tomorrow night's semi-final at the Gabba. The Lions flew out of the City of Churches last Sunday morning after being exposed by Melbourne and would dearly love to redeem themselves at Adelaide Oval against Port Adelaide in a preliminary final. As for the Bulldogs, the ground holds no fears. They took down Port there during the home-and-away campaign and would think they have the necessary midfield power to switch off the Power if they can prevail this weekend.
P – PROCESS DRIVEN
From headhunting to running a process, highlighted by a coaching subcommittee. Welcome to the rollercoaster ride designed to land Carlton's next coach. Where that ride stops is anybody's guess. What we do know is that Ross Lyon didn't want to go on that ride. Instead, an aggrieved Lyon rang Blues president Luke Sayers yesterday, ruling himself out of the race because he wasn't interested in being part of the process. Ross felt he was better than that and his "personal capital" spoke for itself. Clearly not, Ross. That might say more about you than Carlton right now. And that is saying something.
Q – QUICK WORK
Ash Barty remains on track to lift the US Open trophy for the first time in a career that is developing scary momentum. Having entered Flushing Meadows with five titles for the season, Barty hasn't dropped a set in her opening two rounds to advance to the third round. The Queenslander needed 92 minutes overnight to beat young Dane 6-1 7-5, delivering 11 aces in the process
R – RARE AIR
The Socceroos are off Broadway at the moment as they embark on qualification for next year's World Cup. It matters little. Overnight, Graham Arnold's men blitzed China 3-0 to open the final stages of qualification in style. Goals to Awer Mabil, Martin Boyle and Mitchel Duke helped the Socceroos extend their winning streak to nine matches for just the second time in their 99-year history.
S – SEEING RED
Iseered Iseered has had just nine starts to date. Start 10 will come tomorrow in the Jolly Beggar Stakes (1000m) at Belmont Park. It is a steep class rise on his most recent outing, a 66+ 1000m event which he won impressively first-up off no trial. He runs headlong into some gnarly, old sprinters tomorrow, but possesses genuine upside and is destined to run in better races than the $100,000 feature. Can he win? Well, bookmakers and punters alike believe he can, with his price sub-$2.50 a keen pointer to his chances. 
T – TONE DEAF
There is reading the temperature of the room and then there is switching off the thermostat and giving an up yours to everybody else in it. That is what Mark Zahra, Ben Melham and Ethan Brown did this week by deciding to appeal their three-month bans for flouting lockdown and having a bender at a Mornington Airbnb. Remarkably, their appeals were lodged even before the hearing into another charge of providing misleading evidence to stewards over Zahra's presence. Wow!
U – UGLY DIVORCE
Not convinced there are nice ones, but Ben Simmons and the Philadelphia 76ers' expected break-up is getting more and more testy by the day. Getting straight to the point, the 76ers don't want Simmons, but aren't keen on giving him away for nothing. Simmons doesn't want to be in Philadelphia and has no intention of returning, even if he isn't traded. Something has to give. For the sake of both parties, let's hope it's soon.
V – VAXXED
Tampa Bay Buccaneers coach Bruce Arians was a satisfied man this week when he revealed his organisation was fully vaccinated against the COVID-19 virus. That is players, coaches and staff at the reigning Super Bowl champions. They became only the second side to achieve the feat — the other being the Atlanta Falcons — ahead of the season getting underway next Thursday. And fittingly, it is the Buccs in action in the season opener at home against America's Team, the Dallas Cowboys. 
W – WET WET WET
Melburnians woke up yesterday to a cloudless sky and unseasonably warm weather for early spring. As is Melbourne's wont however, a change is coming today. And it is a change with a capital C. The forecast for today is atrocious, with strong winds, hail and  heavy rain, maybe as much as 30ml falling before the temperature plummets tomorrow for a big day's racing at Moonee Valley. If you are doing your form, do it on a genuine soft, possibly even a heavy track.
X – X-RAYS
From the moment Latrell Mitchell cluttered into Joey Manu last weekend, it was apparent both were in trouble. Scans were always going to reveal Manu had sustained fractures and it wasn't a shock to learn he underwent facial reconstruction surgery in a Queensland hospital. As for Mitchell's horror hit, he copped his own whack — a six-week ban from the judiciary that would have been stretched to nine had South Sydney challenged it and been unsuccessful. His season is done .. and so it should have been. 
Y – YEARNING FOR NORMALITY
Golf Australia can be rightly proud at the performances overseas from home-grown products. But you cannot help but feel for the governing body, which is being forced to continually push major local events away from a timeslot we became accustomed to pre-COVID. Golf Australia this morning shifted the Australian PGA Championship from December to January 13-16 next year at Royal Queensland. Such certainty doesn't apply for the Australian Open however, with a date yet to be fixed. It was to be staged at The Australian Golf Club in Sydney from late November, but is now, all things being equal, likely to be played in late January or February.
Z – ZAAKI RETURNS
It feels like an eternity since we have seen Zaaki. In reality, it has only been just over 10 weeks since he completed his Queensland campaign with $1.46 million in stakes after going on a tear in winning the Hollindale, Doomben Cup and Q22. He resumes in the Group 2 Tramway Stakes (1400m) at Randwick tomorrow. It is short of his preferred journey. That said, what the now seven-year-old did in the Doomben Cup, winning by seven lengths, had to be seen to be believed.