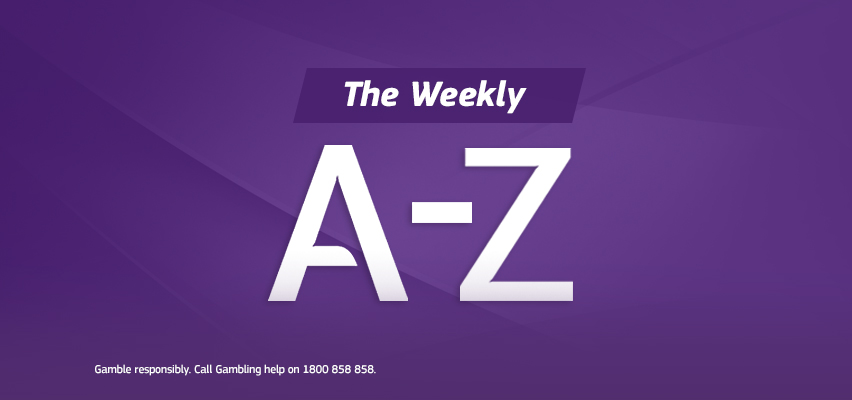 A – ALL EYES ON ALASTAIR
It was interesting to read Xavier Ellis' comments this week at how Hawthorn reacted when faced with adversity. A premiership player at the Hawks in 2008, Ellis said Alastair Clarkson's sides attempted to physically intimidate their opposition in a bid to emerge from a slump. If that remains Clarkson's 1-wood, the first five minutes this afternoon against Carlton is a must watch.
B – BALLING IN THE BUBBLE
The NBA returned this morning, thanks to the league and players committing to an isolated bubble at Disney World in Florida costing more than $230 million. The games look like nothing we have seen previously, but it is something we have become accustomed to in order to see professional sport return this year. Regardless, it's great to have it back.
C – CONDOLENCES
Along with much love to North Melbourne spearhead Ben Brown and his wife Hester after the loss of an unborn twin they were preparing to welcome into the world in February next year.
D – DEE-SASTER
No side in the AFL can get happier with itself quicker than Melbourne. Why that is, nobody knows. It's not as if the Demons are dripping in success. The display against Port Adelaide last night was atrocious, even taking into account the short break from Sunday night's close loss to Brisbane. It was oh-so Melbourne.
E – ENOUGH ALREADY
If the clubs, players and the partners of those players, best known as the WAGS, don't understand how serious the league's COVID-19 protocols are by now, one wonders when the penny will drop. The AFL is investigating multiple breaches already and that is before the arrival of far more bodies into Queensland this week. The AFL is big business. It should be treated accordingly.
F – FITTING RESULT
The NRL's Indigenous Round got underway last night and not only was the contest between South Sydney and St George Illawarra a ripper, it featured some headline acts from the Bunnies' Indigenous stars Latrell Mitchell, Cody Walker and Alex Johnston. The trio were involved in all tries scored by their side. A perfect launch pad for an important round.
G – GRAND DESIGN
It seems Queensland, the State that saved the AFL according to some, is about to be rewarded with an historic grand final. Arrangements are being made to lock away accommodation and venues until late October in Queensland. Perth's Optus Stadium would clearly be a better spectacle, but the hard border remains in place here and the dialogue between the State Government and AFL hierarchy hasn't always been cordial.
H – HANDLEBARS DOWN
It would be a massive shock if Mitchell Pateman doesn't adopt that tactic aboard Mervyn in tomorrow's Jockey Celebration Day Sprint (1000m) at Belmont Park. The noted speedster has drawn barrier one and has the ability to drag rivals out of their comfort zone. He will look the winner at some stage, just as he did in the Listed Beaufine Stakes (1000m) earlier this month.
I – INTERESTING
Will Schofield's comments regarding life in the hubs for AFL players has sparked robust water cooler debate. His claims that the civil liberties of players were potentially being violated by the ban on them entering a teammate's room seemed a bridge too far. It will be interesting to see whether Schofield joins the Eagles when they embark on a second hub stint later in the year.
J – JUST WHEN YOU THOUGHT ….:
The career of Bryce Gibbs was over, the one-time Carlton star has earned a reprieve. Gibbs was today recalled for tomorrow's match against North Melbourne. Gibbs hasn't been seen at the elite level since round one and clearly fell from favour last season when he was dropped four times. If he doesn't grab this chance, it could well be curtains.
K – KNEE TO SEE THIS
The decision from all New Orleans Pelicans and Utah Jazz players, coaches and officials to take a knee this morning during the national anthem was a powerful message. It came in light of George Floyd's death at the hands of Minneapolis police and was a silent protest against racial inequality throughout the country. The reaction from the White House, in particular Donald Trump, will be fascinating.
L – LONG LIVE THE KING
Harness racing enthusiasts are understandably excited about the return of Miracle Mile champ King Of Swing at Menangle tomorrow night. The former Kiwi and WA star resumes over the 1609m and while he has drawn the outside of the front line, trainer Craig Cross and driver Luke McCarthy insist he is ready. Of most concern for his rivals, is the assertion King Of Swing is a more physically imposing individual than the one we last saw in March.
M – MONDAY NIGHT FOOTBALL
Australian golfer Craig Parry joked last decade that he knew it was time to return Down Under when the highlight of his week was the NFL's Monday Night Football broadcast. The Australian Rules version returned to our screens this week with the uninspiring clash between Fremantle and Geelong at a damp Optus Stadium. Let's hope the battle between Port Adelaide and the Western Bulldogs to open round 10 has more appeal.
N – NO TIME TO WASTE
The AFL moved quickly this week when it became official that Queensland would be shutting its border to residents from Greater Sydney from early tomorrow morning because of COVID-19 fears. The league quickly organised for Sydney and GWS to get out of dodge, just as it did to remove the 10 Victorian clubs before the second wave of coronavirus caused chaos in Melbourne.
O – OFF BROADWAY
A-League clubs have every right to be more than a little bemused at finishing their home-and-away season with little fanfare. The competition was nearing completion when the coronavirus pandemic hit. Rival heavyweight codes, the AFL and NRL, were also impacted, but came up with plans to resume their respective competitions well before the A-League did and are now staging matches before crowds. Good administrators are worth their weight in gold.
P – PAY UP
That is what racing and breeding giants Coolmore did on Monday to acquire former sprinting sensation Sunlight. A jaw-dropping $4.2 million was required to purchase the daughter of Zoustar, who proved her worth as a juvenile and then trained on to win three Group 1 races as a three-year-old. For good measure, Viddora also commanded a massive $2.55 million bid from Yulong.
Q – QUENCHING THE THIRST
William Pike headed to Belmont Park last weekend looking to better his historic mark of 234 winners. He required two odds-on favourites (Truly Great and Inspirational Girl) to get there, but it was no shock to see him do exactly that. Further success this week left him with a staggering 239 winners for the season. His desire for success is remarkable.
R – RARE AIR
That is where Stuart Broad sits now after becoming only the seventh bowler in Test cricket to claim 500 wickets. Broad entered day five of the third Test against the West Indies on 499 and didn't have to wait long before snaring Kraigg Brathwaite lbw. Broad finished with man-of-the match honours and was named man of the series. Though closer to the end of his career than the start, Broad clearly has plenty more to give.
S – SMOOTH SHAI
Glimpses. That is what we saw from Shai Bolton in 2019. Thankfully we are seeing considerably more from the West Australian this season. His undeniable development has seen him emerge as a quality inside mid with all the tools to be successful. Bolton can win his own football, has a wicked turn of foot, kicks like a mule and boasts awareness that only the gifted ones possess. He could scale some almighty heights by the time his career has come to a conclusion.
T – TOON ARMY
They were left shattered this week when the Saudi Arabian-backed consortium ended its bid to purchase Newcastle United. The proposed deal was believed to be worth in excess of $550 million and would have enabled the club to compete with the big boys — maybe even embarrass them. Unfortunately for Newcastle fans, they will have to put up with owner Mike Ashley for a little while longer.
U – UNCERTAIN TIMES
The New England Patriots are both respected and loathed in the NFL for their win-at-all-costs attitude that has accompanied the reign of Bill Belichick and Tom Brady. But Brady left at the end of last season and now a swag of Patriots stars, including Patrick Chung, Dont'a Hightower, Marcus Cannon and Brandon Bolden have opted out of the upcoming campaign because of COVID-19 fears. Belichick loves adversity. He has got a fair dose to deal with.
V – VEXATIOUS
American golfer Bryson DeChambeau deserves this tag after yet another bizarre on-course rant. Having bulked up during the tour's COVID-19 break, he is doing a fine job of frustrating golf fans. His feud this morning with a tour official over fire ants near his ball would have tested the patience of even the most placid individual. Button up Bryson.
W – WAY TO GO, MISTY
Congratulations to Misty Bazeley for notching her maiden metropolitan winner as a trainer on Wednesday with Eeyore Wayz. Bazeley's career in the saddle was cut short because of a horror fall, leading to an epilepsy diagnosis, but her love for the animal has never waned. Let's hope there are many more wins in store.
X – X MARKS THE SPOT
Sign here if you don't want to contest the US Open at Flushing Meadows. That is exactly what Ash Barty did earlier this week and one wonders whether her decision not to contest the event will be the path several other players elect to take.
Y – YOU CANNOT BE SERIOUS
John McEnroe made those four words famous at Wimbledon in 1981 when arguing a line call with chair umpire Edward James. Many racing enthusiasts said the same thing, and a few expletives with raised eyebrows, when it was announced Hugh Bowman received only six weeks for his part in Andrew Adkins' horrific fall last Saturday at Rosehill. It seemed on the lighter end to be perfectly honest.
Z – ZAK ATTACK
David Zaharakis, or Zakka to his teammates,is well and truly back. The Bombers veteran was in the gun earlier this season after a subdued start, with his spot in the side questioned by many after managing just two touches against Collingwood in round five. He has since responded with three successive 20-disposal performances, including four goals from eight shots on goal. If Essendon are to upset Brisbane, Zaharakis will need to be influential once more.