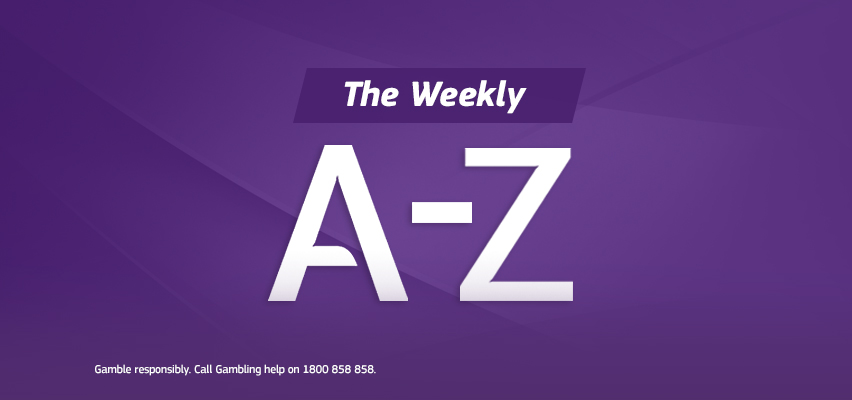 A – ALL CLASS
Patty Mills' decision to forgo the remainder of this season's salary, in excess of $1 million, in order to help end racism in sport, along with other causes, was one of a quality human being who gets it. Granted, he is a millionaire many times over courtesy of his current deal with the San Antonio Spurs, but it is still a wonderful gesture.
B – BRACE YOURSELF
The spring carnival in Melbourne could resemble something very foreign indeed. Not only is it increasingly unlikely there will be international representation, the spike in COVID-19 cases over the past week has cast major doubt on crowd attendance, not to mention major restrictions on the transportation of horses between NSW and Victoria.
C – CENTIMETRE PERFECT
Apologies to Dennis Cometti, but the ride from Jason Collett aboard Sixties Groove in yesterday's Listed Grafton Cup (2350m) by Jason Collett was that and a little bit more. The Kiwi hoop found the rail from barrier 12 to give his mount the most economical run under 61kg and then scythed his way through the field shortly after turning for home to get the nod in the shadows of the post. It was an 11 out of 10 steer.
D – DO YOURSELF A FAVOUR
If you haven't watched Michael Holding's emotive anti-racism speech prior to day one of the first Test between the West Indies and England on Thursday, you are missing out. The Jamaican's comments regarding the Black Lives Matter movement were as powerful as any we have seen following the death of George Floyd.
E – EN MASSE
It was forecast last week that the Victorian clubs would be getting out of Melbourne ahead of round six. And that is exactly what they did. In the space of 72 hours, all 10 of them had jetted out of the State, heading north to escape the community transmission of coronavirus. Kudos to the league for making it happen as quickly as it did to ensure the season wasn't halted indefinitely.
F – FFS
Before you blow up, it's not what you think. Rather, For Fifita's Services. David Fifita, the 20-year-old powerhouse from the Brisbane Broncos, was leaving the club earlier this week when offered an estimated $1.1 million a season by the Gold Coast Titans. He then changed his mind and informed the Broncos he would be staying put. The Titans then backed the truck up even further, offering $1.25 million a year. There is a bit more to play out here.
G – GONE BABY GONE
Black Jack Baby will be exactly that tonight at Gloucester Park in the Golden Slipper, according to her trainer Shane Quadrio. The only filly in the Group 1 feature, she has the advantage of barrier two and could be too slick for her rivals. The even money quote is prohibitive, but that accompanies a horse boasting seven wins from eight starts, including a triumph at the elite level already.
H – HANDS UP
If you are an adult and reading this, please cast your mind back to when you last slept in a bunkbed. I dare say it's been a fair while for the majority. That is what awaits fierce A-League rivals Melbourne Victory and Melbourne City, and Western United, after the FFA botched plans to get them out of Victoria earlier this week — on successive days. A sports academy in Narrabeen on the northern beaches of Sydney looks like being their home until the end of a 14-day quarantine stint. A balls-up of the highest order from the FFA.
I – INJURIES, INJURIES, INJURIES
The number of AFL players succumbing to injuries is officially alarming. Of most concern is the quota of soft-tissue setbacks, notably hamstrings. We mentioned last week that the prevalence of hamstring strains was impossible to ignore and there have been several in the week since. Geelong did a mighty job to get over the top of Brisbane after being reduced to 20 men before quarter-time. How quickly Quinton Narkle and Mitch Duncan recover will be intriguing.
J – JUST DO IT
A memo to Carlton coach David Teague and his Western Bulldogs counterpart Luke Beveridge — do the football-loving public a huge favour on Sunday and let skippers Patrick Cripps and Marcus Bontempelli go head-to-head. Comfortably ensconced in the elite category, the pair would love nothing more than to rise to the challenge and inspire their sides. Let's hope the two coaches have a sense of theatre.
K – KING-SIZED HEADACHE
There is nothing worse than hopping on a plane with a throbbing bonce. There's every chance that will be the Fremantle Dockers' lot tomorrow night as they get out of the Gold Coast. St Kilda are in excellent form and in young Max King, possess a rare key-forward talent who is threatening to shred a team. For Justin Longmuir's sake, let's hope it doesn't occur at Metricon Stadium this weekend.
L – LION DOWN
Brisbane were up and about and seemingly headed for victory approaching half-time of last night's clash with Geelong at the SCG. The Cats were minus WA pair Quinton Narkle and Mitch Duncan because of leg injuries and the Lions were in possession of a handy lead. The match changed complexion in the third term however, with the senior Cats midfielders having their way with the Lions, who were uncharacteristically meek.
M – MY OH MY
A two-part documentary depicting the rise and fall of Tiger Woods, coupled with his astonishing comeback, is in motion. It could well hit our screens later this year and it is expected mistress Rachel Uchitel will be interviewed as part of the documentary. It was Woods' relationship with the former New York nightclub hostess that shed light on his infidelities and ultimately led to the breakdown of his marriage to Elin Nordegren.
N – NAUSEATING
Watching Eddie McGuire this week attempt to defend the indefensible — his comments in the wake of Steele Sidebottom's drunken night out last month which culminated in a four-match suspension — was a hard watch. There are times when you simply have to admit you got it wrong.
O – OOPS
Talking of getting it wrong, Adelaide ruckman Reilly O'Brien was quick to mend the error of his ways yesterday when he took to social media to apologise for accidentally tweeting how he planned to exploit a "lazy and unfit" West Coast ruckman Nic Naitanui at the Gabba over the weekend. A classic case of foot in mouth disease.
P – PATIENCE
It seems WA's move to phase 5 is not going to take place next weekend as planned. There were expectations the restrictions would be relaxed in time to see the western derby played before 60,000 fans. Sadly, the second wave of COVID-19 infections on the east coast, in particular Melbourne, has Premier Mark McGowan pumping the brakes.
Q – QUEEN TAKES KING
Yes, it was only a class 3 race over 2200m at Belmont on Wednesday, but there was something about the performance of the Lindsey Smith-trained filly. Taking on the older horses and second-up after an encouraging sixth over the mile late last month at Pinjarra, the daughter of Charm Spirit did a super job to notch her second win from four starts. She has a pedigree and a good set of lungs.
R – ROAD TO RECOVERY
One wonders just what the Test match between England and the West Indies means for international cricket. The World T20 set down for Australia later this year is dead in the water, it just hasn't been announced as yet. But the successful staging of a Test match is likely to see Australia head overseas for a white-ball tour of the UK in September before the IPL season takes place in the UAE. We are getting closer to normality in a cricket sense.
S – SPICE GIRL
A solid field of sprinters has been assembled for tomorrow's Listed Beaufine Stakes and it is not a major shock to see Essential Spice at the head of the TABtouch market. She drops 4kg from her first-up run over this trip and has the added advantage of William Pike, who has elected to stick. Still impossible to forget her closing figures when winning over the Belmont 1000m last year.
T – TEARS FOR FEARS
Richmond superstar Jack Riewoldt's concerns about life in a hub away from his wife and young daughter were laid bare earlier this week. We will now watch with great interest as to how he adjusts interstate to something that takes great mental strength and requires unconditional commitment.
U – UNNECESSARY
Ukrainian tennis player Dayana Yastremska posted pictures on Instagram this week with one half of her face and body painted black in an attempt to support equality and anti-racism protests. The response? Yes, you guessed it. She was savaged by those sick of similar blackface images. The tweet has since been deleted. Not her finest hour.
V – V FOR VICTORY
Tommy Shelby lit up Wentworth Park last Saturday night when he qualified fastest in the heats of the Vic Peters Classic final. The WA sensation clocked a lightning 29.44sec. to reinforce his qualities and has now come up with box two for the final tomorrow night. Social media could have a meltdown if he salutes again. Let's hope he does.
W – WHAT A WASTE
The death of Australia's Alex "Chumpy" Pullin this week while spearfishing on the Gold Coast was hard to comprehend. A dual snowboard cross world champion, Pullin was just 32. Gone way too soon.
X – XANTIPPE
A Collingwood advance party, namely Jordan De Goey and Steele Sidebottom, arrived in Perth this week ahead of their teammates in preparations for the Magpies' existence in a WA hub. Whereas Geelong will be based at Crown near Optus Stadium, Collingwood will call Joondalup Resort home. As one proud, anti-Collingwood West Australian joked, it's not as far north as Xantippe, but Joondalup is a nice starting point regardless.
Y – YOU ARE ON BORROWED TIME
Paul Green, you are on notice. The North Queensland Cowboys coach was under increasing pressure entering last night's home match against the Sydney Roosters and emerged even more battered and bruised. The hosts led 6-0 and trailed just 12-6 at the break before being split open by a depleted Roosters outfit. Their lack of willingness to defend was alarming and will ensure Green is in the spotlight for the next week.
Z – ZOOM
Sadly for many in Victoria, including those in the racing, pacing, chasing and sports space, Zoom meetings will become a necessary evil over the next six weeks after a second lockdown was enforced following community transmission of coronavirus. We feel for you.