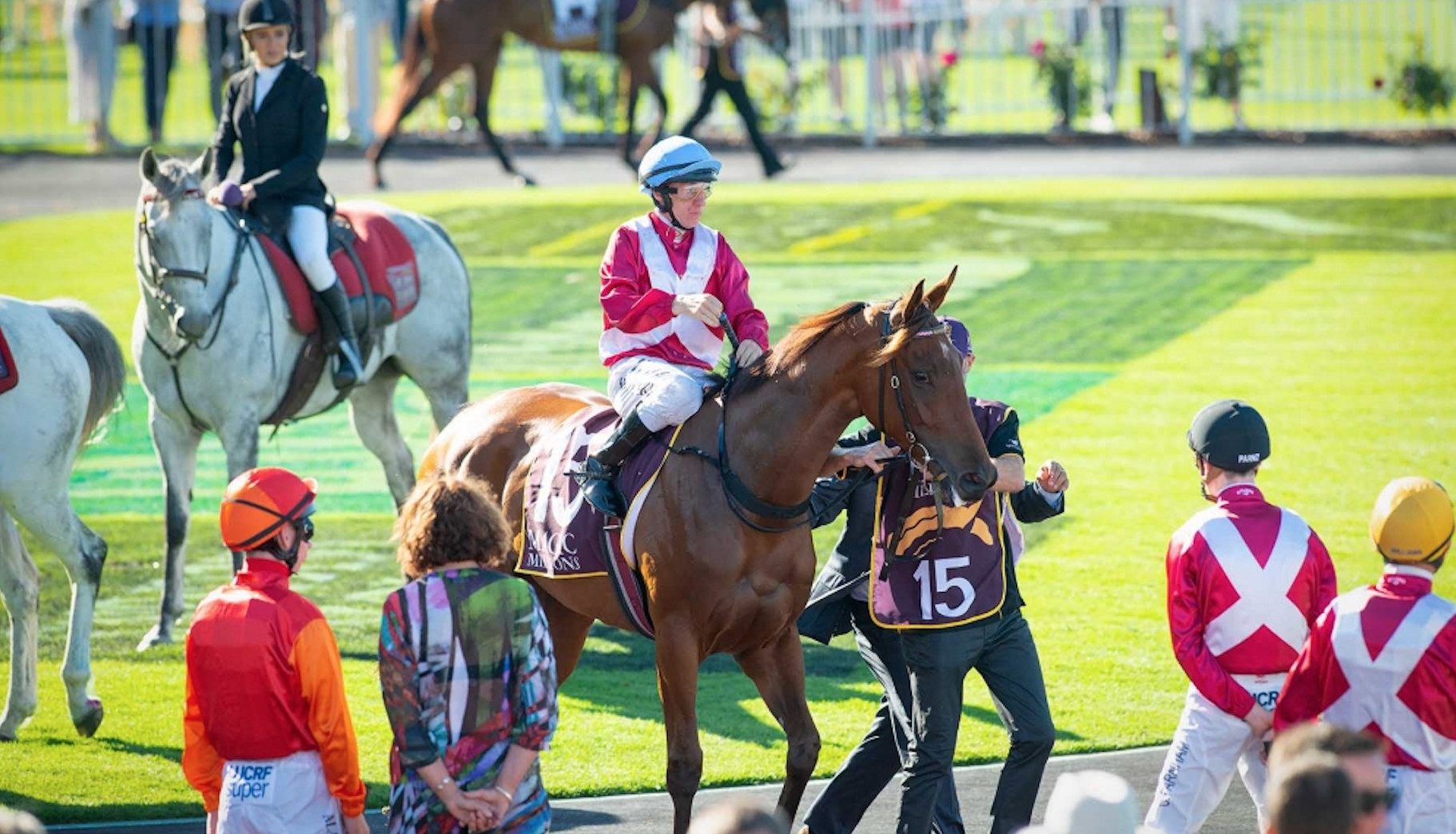 A – ASH WEDNESDAY
With the inevitable casualties in the first week, it looked like Australia's world No.1 Ashleigh Barty was primed to make a run at this year's Australian Open crown. Even more so when she led Karolina Muchova 6-1 2-1 in their Wednesday quarterfinal. The 24-year-old Czech then sought a medical time-out to cool down and with that achieved, got blistering hot on court to eliminate the Australian earlier than most had anticipated. We're not here to kick Barty when she is down, but anytime a world No.1 who is the top-ranked player at their home slam doesn't advance to at least a semifinal, it is an opportunity missed.
B – BOMBS AWAY
Cracking edition of this year's Listed Detonator Stakes (1800m) at Ascot. The engagement of Wrinkly, Trap For Fools, Cockney Crew and Harry Thomas ensures there will be a genuine tempo as many trainers look to top off their respective charge's campaign ahead of the provincial cups at Bunbury and Pinjarra. It was certainly hard to not be impressed with what Montelena did first-up over 1600m at Pinjarra 13 days ago.
C – CALL OF NATURE
Grab a dictionary and look up the word enigma. If there isn't a picture of Nature Strip, seek a newer edition. Surely he will be in that one. It was Nature Strip at his imposing best last weekend when the Chris Waller-trained gelding claimed a fifth Group 1 victory in the Lightning Stakes (1000m) at Flemington. The son of Nicconi was given virtually free rein by Jamie Kah to do as he pleased, which he certainly appreciated. It was in stark contrast to his fourth placing as a $1.45 favourite in the 2020 Lightning.
D – DREAM BIG
Why not? Exactly. There is no reason why any prospective owners of yearlings sold at this year's Magic Millions Perth Yearling Sale can't aim for the sky. There will be ample opportunities for those looking to get involved in a horse after the 2021 sale concludes today at the Swan Valley complex. If last Sunday's turnout at the Owners Only function is any guide, there are many who are keen on dipping a toe in the water.
E – ELUSIVE
Serena Williams was destined to be the most successful female player in history when she clinched her 23rd grand slam trophy at Melbourne Park in 2017. We know she took the rest of the year off to give birth to her first child. She has since returned and played at an unbelievably high standard for prolonged periods in the four majors. Just not long enough, however. Nearing 40 years of age, Williams remains stranded on 23 slams — one shy of polarising Australian Margaret Court's mark. The drought continued yesterday when she was unable to thwart the dominance of Naomi Osaka in the semifinals.
F – FREE ADVICE
It's just as well Ben Simmons is a focused young man. The amount of commentary surrounding his NBA toolset is quite remarkable. I suppose it comes with being a No.1 draft selection, but there are inordinate amounts of stories surrounding his worth to the Philadelphia 76ers. And they don't all come after a loss. His 42-point haul against the Utah Jazz this week was critiqued harshly by former NBA superstar Charles Barkley, a former Sixer himself "Until he learns how to shoot, he's going to be an All-Star," Barkley said. "He can't be a superstar until he learns how to shoot the ball."
G – GIRLS ON FILM
Michelle Payne endeared herself to the country when she became the first female jockey to win the Melbourne Cup when successful aboard Prince of Penzance in 2015. The accomplishment, following a tough road from a famous racing family and some hard knocks along the way, led to the film Ride Like A Girl. We're not declaring Jamie Kah will follow in Payne's footsteps on the big screen, but her deeds week in and week out in the competitive Victorian jockey ranks are stunning. Kah leads the Melbourne metropolitan premiership by 23 wins from Hall of Famer Damien Oliver and fellow Sandgroper Damian Lane. Victorious aboard Nature Strip in the Lightning Stakes, she will chase more Group 1 glory at Caulfield tomorrow with the kind hands and beautiful balance she has been blessed with. Kah is a replay watcher's delight.
H – HOME IS WHERE THE HEART IS
That applies to Ryan Broekhoff, who this week committed to the South East Melbourne Phoenix. A shooter of high quality, Broekhoff boasts NBA and international experience and straight away makes the Phoenix a genuine contender. His desire to be closer to family and friends, having grown up in Frankston, was a key plank in his decision. Being able to impress Boomers coach Brian Goorjian, who is at the helm of the Illawarra Hawks, from close range also doesn't hurt.
I – INVASION DAY
The cerise and white silks of Bob and Sandra Peters will be out in force today at Caulfield on what is commonly referred to as grand final day in autumn for the Melbourne Racing Club. The husband and wife training combination of Grant and Alana Williams will saddle up Group 1 winners Arcadia Queen (Futurity Stakes) and Regal Power (Peter Young Stakes), Group 1 runner-up Celebrity Queen (Oakleigh Plate) and grand campaigner Perfect Jewel (Mannerism Stakes). Let's hope that West is Best once again.
J – JOKES ON YOU, NICK
Nick Kyrgios thought he was humorous earlier in the week when he took the urine out of Novak Djokovic's "heart-throwing celebration" whilst partnering Thanasi Kokkinakis in a men's doubles match. We get it, Nick. You don't like him. Unlike you however, the Djoker is making the most of his God-given talent. And because that is the case, he will be remembered as a great, possibly the GOAT. Not a bad-tempered individual who is terrified of committing to the sport in fear of actually coming up short whilst also suffering a horrible case of relevance deprivation.
K – KING'S RANSOM
As a winner of the ATC Sires' Produce Stakes (1400m) at Randwick as a two-year-old colt, King's Legacy was always going to be assured of a career in the breeding barn. Being a son of the late, great Redoute's Choice was an important asset and Coolmore Stud were quick to pounce. The Peter and Paul Snowden-trained youngster went on and won the Group 1 Champagne Stakes (1600m) after his Sires success, but didn't come up in the spring and returns from a spell tomorrow in the Group 2 Hobartville Stakes (1400m) at Rosehill. It will be intriguing to see how he fares this preparation and how long he remains in training before being retired.
L – LIGANDROL
Shayna Jack's emotional plea on social media for financial assistance to help her fight clear her name will have tugged at the heartstrings of some. Not this little black duck. Shayna, you tested POSITIVE to a banned substance and apparently have no idea at how it got into your system. Hmmm!!!
M – MONEY, MONEY, MONEY
That was on display in spades overseas yesterday as the annual Indian Premier League auction took place. Despite a swag of Australian players being retained by their respective franchises, there were many who were up for grabs and some of them cashed in big time. If Jhye Richardson is looking at real estate in Nedlands in the not too distant, don't be surprised. A pay packet of $2.48 million from Kings XI Punjab opens up a lot of doors.
N – NAME'S BOND
Greg and Skye Bond. And fingers crossed their latest standardbred superstar can leave his rivals shaken and even stirred in the Group 1 Chariots of Fire (1609m) at Menangle. The four-year-old's effort to take down Magnificent Storm in last Friday night's Golden Nugget was full of merit. So imposing was the display, 62-year-old Colin Brown, himself no stranger to high-class animals, labelled Minstrel the best horse he had driven.
O – OVER THE TOP
Former Australian captain Steve Smith is a genius with bat in hand. Nobody can dispute that. He makes runs for fun in all three formats of the game. But his exaggerated leaves are becoming more and more flamboyant — or annoying depending on how you view the wizard's waving of his wand. Marnus Labuschagne became somewhat of a Steve Smith clone, but appeared to tone it down slightly in recent months. Perhaps Smith can do the same.
P – PAIR OF QUEENS
No, we're not talking about a hand of poker. Rather, two brilliant mares in Arcadia Queen and Celebrity Queen, who will be flying the WA flag alongside stablemates Perfect Jewel and Regal Power at Caulfield tomorrow. Arcadia Queen left Victoria in the spring with two Group 1 triumphs to her name, while Celebrity Queen has settled in well on her maiden Eastern States foray. Her electric turn of foot ensures she is competitive in just about any race she is targeted at — and it wouldn't be a shock if she bloused them in the Oakleigh Plate (1100m).
Q – QUESTIONS
There are more of them than answers as far as the Perth Wildcats are concerned and that is a concern for coach Trevor Gleeson. The Wildcats' squad doesn't possess the same level of depth as we have seen in recent seasons and that has been reflected in two losses to the South East Melbourne Phoenix, including last weekend's smacking. It is early in the campaign, but there are some worrying signs, most particularly a heavy reliance on Bryce Cotton to impact the scoreboard.
R – REVOLUTION IN THE PIPELINE
A good one that is. In the form of the $325,000 yearling purchase by Simon Miller yesterday. The colt by Russian Revolution, the dual Group 1-winning son of Snitzel, was the spruik horse entering the two-day Magic Millions sale and was keenly sought after. In what can only be a good thing for WA racing, he will remain in Perth and get every opportunity to showcase his talents, chiefly against most of the yearlings that will have gone through the ring in the Swan Valley.
S – SALE OF THE CENTURY
That could well be a bit rich, but if you do break it down, this week's Magic Millions Yearling Sale in WA was the first of its kind to be held this side of the Nullarbor whilst impacted by COVID-19. Last year's sale went through prior to the restrictions that have become commonplace since the coronavirus hit Australia. There was uncertainty about what the buying bench would look like, but book one yesterday was a resounding success. The average of more than $70,000 and clearance rate of nearly 80%, headlined by a sale topper of $325,000, gives all involved great heart.
T – TREND CONTINUES
The NBA's issues with COVID-19 remain a major issue to the integrity of the competition. Only yesterday, the game between San Antonio and Cleveland was put on ice after four Spurs players tested positive. The league decided to postpone San Antonio's next three matches as a result. Charlotte, who they played over the weekend, were undergoing contact tracing and had their upcoming two games delayed. The tally of postponed games this season already sits at 30.
U – UNWANTED DISTRACTION
It was hard not to spare a thought for co-trainers Ciaron Maher and David Eustace after it became public knowledge yesterday that raging Blue Diamond Stakes favourite Enthaar was found to be lame after being inspected by Racing Victoria vets. The same applies to all those who have the strapping filly running through futures bets, be it singular or in multis. The untimely focus is not just restricted to Enthaar, with Dosh being scratched today and Marine One also needing to satisfy RV vets of his fitness.
V – VOW AND DECLARE
The autumn campaign of lightly-raced three-year-old Vowmaster gets underway tomorrow in the opening event at Rosehill. He is two for two after winning a Kyneton maiden and benchmark 64 at Moonee Valley during the spring, but the upside is enormous. He is being faced with a heavy track for the first time, but the noise surrounding the Chris Waller gelding is deafening. It seems everyone expects him to justify the odds-on quote.
W – WATT'S GOING (ON)
In an era where American sports owners do what they want in order to best enhance their chances of success and save money, it was mighty refreshing to see the Houston Texans and the celebrated JJ Watt strike an agreement to release the defensive colossus so he can chase the Vince Lombardi Trophy. Watt, a three-times NFL defensive player of the year, was allowed to walk and become a free agent by the Texans, despite being under contract. His desire to sign with a team in contention could see Watt land with the Cleveland Browns.
X – X-FACTOR
Will be on display from the opening whistle to the final siren when the Indigenous All-Stars and Maori All-Stars light up Queensland Country Bank Stadium in Townsville tomorrow night. The NRL do a wonderful job promoting the annual All-Stars weekend and the quality of football is always of a high standard. In saying that, with the talent available on the park, it is little wonder.
Y – YES YOU CAN
Most definitely go to Pinjarra this Sunday and take in what is an excellent day's racing, headlined by the Listed Pinjarra Classic (1300m) worth $120,000. The Magic Millions race day earlier this month was impacted by the lockdown enforced by WA Premier Mark McGowan, but with restrictions lifted, all owners and enthusiasts can attend the picturesque track on a sunny summer's afternoon. No excuse not to get along and have a great day.
Z – ZOU'S NEW STAR
We are not declaring Lightsaber the greatest horse Widden Stud stallion Zoustar has thrown. But he does look well above average if his all-the-way victory at Sandown on Wednesday is any indication. Provided he pulls up OK, the flashy three-year-old bay, boasting a silver tail and three white socks, will take his place in the Group 2 VRC Sires' Produce Stakes (1400m) at Flemington next month.