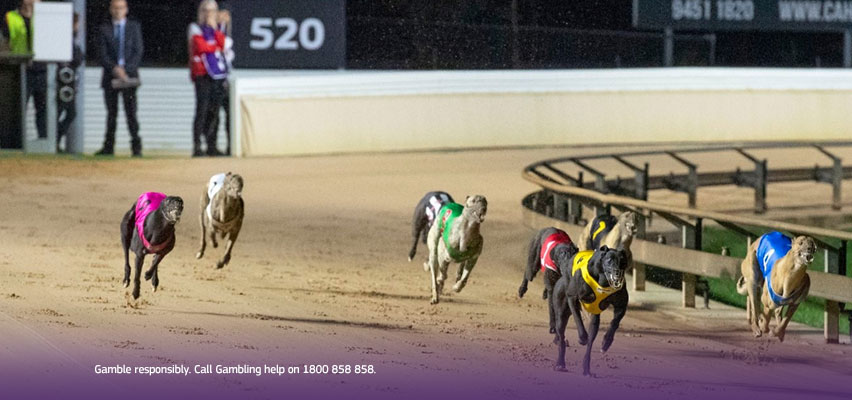 Mandurah Friday, 2nd April 2021
Race 2 – No. 7  Sobbing Monelli
Best form has been over longer but if she can find her best at box rise, she is more than capable of breaking her 302m drought.
Race 4 – No. 6  Classy Riot
Mixing form but he has been winning more often than not of late. Times have been impressive and he can handle a wide draw. Should figure heavily in the prizemoney again.
Race 10 – No. 5  Yunderup Sheila
Found the going tough when venturing to headquarters in recent weeks, placing just once in four attempts. Better suited at this Track/Distance and while this field is full of depth, her times over the trip suggest she should handle the rise in grade.
Each Way:
Race 9 – No. 7  Atomic Rooster
Led for a long way in his heat of the Good Friday Cup, albeit from a more suitable draw. Will be relying on luck to take this out but with plenty of early toe drawn near the rails and the likelihood of some bother, he may just turn his chance into a good fortune.
Quaddie (Race 5 to 8):
1.3.5.6.7 / 1.3 / 1.2.3.4 / 3.5 $50 for 62.50%
Bet Now!
Bet Now!
Cannington Saturday, 3rd April 2021
Race 1 – No. 3  Yarrinup Flyer
Slick beginner who has been freshened up for this. Ran out of puff at his most recent outing but the improved draw helps and should be in this for a mighty long way again.
Race 3 – No. 6  Withers Monelli
Prominent throughout from similar draws at his past couple in tougher line ups than this. Times have been strong and should not take too much longer to find winning form.
Race 8 – No. 5  What's Up Marty
Risky early but can produce a strong finish, just as he did from this draw last week when getting clear too late, finishing 3rd in 30.05. Hard to hold out if he doesn't run into traffic problems this time around.
Each Way:
Race 7 – No. 3  Jailbreak Guess
Racing without much luck over the 520m in recent times. Looks suited to the rise in distance and if she lands close enough to the lead, she may give her more fancied rivals a scare.
Quaddie (Race 5 to 8):
1.4.8 / 1.2 / 3.5.6 / 1.2.5 $50 for 92.59%
Trifecta – Race 12
1.3.7 / 1.3.7 / 1.3.4.6.7 $30 for 166.66%
First Four – Race 2
2 / 1 / 5 / 4.7 $2 for 100%
Bet Now!
Bet Now!
Cannington Sunday, 4th April 2021
Race 1 – No. 7  Shabby Chevy
Hasn't had much luck in three starts to date when well supported in each. May appreciate the wider draw where he'll get more room to move and with a few runs under his belt now, he can give his rivals a real run for their money.
Race 6 – No. 1  Zipping Aspen
Winless in eleven outings over this trip but she has been placed on six occasions and does have the early toe to use this draw to her advantage. Can bounce back to her best if her rivals don't get across her early.
Race 7 – No. 1  Ballistic Bullet
Has been in fine form since making his WA debut, finishing no further back than second in three local outings. Well supported each time and drawn ideally again. Should be too slippery again for these.
Bet Now!
Bet Now!