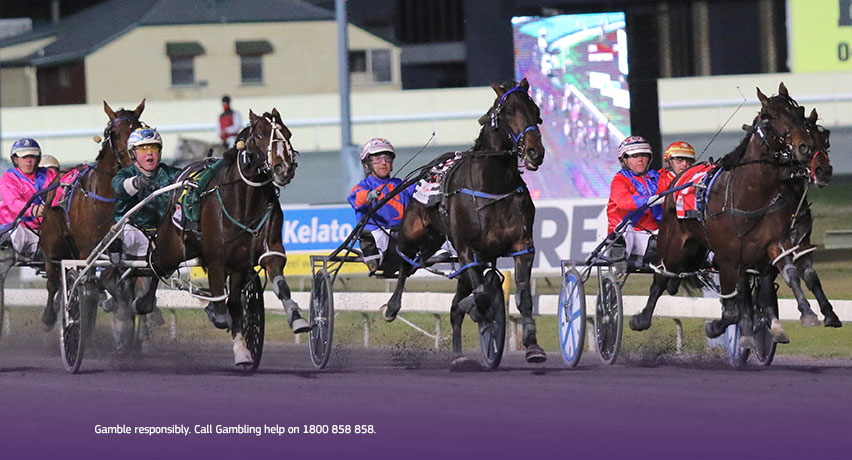 RACE 1
BITCOIN (2) has been in super form in recent weeks and despite his past 2 showing some ordinary numbers, they don't tell the whole story. He lands the gate and the conditions to look for an all the way win. THE IDEAL DANCER (10) has placed his past 3 in this grade and will need to be chasing at some stage. Hoping he has not forgot where the winning post is after 22 starts since his last victory back in December. GLENEAGLE WARRIOR (7) was back near his best last start when taking the trail early before powering home over the top. LIFEOFBRIAN (4) caught the eye in how he found the line last start after snagging back early from gate 7 and just 6m from the winner.
SELECTIONS: 2-10-7-4
SUGGESTED BET: BITCOIN (2) to win
---
RACE 2
KING TRITON (2) has had 2nd line gates at his past 3 starts so should relish a return to the front line. He can fire out early and with options thereafter should be in the right position to cash-in for an overdue win. MAJOR FERNCO (10) has transformed his pattern to be much more versatile and was strong to the line last start when pulling away for a 4m victory after chasing them down. If the heat is applied early, he comes right into this. BEAST MODE (9) grabbed 3rd last start for his best result since arriving in Qld. His chances are reliant on his early position pressing through. KEAYANG MARVEN (1) started from this gate on Tuesday and was soon shuffled out of it. With good speed to his outside, he is again in danger of a similar fate and will be probing for luck.
SELECTIONS: 2-10-9-1
SUGGESTED BET: KING TRITON (2) to win
---
RACE 3
LOMBO HEAVEN (1) led every step bar the one that counted over the 2138m here 2 starts back when nosed out on the wire with the winner sniping up the lane. Not suited last week, he has the early bullets and #LeaderPeter will be looking to do his thing. NURBURGRING (8) was content for the trail here last week with the easy trip giving him the closing speed for a half-neck victory. He will be coiled and ready to strike. VIRGIL (2) had his winning streak undone by gate 7 here last week when he was still game in defeat after sitting parked outside Will The Wizard. Settling closer improves his chances. SUBTLE DELIGHT (9) can look for the pegs early and that looks a good place to be in this race where the fence line trifecta appeals.
SELECTIONS: 1-8-2-9
SUGGESTED BET: Flexi Trifecta 1-8 / 1-2-8-9
---
RACE 4
WILL THE WIZARD (4) is thrust back into FFA grade after his dominant victory from the front last week in Band 4 company when carving a 1.51.9 mile in front. Only an eyelash away in this grade 2 starts back, the lamplighting duties look available in this and carving out the same run as last week can cast his spell. CARDLESFROMHEAVEN (8) comes up with options as the only 2nd line runner so can ease off the poles if required. Brilliant when working home off speed, he claimed victory 2 starts back and can bob up again. CRUNCH TIME (7) was a cranky man last week and refused to be a part of things early to never be in the race. Trialling on Tuesday to sharpen, he looks set to test the mettle of the leader. TOMMY LINCOLN (5) moves 2 positions closer to the pegs after landing the 7 at his past 2. Trying to join in late when 4m away last time, he overturned subsequent winner Mach Da Vinci 2 starts back.
 
SELECTIONS: 4-8-7-5
SUGGESTED BET: WILL THE WIZARD (4) to win
---
RACE 5
THE DEMOCRAT (5) was picking off some late metres here last week to grab 3rd behind the slick winner Make Mine Memphis. He drops back to the Veteran's grade for this battle which appeals off his recent efforts. VINNY CHASE (6) is never far from the action in this grade and was a winner 4 runs back when finishing best. Just 4m from the in-form Misterfreeze last start, look for him chiming in. STOMPEM (9) was sent for a freshen after his last start when finishing down the line. Pressing through early can see him feature. THE SHADY ONE (2) is the query runner, lining up for his first run back in Qld and first outing since January. A tidy trial keeps him in place contention.
SELECTIONS: 5-6-9-2
SUGGESTED BET: THE DEMOCRAT (5) to win
---
RACE 6
BLACK HAWK JOE (3) was a long way off them at the 400m mark here last week and was charging home to get within 1.5m of the winner Nowhere Creek. Too smart against mid-week competition the start prior, with his past 2 from gate 10, the improved alley is a huge advantage. MAKE MINE MEMPHIS (4) was a power running winner here last week, taking control in 26 and change and putting them away in a 27.5 last split. Hitting some great form, he may just need to roll the sleeves. BOMBADIER JUJON (1) has hit some gridlock at his past 2 starts when settling back in the pack. The gate gives him the opportunity to be closer to the action. STREITKID (2) made the most of an easy time in front last start to make them pay. The gate puts him in the right position to be in the mix.
 
SELECTIONS: 3-1-4-2
SUGGESTED BET: BLACK HAWK JOE (3) to win
---
RACE 7
Third up from a spell after two smart runs TWENTYEIGHTBLACK (1) looks to get every opportunity here. Ripping home from deep in the pack at his return, he was again strong late here on Tuesday. Tucked in behind the speed, he can strike. AT WEST POINT (2) loves to free wheel in front and lands the gate to suit his pattern. Nutted late 2 starts back up the passing lane when in front, he will be trying to fight them off. WATCH PULP FICTION (7) was a winner 4 runs back when put into the contest with a backstraight bullrush, landing a midweek win. Dropping back from the FFA ranks to the veteran's keeps him squarely in contention. BETTOR VISION (9) has been freshened but caught the eye in a pipe opener at the trials when scorching the last panel with ease.

SELECTIONS: 1-2-7-9
SUGGESTED BET: TWENTYEIGHTBLACK (1) to win

---
RACE 8

FEELS LIKA WINNER (10) has been working hard in her races from tough draws in recent weeks and again faces a stiff alley. A fading 7m from the winner last start, she just needs a rub of the green to cash-in. TRUE STEPPER (2) has not had much in her favour at her past 2 starts since returning from a freshen. With an improved alley, she can settle closer to feature here. MISS VICTORIA (6) was not really suited from gate 1 last week but when seeing space attacked the line sharply for 3rd to Ajay Breezy Rose. She can roll the sleeves if required. WHICH HUNT (5) lands the sticky alley but is versatile enough. 6m away up the passing lane last time, keeps her in the mix.
SELECTIONS: 10-2-6-5
SUGGESTED BET: FEELS LIKA WINNER (10) each-way
---
RACE 9

WAHS FIRE BUG (4) has been relishing the Qld conditions to feature in the money her past 5 on the bounce. Too gritty when sitting parked and putting them away last start, in this company 2 starts back she was 2m from the winner Chiasso. CHIASSO (2) took them all the way here 2 runs back and followed that with a luckless run when hemmed away. Back to mare's company from this alley and with early bullets to fire looks ideal. TOTAL DIVA (3) could not run down Chiasso after having the sit on her last start. Not sure where she maps here which is a little bit of a concern. OAXACAN DREAM (8) was in the thick of it early in a slick opening panel before releasing for the trail last time. Following through early and a return to her own sex looks more suitable.
 
SELECTIONS: 4-2-3-8
SUGGESTED BET: WAHS FIRE BUG (4) to win
---
RACE 10

MAJESTIC SIMON (7) last tackled mobile conditions when trying to dictate over this trip from gate 1 in the Grp 1 Qld Cup. Best of the locals in that as Tough Monarch powered home for the prize, he has the wide gate to negotiate here but after coming from big handicaps at his past 4, can bounce back. NORTHERN MUSCLE (6) was 3m from the winner last time out after settling in the running line. Game in defeat 2 starts back when not too far away, he cannot be discounted. MORE SHADES OF GOLD (5) stepped cleanly from a 10m handicap to find the front and lead throughout here 2 starts back. An early error proved costly last start. DOUG (3) did not make an error last week as they were released, but it did take him a while to get going when still only 4m from the winner. It is always fingers and toes crossed stuff with him, but he has the required ability.
 
SELECTIONS: 7-6-5-3
SUGGESTED BET: MAJESTIC SIMON (7) to win
Market Market

---
About Darren Clayton
Darren provides Racing Queensland with his expert form analysis, tips and speedmaps for all TAB races in Queensland. Darren is a highly respected form analyst which complements his passion for the harness racing industry which he has been involved in for over 30 years.