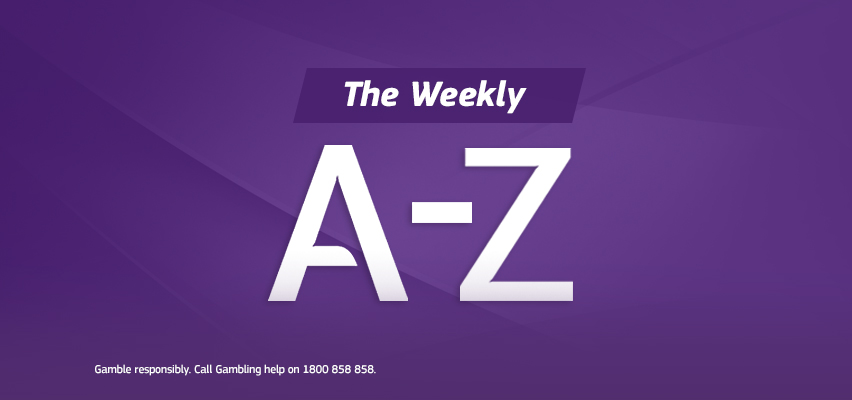 A – ALARM
Make sure it is set just before 1.48pm tomorrow. The rematch between boom filly Kay Cee and the gifted gelding Laverrod in the Listed Belmont Guineas (1600m) at Belmont Park is the highlight of the Australian racing calendar this weekend. Yes, there are other runners in the Guineas, but they are the support cast. The headline acts are undeniable.
B – BULLDOGS OR BEAGLES?
All will be revealed tonight. The Western Bulldogs desperately need to rediscover their bark — and bite — against Greater Western Sydney to stave off a potentially season-defining 0-3 start. Even if they don't come away with the points, Luke Beveridge's men can't afford to roll over like they have against Collingwood and St Kilda.
C – CATCHYA KEV
Cricket Australia lowered the boom on chief executive Kevin Roberts this week, 24 hours earlier than it intended after newspaper reports of his imminent axing surfaced. A key figure in the pay dispute between the establishment and the players, Roberts' lack of empathy to staff and the broader cricketing family, and inability to steer the ship successfully through the COVID-19 pandemic, left CA with no choice.
D – DETTORI DOMINATION
Frankie needs a compass when he rides in the Melbourne Cup, but he could take out a Group 1 in the UK aboard a broom. His deeds during the Royal Ascot carnival are legendary and he has been at it again this week, with Thursday night's triumph on Stradivarius in the Gold Cup, his third in a row, breathtaking.
E – EXTRAORDINARY
What possessed Mark Ricciuto to speak so candidly about the departure of so many Adelaide players in recent times to rival clubs? Anyone? The answer is no, then. Thought as much. Glad to know I am not alone. A passionate Crows man and a current club director, Ricciuto would be best served to button his lips. Immediately.
F – FOUNTAIN OF YOUTH
We saw last year what Port Adelaide trio Connor Rozee, Xavier Duursma and Zak Butters were capable of. Well, it seems the summer and the isolation period have worked wonders for the tyros. They were in the Power's best players in the 75-point demolition of Adelaide last Saturday night. The bigger the stage, the more comfortable they are.
G – GREATNESS PERSONIFIED
Galileo stood at Coolmore Stud in the Hunter Valley for five seasons. He was, to be kind, disappointing. Conversely, he is an unstoppable force in the northern hemisphere. Trainers and breeders cannot get enough of his progeny and it is entirely understandable. His stock was again to the fore this week at Royal Ascot to confirm his standing as a breed-shaper of the highest order.
H – HARRY HIGHPANTS
You can take Scott Lycett out of West Coast, but you can't take West Coast out of Scott Lycett. The popular ruckman pulled up his strides, a la Jeremy McGovern and Tom Barrass, for the post-Showdown victory photograph last Saturday night. Good humour.
I – INTERESTING
West Coast were always pushing manure uphill in their desire to have Jeremy McGovern's one-match striking suspension overturned at the AFL Tribunal on Tuesday. But the defence that McGovern struck Alex Sexton with a closed fist in order to protect his fingers raised more than the odd eyebrow.
J – JUST DO IT
You could sense the frustration in the voice of Perth Glory star Alex Grant earlier in the week. The A-League players have had to sit on their hands and watch the NRL and AFL get their respective shows up and going. Regardless of a hub existence, the players from all A-League clubs just want to get back on the pitch.
K – KING WILL REIGN
That is the belief of Sam Freedman, the son of trainer Anthony, who prepares King Of Hastings for the Listed Creswick Stakes (1400m) at Flemington tomorrow. The three-year-old has to carry the 60kg topweight, along with Hawker Hurricane, but Freedman is adamant it won't be an issue. The market agrees.
L – LIGHT AT THE END OF THE TUNNEL
And it is not an oncoming train. Gold Coast's dismantling of West Coast last Saturday night reinforced that the Suns might, finally, have got it right. The interstate youngsters want to be there and are working towards a common goal — turning the long-time whipping boys into a formidable opponent. They're heading in the right direction.
M – MONELLI, MONELLI, MONELLI
I could go on even more. The name is synonymous with success in the WA greyhound ranks and it would take a brave (some would say foolish) person to suggest David Hobby doesn't taste the spoils of victory time and time again over the weekend.
N – NOT AN ISSUE
It seems the COVID-19 pandemic isn't overly problematic for both the ATP Tour and WTA. The desire to see the game get going sooner rather than later became obvious this week when it was revealed the men would resume in Washington in mid-August, just over a week after the women crank it up in Italy. The US Open, sans fans, is due to start in New York in late August.
O – OUT THE DOOR
It is only a matter of time before St George Illawarra veteran James Graham returns to the UK to end his stellar rugby league career in the Super League. News broke yesterday that Graham wanted to leave the Dragons as soon as possible, cutting short what was to be his final year in the NRL.
P – PEP IN THE STEP
Manchester City showed yesterday morning, our time, that they are still a force to be reckoned with. A scoreless encounter against Arsenal moments before half-time became a 3-0 victory for Pep Guardiola's men in a manner we have become accustomed to. Gee, it's great to have the EPL back.
Q – QUESTIONS ANSWERED
Hawthorn were under the microscope entering last night's clash with Richmond at the MCG. Six days after a flogging from Geelong, the entire football community had an opinion on Alastair Clarkson's men, mostly negative. When we will learn? Adjustments were made. Doubters were silenced. Enough said.
R – RELEVANCE DEPRIVATION
Sam Newman and Nick Kyrgios, we hear you. Sadly. Do everyone a favour and just shut up. If only Kyrios showed as much intent to the cut and thrust of the ATP Tour as he does on his twitter account.
S – STORM CLOUDS
Brisbane Broncos coach Anthony Seibold has been unable to buy a win in the four games since the resumption of the NRL last month. Having alienated so many in the city since replacing Wayne Bennett, it's best he finds a solution before he is frogmarched out of the Queensland capital.
T – THIEF IN THE NIGHT
Catch The Thief arrived back in Melbourne this week after his faultless WA campaign. The superstar chaser capped off a perfect Perth stint with a devastating victory in last Saturday night's Winter Cup final. It was win No.5 in WA from start No.5 in WA. Please come back soon.
U – UNDERWHELMING
Richmond finished last season with all the momentum of a semi-trailer coming down Greenmount Hill with no brakes. Unstoppable. They are light years away from that version at present. A so-so win over Carlton back in March has been followed by a dreary draw with Collingwood and last night's insipid effort against Hawthorn.
V – VITRIOL
The sniping between NBA players continues. The decision to have the league up and going soon in the face of dramatic social unrest has divided the rank and rile. Unity, and not verbal barbs, is required at this time by a group of players who have the ability to right the wrongs of so many in that country.
W – WEST IS BEST
Tonight's Group 1 Westbred finals at Gloucester Park for the three-year-old boys and girls again showcases some serious talented pacers. There are several headline acts in both finals and in the fillies' edition, a genuine X-factor talent in Alta Cinderella. She has been thrown in the deep end, but it would be a shock on what we have seen thus far if she doesn't handle the assignment.
X – X-RATED
Some may argue it is an overreaction, but the performance dished up by Adelaide last Saturday night was not for public consumption. Crows fans were beside themselves. Beset by issues on and off-field over the past few years, Matthew Nicks' side simply downed tools against its most hated rivals. It was unacceptable.
Y – YOU BETTER BELIEVE IT
The recall of Jesse Hogan for Fremantle's clash with Port Adelaide on Sunday is a ripping story. In the doghouse of many Dockers supporters following another tumultuous off-season, prompting some to declare he wouldn't play another game in the purple, is a bona fide feelgood story.
Z – ZOWIE
It is not a word we hear uttered often. That said, it best describes what the football world witnessed from Gold Coast young gun Matt Rowell against West Coast last Saturday night. The ability of the No.1 draft pick to stand his ground against the Eagles' midfield was befitting a 100-game player.