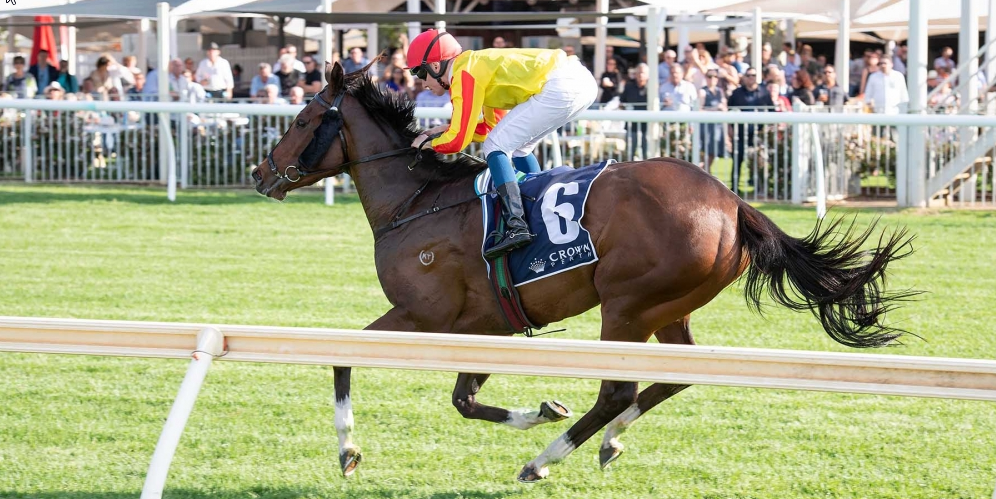 A – ABC: Ablett. Brisbane. Cats.
That is what tomorrow night's blockbuster preliminary final at the Gabba provides us. There will be a large portion of the football community hoping Gary Ablett's Geelong can take down the hosts and provide him with the opportunity to end his glittering career with a grand final appearance. If not, he will leave the ground after the final siren having forged one of the great CVs over 356 games.
B – BEAST MODE
Clairvoyance stepped up to the plate at Ascot last Saturday and destroyed her opposition in the manner we have seen from other hulking short-course specialists Hay List and Black Caviar. I'm not comparing her to those two superstars from yesteryear, but the way she dwarfs her rivals and effortlessly covers the ground makes for compulsory viewing.
C – CASTAWAY
One has to wonder what the future of Tristan Sailor entails. The son of one-time great Wendell Sailor faced court this week charged with sexual assault of a woman in Sydney over the weekend. He was granted bail, but given he didn't feature in the long-term plans of new Dragons coach Anthony Griffin, it would be a shock if Sailor remained in the NRL system.
D – DATE WITH DESTINY
WA sensation Tommy Shelby will carry the hopes of a State when he contests the Million Dollar Chase final at Wentworth Park tonight. Having lit up his semi-final opposition in brilliant fashion, Tommy will look to showcase his wares even further with another dazzling display from box eight. The good judges love his chances. Let's hope they are on the money.
E – EGG ON FACE
Former Australian netball great Liz Ellis admitted recently she was surprised when Stacey Marinkovich was appointed coach of the Diamonds. She referenced the fact that Marinkovich had not played the game at international level nor won a domestic title with the West Coast Fever. If Marinkovich can guide the Fever to victory in Sunday's grand final against the Melbourne Vixens, Ellis may well need to soften her stance. Or give credit where credit is due. Wouldn't that be nice!
F – FIGHTING TIGER
There is no better time to remember the champion Northerly, better known in racing circles as the Fighting Tiger. From humble beginnings, he rose through the ranks to become one of the country's best middle-distance gallopers this century. Fittingly, he will be honoured at Ascot tomorrow with the Group 3 Northerly Stakes (1400m) on the same day he won the Caulfield Cup 18 years ago. That is not forgetting his two Cox Plates in 2001 and 2002.
G – GUT-CHURNING
I defy anyone to watch a replay of Dallas Cowboys quarterback Dak Prescott's leg injury this week and not feel squeamish. Prescott sustained a compound fracture and dislocation of his right ankle when brought down in a tackle. Feet aren't meant to be facing the way Prescott's was. Sickening.
H – HOW LONG
Before the NFL hits pause on its season because of a spike of positive COVID-19 tests? It is a legitimate question. The Atlanta Falcons shut down their facility yesterday due to multiple positive tests, further complicating a fixture that has already been interrupted. The NFL dominates the sporting landscape in the USA, but maybe enough is enough for now.
I – IT WAS A RELIEF
To hear Brett Cavanough declare on The Sports Daily this morning that unbeaten mare It's Me, part-owned by WA interests, would be starting in the The Kosciuszko. It's Me caused Cavanough some anxious moments this week when she coughed getting out of a pool in the build-up to the $1.3 million feature. With an unimpeded run tomorrow, she is going to take some stacking.
J – JANGLING NERVES
Rugby union officials know the code has its challenges in this part of the world. The 16-all draw with the All Blacks last weekend was encouraging, a sign that maybe things were turning. Then came the bolt from the blue this week that the Springboks were not coming for the Rugby Championship. Their stance leaves the competition with just the Wallabies, All Blacks and Argentina, a reduction from 12 matches to just six. It's not healthy for the game's long-term future.
K – KING OF THE MOUNTAIN
The Bathurst 1000 will look completely different this year because of COVID-19, but a winner will still be crowned. And could it be a Holden driver in what will be an emotional occasion? The Red Bull HRT Commodores of Jamie Whincup/Craig Lowndes and Shane Van Gisbergen/Garth Tander will certainly carry a lot of goodwill.
L – LONG LIVE THE KING
LeBron James has his fourth NBA ring. It perhaps took a little longer than many expected given the LA Lakers' struggles in disposing of the Miami Heat this week, but James now boasts four titles with three different franchises. He said this week that he wanted "respect". He has it in bucket loads. A truly wonderful athlete who isn't done yet.
M – MOUNTAIIN CLIMBING
There will be plenty of that taking place in the leafy Eastern suburbs of Sydney tomorrow with the running of The Everest and The Kosciuszko. Both run over 1200m, they are worth a jaw-dropping $15 million and $1.3 million respectively. Because of COVID-19, the crowd won't resemble what we have seen in the first three years of the Everest being staged, but that doesn't diminish the interest levels.
N – NEALEY THERE
Unless the umpires have been running around with blindfolds this season, Brisbane midfielder Lachie Neale will collect the game's most prestigious individual award on Sunday night — the Brownlow Medal. Neale averaged more than 27.5 possessions per game in a side that finished top two and doesn't appear to have much competition for votes. He would be a worthy winner.
O – OFF AND GOING
WA cricket coach Adam Voges was bullish in the lead-up to the start of the Sheffield Shield season that good times were in the offing. He was on the mark. WA, thanks to a wonderful all-round display from Ashton Agar and unbeaten centuries from Josh Inglis and Shaun Marsh, crushed South Australia ahead of an enticing clash with NSW, starting on Monday. A perfect launch pad.
P – PEARCE OFF
Depending on who you listen to, Mitchell Pearce could find his way back to the Sydney Roosters in 2021. The controversial NRL playmaker is currently on massive money at Newcastle, who are seemingly open to dealing him back to the Roosters to ease salary cap pressure. It's going to be a fascinating watch.
Q – QUALITY OVER QUANTITY
We didn't have much choice this week with the running of the Group 3 Sapphire Stakes (1200m) at Caulfield. Despite being worth $400,000, only Anders, Hanseatic and Ranting accepted. It left officials at MRC scratching their heads (and a little red-faced). That was until the trio staged a three-horse war down the straight before Ranting, the maiden, put his nose out and clinched victory. It was unexpectedly enthralling.
R – RAISE YOU ONE
Arcadia Queen took one of Russian Camelot's best shots in the Group 1 Underwood Stakes (1800m) at Caulfield last month. She then smacked him on the bum and gave him a thick ear as she dashed past him to throw the Cox Plate wide open with a brilliant performance in last weekend's Group 1 Caulfield Stakes (2000m). The heavyweights will square off again next weekend and the build-up will be sensational.
S – STORMY WATERS
Canberra are heading into those at Suncorp Stadium tonight for their NRL preliminary final against the Melbourne Storm. Ricky Stuart's men will need to do something very special to advance to another grand final given they have won only two of 15 matches at the venue, which is home away from home for the Storm. Factor in Melbourne have had the benefit of a week off and it's not hard to see why the Storm are favourites.
T – TEARS I CRY
No, I am not talking about the $101 bolter trained by Ciaron Maher to win the 2007 Emirates Stakes (1600m) at Flemington. Rather the overwhelming emotion following the news Winx lost her unborn filly this week. Due to foal down this month after being covered by I Am Invincible, the statement released on behalf of the ownership group was a hammer blow.
U – UNDENIABLE
If you can't get excited about the looming showdown between Chicago Bull and Shockwave in the Group 2 Mount Eden Sprint (1730m) at Gloucester Park, then it's best you get someone to check your pulse. The pair have shared the honours in two tussles during the spring and will start alongside each other in barriers one and two, with Chicago Bull coming up with the pole.
V – VERY MUCH IN THE MIX
Verry Elleegant dispelled any doubts over her ability to handle a firm Melbourne track and high-class spring opposition with her win in the Group  Turnbull Stakes (2000m) and now has the perfect opportunity to clinch her biggest victory in tomorrow's Group 1 Caulfield Cup (2400m). Drawn midfield for proven big-race rider Mark Zahra, the daughter of Kiwi stallion Zed is likely to be confronted by the soft ground she adores and will give international raider Anthony Van Dyck something to catch.
W – WIZARDRY AT ITS BEST
William Pike has never been afraid of the big moment. That much was evident last weekend when he absolutely showed off (in the best fashion possible) to boot home four winners, including Group 1s aboard Arcadia Queen and Ole Kirk. The Wizard quietened the Eastern States critics in emphatic fashion.
X – X-RATED
What came out of Argentinian Lionel Messi's mouth this week was very much that. The goal-scoring maestro didn't utter the F word, but the C word in the direction of the Bolivian manager following his country's 2-1 World Cup qualifying win. Tut-tut Mr Messi.
Y – YELLOW AND BLACK
Port Adelaide would love nothing more than to celebrate their 150th anniversary with a premiership. To do that though, they need to resist the challenge from Richmond tonight in what promises to be a brutal preliminary final. There is an air of Brisbane 2004 about the Tigers, but it would take a bold individual to say Damien Hardwick's charges can't get the job done.
Z – ZZZs
Don't be expecting a lot of it this weekend. If you must shut your eyes, make sure it is a nap only. AFL and NRL preliminary finals, Group 1 racing in Melbourne, The Everest in Sydney, a terrific card at Ascot, Tommy Shelby chasing a payday, the Mount Eden Sprint at Gloucester Park and West Coast Fever seeking a Super Netball title. Also a Bledisloe Cup at Eden Park. You wouldn't be dead for quids.