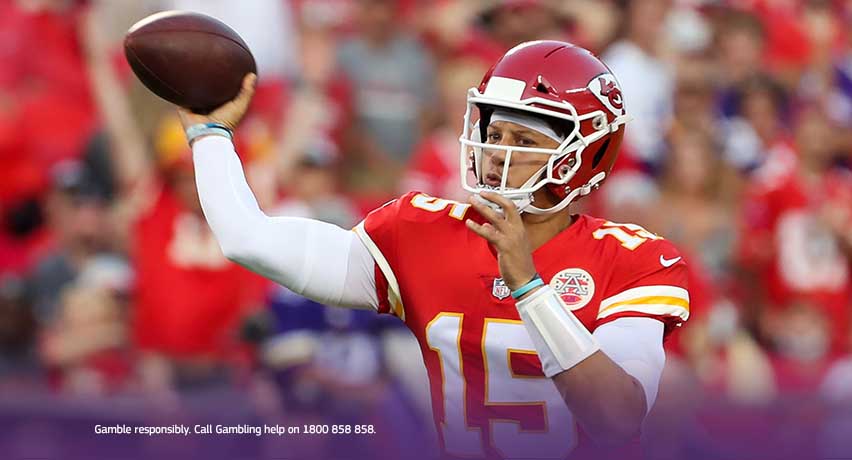 SUPER BOWL WINNER
Buffalo Bills @ $13*
The Buffalo Bills come into the 2021/22 NFL season off the back of a super-impressive 20/21 campaign that saw them win 13 of 16 games, before ultimately going down to the Chiefs in the AFC Championship Game.
The Bills are an offensive powerhouse led by their young quarterback Josh Allen. Allen, still only 25, took a huge leap last season throwing for 4,544 yards (up from 3,089) and 37 touchdowns (up from 20). A big part of this improvement was also thanks to the play of star wide receiver, Stefon Diggs. Diggs has played himself into 'best in the league' territory leading the NFL in catches (127) and receiving yards (1535).
The Bills went 3-0 in preseason, scoring 76 points and conceding just 30. They've just signed Josh Allen to a new six year deal and the team showed last year that they can mix it with any team in the league. While it's going to be tough getting out a conference that boasts Patrick Mahomes and the Kansas City Chiefs, the Bills have all the pieces to make a legitimate run at Super Bowl LVI.
---
MVP
Patrick Mahomes @ $6*
Kanas City Chiefs' quarter back, Patrick Mahomes, is the frontrunner for the MVP award this season, and rightfully so. Mahomes won the award back in 2018 and is the creator for the most electric offense in the NFL.
Mahomes has been dominant since becoming the Chiefs' starting quarterback in 2018. In those three seasons, he has led the NFL in passing touchdowns (114), and is second in passing yards (13,868). Last season he completed a career-high 66.3% of his passes, for 4,740 yards, 38 passing touchdowns and just six interceptions.
At his disposal, Mahomes has the best tight end in football (Travis Kelce) and the fastest receiver in Tyreke Hill. Last season was a breakout year for Hill who finished with 87 receptions, 1,276 receiving yards, 15 receiving touchdowns and two rushing touchdowns.
Perhaps the biggest case for Mahomes is the improvements the Chiefs have made to their offensive line. We saw in last year's Super Bowl how little protection he had against an elite defense, but if the new look group can offer any resistance at all, Mahomes is capable of taking care of the rest.
---
NFC Conference Winner
Green Bay Packers @ $7*
The Green Bay Packers feel (strangely) like the forgotten team in the NFL when it comes to Super Bowl and conference predictions. Reigning MVP Aaron Rodgers is back for one last season in green and gold, and while disgruntled at the organization, he'll love nothing more than to leave on a high. (And possibly his middle finger raised).
Green Bay came bitterly close to making the Super Bowl last season, with the team famously (or infamously) electing to kick a field goal while trailing Tampa Bay by eight points with just over two minutes remaining. The team were of course fourth-and-goal at the time, and Rodgers was (of course) left disgusted by the decision of his coaches.
Rodgers threw for 4,299 yards for the season and led the league with 48 passing touchdowns. The Green Bay offense boasts (again) possibly the best receiver in the game, in Davante Adams, who had 115 catches and 1374 receiving yards in 2020/21. Perhaps the biggest case for Green Bay is the eventual return of All-Pro left tackle David Bakhtiari, who is set to be back sometime around mid-season.
With Allen Lazard and Marquez Valdes-Scantling alongside Adams, Rodgers has plenty of weapons, and should (even if eventually) get the offensive line he needs to do what he's been doing for years now. They'll need to get past Tom Brady and the Buccs, but showed last year they're more than capable of mixing it with them.
*Odds correct as at 10am, 7th September 2021.
Market
Market