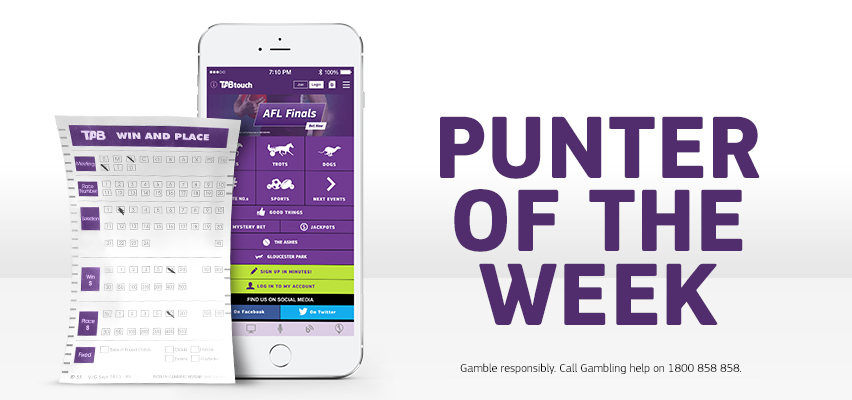 TABtouch Punter of the Week
$5 into more than $3k for our Punter of the Week who liked six legs, combining the NRL and AFL Finals, one game from the Premier League and the FIBA World Cup Final.
Some (very) close calls throughout (there always are!) including a 12 point margin in the NRL (on a 1-12 leg) and the AFL thriller between the Lions and Giants on Saturday night.
It was an easy end to proceedings however, with Parramatta's demolition job of the Broncos and then Spain cruising to a 20 point win in the Final of the FIBA World Cup on Sunday night.
Winning Multi
Melbourne vs Canberra (NRL)
Leg 1: Canberra 1-12 (Margin) @ $4
Result: Melbourne 10 def by Canberra 12
Manly vs Cronulla (NRL)
Leg 2: Manly 1-12 (Margin) @ $3.80
Result: Manly 28 def Cronulla 16
Brisbane vs GWS (AFL)
Leg 3: GWS 1-39 (Margin) @ $2.60
Result: Brisbane 80 def by GWS 83
Manchester United vs Leicester City (EPL)
Leg 4: Manchester United WIN and Under 1.5 Goals @ $7
Result: Manchester United 1 def Leicester City 0
Parramatta vs Brisbane (NRL)
Leg 5: Parramatta (Head to Head) @ $1.50
Result: Parramatta 58 def Brisbane 0
Argentina vs Spain (FIBA World Cup)
Leg 6: Spain (Head to Head) @ $1.59
Result: Argentina 75 def by Spain 95
Investment
$5 with a multi price of $659.78
Paid Out
$3,298.94