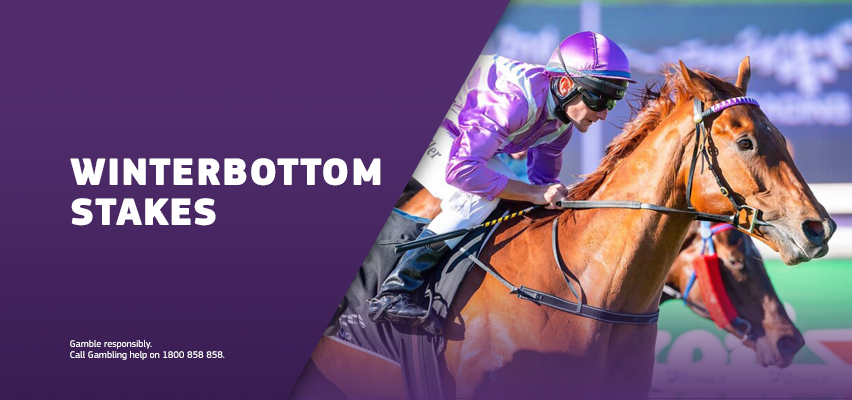 1. Rock Magic (58.5kg)
Trainer: Chris & Michael Gangemi
Jockey: Jarrad Noske
Barrier: 7

Holds claims as WA's most popular horse and tackles an incredible sixth Winterbottom Stakes (2014, 2016, 2017, 2019, 2020 and 2021). This will be his Swan Song as he heads into retirement and he deserves a biography as a 12 year old still matching it with the best in the West. Winner of six Group 3s, three Listed races and placed in three separate Winterbottom Stakes. Absolute ripper who reunites with his best mate JJ Noske for his farewell and gives us all a fairy-tale to cheer for. Barrier Gods are on board.
---
2. Elite Street (58.5kg)
Trainer: Daniel Morton
Jockey: Brad Rawiller
Barrier: 10

Looms an ominous shadow in the 2021 Winterbottom Stakes. Reigning winner who is proven at Weight For Age and is looking to complete an historic clean sweep of the WA sprinting features. Won the Crawford Stakes (1000 SWP) first-up without a trial, won the Prince of Wales Stakes (1000 WFA) second-up and won the Colonel Reeves Stakes (1100 SWP) third-up. Danny Morton has him firing on all cylinders and Brad Rawilller knows him inside out. He's a winner and he's awfully hard to beat from what is a perfect gate for him.
---
3. Red Can Man (58.5kg)
Trainer: Steve Wolfe
Jockey: Shaun McGruddy
Barrier: 11
Resumed in the Colonel Reeves when finishing fourth behind Winterbottom rivals Elite Street, Graceful Girl and Long Beach, beating home Carocapo, Iseered Iseered, Stageman, Money Matters, River Beau, Laverrod and Flirtini. Meets Elite Street 2kg worse at the weights for being beaten 1.1L which makes it hard to see him turning the tables on the favourite but the harder and faster Wilchino and Indian Pacific go the better Red Can Man will go. Loves a high-pressure slog.
---
4. Laverrod (58.5kg)
Trainer: Sean & Jake Casey
Jockey: Jordan Turner
Barrier: 8
Was bitterly disappointing in the Birthday Stakes (1200 SWP) at Belmont Park when plunged into $1.60 at his return to Western Australia and had nothing to offer when William Pike pulled him into the clear at the top of the straight. Was beaten fair and square by Uni Time, Massimo, Valour Road and Mystical View which doesn't read up like Winterbottom Stakes form. Freshened by team Casey and was far better in the Colonel Reeves when tramping wide throughout and kept coming to the line.
---
5. Money Matters (58.5kg)
Trainer: Chris & Michael Gangemi
Jockey: Craig Staples
Barrier: 6
Did beat Elite Street, Flirtini, Cup Night, Rock Magic and Carocapo in the Roma Cup (1200 WFA) at Belmont Park in May in the care of previous trainer Adam Durrant. Has had two starts for his new connections when fourth in the Prince of Wales and eighth in the Colonel Reeves when meeting with support in betting. Didn't get the best of runs but others were inconvenienced far worse than him.
---
6. Indian Pacific (58.5kg)
Trainer: Neville Parnham
Jockey: Brad Parnham
Barrier: 12
After the 2020 Winterbottom Stakes he won the Summer Scorcher (1000 Handicap) and two starts later found himself in a Listed Bob Hoysted when finishing second and then ran out of his skin to finish second in the Group 1 Newmarket over 1200m down the Flemington straight. Returned to WA with lofty expectations and the anticipation of stamping his authority on our sprinting ranks. So far hasn't quite lived up to the hype and has had the zip taken out of his legs by Mervyn. There's no Mervyn here, but there is a Wilchino.
---
7. Outrageous (58.5kg)
Trainer: Luke Fernie
Jockey: Lucy Warwick
Barrier: 14
Unknown runner having his first start in the State after being purchased by Luke Fernie in the 2021 Inglis September Online Sale for $75,000. Former $460,000 yearling originally acquired by Hawkes Racing and is from a family we actually know quite well here in WA, half-brother to Very Tempting and Temptacion. Hasn't fired a shot in six outings since his win in the Festival Stakes (Group 3 1600 Rosehill) and has never won below 1300m. Would think he'll be chasing a fair way out.
---
8. Cup Night (58.5kg)
Trainer: Bernie Miller
Jockey: Patrick Carbery
Barrier: 13
Genuine top-line sprinter, miler who can produce a devastating turn of foot fresh and brings a real X-Factor to the race. Some of his first-up feature efforts have included: victory in the Scenic Blast Stakes (1200 Handicap), second in a Black Heart Bart Stakes (1200 SWP) and a blistering win in the Northam Stakes (1100 SWP) when recording a final 600m of 32.30 and an individual furlong split of 10.40 in the home straight. On his day he is dynamite and Bernie Miller has given him three trials to make sure he's ready.
---
9. Stageman (58.5kg)
Trainer: Adam Durrant
Jockey: Clint Johnston-Porter
Barrier: 15
2019 Winterbottom Stewards Report: "Unable to obtain clear running for the entire length of the straight." 2020 Winterbottom Stewards Report: "Blocked for clear running in the straight". 2021 Colonel Reeves Stewards Report: "Blocked for clear running in the straight. Raced tightly with another runner over the final 100m and bumped in the concluding stages". Frustrating trend emerging with Stageman and if there's bad luck to be had he'll sniff it out. Has the ability to win, but can he stay out of trouble?
---
10. Carocapo (58.5kg)
Trainer: Jim Taylor
Jockey: Jason Brown
Barrier: 3
Seemingly at cross-roads heading into the Colonel Reeves when going around at $151. Ran a great race when tracking up three deep with cover (handy ride) and held his own in the straight. At this stage of his life he's not quite up to them at this level and looks far better suited to the Listed Handicap races like the Miss Andretti and Scenic Blast in January where he would get ~57kg. Barrier draw means he can tow ball Wilchino which is a bonus.
---
11. Iseered Iseered (58.5kg)
Trainer: Luke Fernie
Jockey: Mitchell Pateman
Barrier: 5
Luke Fernie and Mitchell Pateman will never know how close they would have gone in the Colonel Reeves but to the eye he looked like he had more than a little something to offer had he got clear at any stage. Went to the line bolting and continued to show that he is only getting better with racing and experience. His questionable winter sprints form from the Jolly Begar (77+) and Nicopolis (77+) was franked with how well he travelled into it in the Colonel Reeves. Progressive 4 year olds look the dangers to Elite Street in 2021.
---
12. Long Beach (58.5kg)
Trainer: Chris & Michael Gangemi
Jockey: Shaun O'Donnell
Barrier: 9
Another genius Team Gangemi purchase. Less than 21 days after they bought this horse from Peters Investments he won a 78+ 1000 at Belmont to get a big portion of the purchase price back for his new owners. First-up this campaign he sat three-deep tracking the speed and still loomed into the race with purpose. Beaten under a length by Elite Street and Graceful Girl looks great but he's not well suited in the Weight For Age conditions at all.
---
13. River Beau (58.5kg)
Trainer: Bruce Watkins
Jockey: Jason Whiting
Barrier: 17
Thrown right into the deep end here. Unfortunately for Bruce Watkins the handicapper has a firm hold of River Beau as a m86 rater: he gets 61kg in a 72+ leaving Bruce to choose between racing outside the handicap in Listed sprint handicaps, battling outside of his weight division in SWP or WFA features or picking and choose his way through the very few 78+ races on offer. Goes round 200-1.
---
14. Flirtini (56.5kg)
Trainer: Simon Miller
Jockey: Troy Turner
Barrier: 4
Could well find herself in one of her last racing preparations with the breeding barn starting to call this Listed (Miss Andretti Stakes) and dual Group 3 (Prince of Wales and Colonel Reeves) Stakes winning mare. Ran the fastest last 1000 in the 2019 Winterbottom, ran the fastest last 1000 in the 2020 Winterbottom, but she's not going anywhere near as well in 2021. Needs to show something.
---
15. Graceful Girl (56.5kg)
Trainer: Grant & Alana Williams
Jockey: William Pike
Barrier: 18
Brings a lot of comparisons to the 2020 runner up Celebrity Queen. This time last year Celebrity Queen attacked the Winterbottom Stakes as a 4 year old mare fourth-up from a spell off the back of a win in the Colonel Reeves. In 2021 Graceful Girl attacks the Winterbottom Stakes as a 4 year old mare fourth-up from a spell off the back of a second placing in the Colonel Reeves. Meets Elite Street 3kg worse at the weights but like Celebrity Queen she's got the turn of foot to put her into the race, however, from barrier 16 of 16 she may well settle last.
---
16. Wilchino (56.5kg)
Trainer: Daniel Morton
Jockey: Chris Parnham
Barrier: 1
Will probably be the most talked about runner in the entire race with opinions likely to be well and truly divided on Danny Morton's speed machine. Last year Elite Street won the Winterbottom Stakes as a m82 rater coming off a 72+ victory. Wilchino comes to the race as a m89 rater coming off a 72+ victory. Last start she carried 60kg and recorded the fastest 1200m race Ascot has seen since Hey Doc's 2019 Winterbottom Stakes win (1:08:58 Wilchino & 1:08:59 Hey Doc). Commanded nationwide attention with her breathtaking high-speed galloping exhibition and provided she steps cleanly from the inside gate she will be in front with less than 100m to run.
---
SELECTION: ELITE STREET
Is the proven commodity in the race. While Wilchino brings the ultimate X-Factor with her ability to burn the candle at both ends, the barrier draw will ensure that Brad Rawiller has the reigning champ parked in the three deep line waiting for the home straight before letting him loose down the centre. Staring down the barrel of a fourth straight feature success in what has already been an incredible preparation.
Market
Market