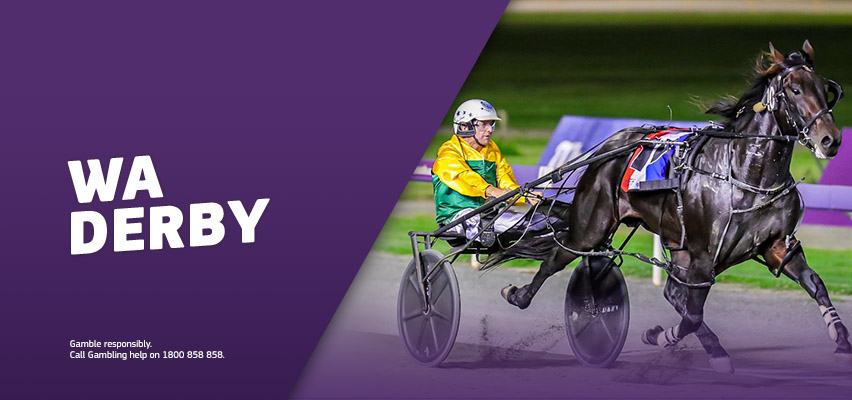 Photo: Hamilton Content Creators
1. Sugar Street
Trainer: Barry Howlett
Driver: Chris Voak
Has only had the three lead-up races to get ready for this assignment but did run a nice 2nd to Jumpingjackmac after starting from this draw two starts back. He will enjoy a nice run on the pegs and shouldn't be far away at the finish.
---
2. Mighty Ronaldo
Trainer: Justin Prentice
Driver: Justin Prentice
Reigning Golden Slipper winner who caused a boilover in that race last year and is a chance to repeat the dose. He hasn't had much luck in his last few starts but he is the only horse to defeat Lavra Joe this time in. He has options from the draw and is a genuine winning chance.
---
3. American Bullitt
Trainer: Sonia Zucchiatti
Driver: Mitchell Miller
Performed well when 4th to Jumpingjackmac here on Friday but he has only been placed in one of his past eight starts and it would be a surprise to see him figure in the placings against this line-up.
---
4. Jumpingjackmac
Trainer: Gary Hall Snr
Driver: Gary Hall Jnr
Exciting 3YO who has won six of his eight career starts and recorded some sizzling sectionals in the process. He ran a slashing 2nd to Lavra Joe in one of his defeats and gets the barrier draw advantage over his main rival tonight. He should control the tempo of the race and will be very hard to beat.
---
5. Strike Team
Trainer: Aiden De Campo
Driver: Aiden De Campo
Sat on Lavra Joe in the Country Derby and chased hard when 2nd to that 3YO but will need a lot of luck or a very good drive to be placed from this draw tonight.
---
6. Give Us A Wave
Trainer: Greg & Skye Bond
Driver: Ryan Warwick
Ran 2nd in the Golden Slipper against a similar field last year but appears to be a rung below the top 3YO's this season. He has won two out of his last three but that has been against easier company and it will be a surprise to see him figure from this draw.
---
7. Sound Wave
Trainer: Ryan Bell
Driver: Ryan Bell
Started at $126 when finishing 8th in the Battle Of Bunbury and his chances look similar from out in this draw tonight.
---
8. Pinny Tiger
Trainer: Michael Brennan
Driver: Michael Grantham
Followed Lavra Joe and fought on well to finish 2nd to that 3YO in the Battle Of Bunbury before defeating a weaker field at his last start. He has been blessed with good barrier draws throughout his career but his luck ran out here and he will be one of the outsiders.
---
9. Carabao
Trainer: Ross Olivieri
Driver: Kim Prentice
The barrier draw has cruelled any chance that he did have in this event and it would be a surprise to see him figure in the placings.
---
10. Lavra Joe
Trainer: Ray Jones
Driver: Chris Lewis
Has proven himself to be the best 3YO in the state with wins at seven of his eight starts this time in but the barrier draw will make it tough. He is going to have work hard in the run and chase down his main rivals but he has a big heart and can't be overlooked.
---
11. Seeryanfly
Trainer: Robbie Williams
Driver: Robbie Williams
Sit-sprinter who has gone to a new level this time in and ran a great 3rd to Jumpingjackmac at his last start. He draws to get a soft trip off the speed and could be the blowout chance if the race is run upside down.
---
12. Otis
Trainer: David Thompson
Driver: Dylan Egerton-Green
Continues to improve and showed he was ready for this assignment by finishing a 2m 2nd to Jumpingjackmac here last Friday. He is likely to settle midfield and will be charging home if there is a solid tempo up front.
---
13. Be Rock Hard (1st Emg)
Has proven he isn't too far below the topliners when he gets the right trip and he can be placed if he gains a start from a favourable barrier.
14. Miss Boudica (2nd Emg)
Ran 3rd in the WA Oaks before beating a weak field but looks totally outclassed in this company if she were to gain a start.
---
Selection: Lavra Joe
Has been the long-time favourite for this race and his form is impeccable. He has shown that he is capable of doing it tough in his races and he will have to go to another level to outstay his rivals from this barrier but he does looks something special and is now at a backable price.
Market
Market