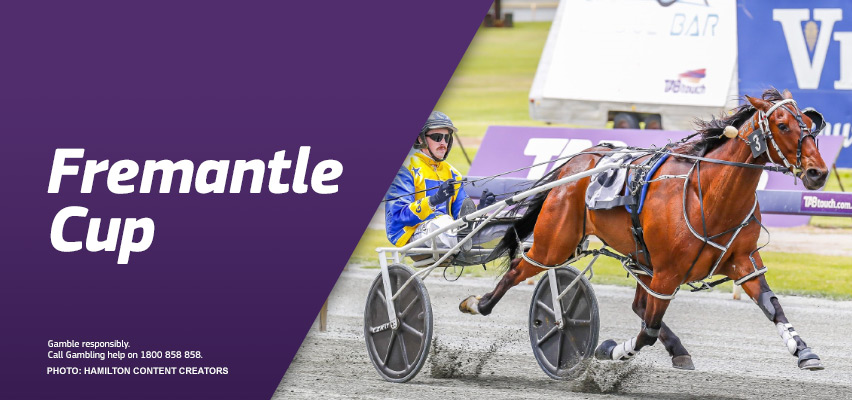 1. Bletchley Park
Trainer: Stephen Reed
Driver: Lindsay Harper
Talented 4YO who gets the drawn needed to be a major player and looms as a genuine outsider with a chance. He has battled bad draws at his past three starts but did run a nice 2nd to Chicago Bull before that and has the tactical speed to make things interesting at the start and end of this race.
---
2. Mighty Conqueror
Trainer: Greg & Skye Bond
Driver: Dylan Egerton-Green
The reigning WA Pacing Cup winner who faced the breeze and proved too strong on that occasion. He then had nine months away from the racetrack and his three starts back have been solid without striking fear into his opponents. He is capable of elevating to another level if he finds the front but will need to find a few lengths to challenge the two favourites.
---
3. Shockwave
Trainer: Ryan Bell
Driver: Aiden De Campo
The heir apparent to Chicago Bull who led throughout to beat that pacer five starts back over this distance. He has drawn outside his arch rival at his last four starts and has finished 2nd to him on each occasion. He gets the draw he needs to turn the tables tonight and is sure to make the sparks fly.
---
4. Vampiro
Trainer: Greg & Skye Bond
Driver: Colin Brown
The runner-up in both the Fremantle and WA Pacing Cups early in the year who overcame barrier nine on both occasions by using his blistering gate speed to find the front. He led throughout at his last start and will give a great sight if he can find the top but this field is stronger than the January edition of the same race.
---
5. Jack Farthing
Trainer: Justin Prentice
Driver: Chris Lewis
Newcomer to the state who defeated a restricted class field before running a nice 3rd behind Chicago Bull and Shockwave after enjoying a lovely trip in transit. He has an awkward draw to overcome and will need the race to be run upside down to feature in the finish.
---
6. Chicago Bull
Trainer: Gary Hall Snr
Driver: Gary Hall Jnr
Multiple Group One winner who has returned from an injury-enforced break and is back to his absolute best. He has won 11 of his past 12 starts with the defeat being a gallant 2nd to Shockwave six starts back. The draw makes it a contest but he is extremely versatile and is still the one to beat.
---
7. Our Jimmy Johnstone
Trainer: Greg & Skye Bond
Driver: Michael Grantham
Oldtimer who continues to race well but the draw makes it extremely tough for him tonight. He is likely to go back at the start and race on the pegs and will need plenty of luck to figure in the finish.
---
8. Vultan Tin
Trainer: Phil Costello
Driver: Emily Suvaljko
8YO gelding who finished 4th in an Inters final and is a proven performer at this level. His recent form is solid and he is the type of horse that could be placed at massive odds if there is a very solid tempo in the early and middle stages.
---
9. Ocean Ridge
Trainer: Greg & Skye Bond
Driver: Deni Roberts
The only horse to defeat Chicago Bull and Shockwave in the same race. He is an opportunist with a sizzling turn of foot when saved up for one run but the wide draw makes it very tough so maybe look for him in the WA Pacing Cup if he draws better in two weeks.
---
10. Perfect Major
Trainer: Ross Olivieri
Driver: Chris Voak
The new kid on the block who impressed with victories at his first four starts this time in against weaker fields. He then stepped up to the big time and ran a brave 3rd to Chicago Bull and Shockwave after facing the breeze. He is likely to enjoy a soft run on the pegs and looks a roughie with a genuine chance.
---
11. Convert Denario
Trainer: Ray Williams
Driver: Aldo Cortopassi
6YO gelding who did lead throughout to win consecutive races recently but looks out of his depth tonight. He is likely to head straight to the pegs but it will be a surprise to see him run into the placings against this line-up.
---
12. Galactic Star
Trainer: Greg & Skye Bond
Driver: Ryan Warwick
A proven performer in this company and has made an Interdominion Final but is still searching for his maiden Group One Victory. His last two efforts have been full of merit and he is a definite winning chance if Chicago Bull and Shockwave both have to work too hard in the run.
---
SELECTION: Chicago Bull
Has held the mantle of the state's best pacer for a while but will be thoroughly tested tonight after the marbles fell the way of his main rivals. He looked extremely sharp in his win on Sunday and his versatility means he is capable of overcoming the draw.
Market
Market