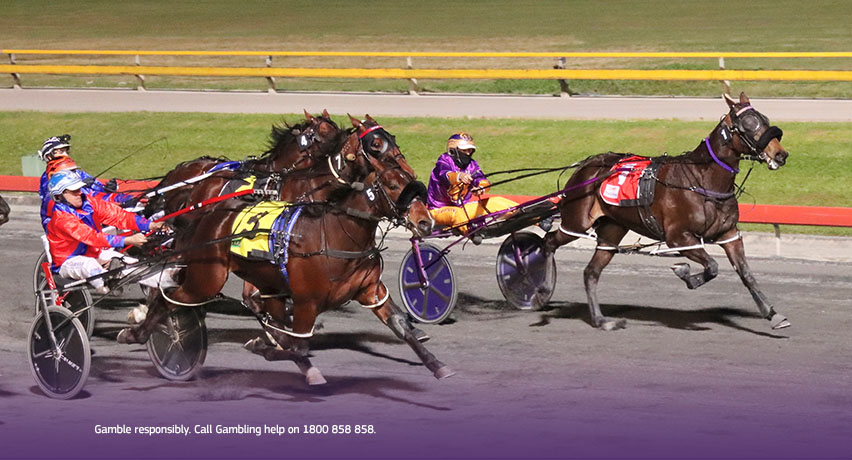 RACE 1
OHOKA CHOPPER (1) was put on the front-end last week from a wide gate when holding on for 3rd after fading. A winner at his only outing here at Redcliffe, this race looks squarely in the wheelhouse. HELLO ITS ME (4) led throughout last start in claiming a narrow victory. The gate does her no favours, but she has hit some nice areas in recent starts. LETTERKENNY BOY (6) has a super record here on The Triangle and attacks this race fresh from a let up. He can swoop. OUR BALOU (7) should secure the ideal trip in behind the action and although better suited when rolling, will gain an economical trip.
SELECTIONS: 1-4-6-7
SUGGESTED BET: OHOKA CHOPPER (1) to win
---
RACE 2
LIFES BLACK (1) went around on Tuesday where he was a real eye-catcher hitting the line smartly after probing for openings. He lands the perfect gate against the right opponents to score the breakthrough in this grade. SO BOBS YOUR UNCLE (4) keeps getting close without being able to land the winning blow. Runner-up to Le Tissier last start, he just needs a rub of the green. ALI DOWNUNDER (3) was a strong winner defeating Dance In The Sun last time when leading up the outside division and worrying the leader out of it. His Redcliffe record is a plus. PEBBLE SANDS (7) led throughout last start and should secure a cosy trip behind the speed.
SELECTIONS: 1-4-3-7
SUGGESTED BET: LIFES BLACK (1) to win
---
RACE 3
ROCKS OR DIAMONDS (8) burnt plenty in the early stages but was repelled and then didn't get clear in time in the latter stages last week. His best looks to be when saved for one shot and after it was rocks last week, he might just shine this time. KATACHA MAN (1) backs up at his home track after a gritty 3rd on Wednesday night. The gate is a huge help to his hopes. BARKWAY ARNOLD (7) should secure the soft run behind the likely leader and from there will stalk the speed. BOMB SUIT (5) is back in Queensland to join the Thurlow stable but is given no favours from this alley first up.

SELECTIONS: 8-1-7-5
SUGGESTED BET: ROCKS OR DIAMONDS (8) to win
---
RACE 4
BELLA BALL TERROR (1) may have the numbers to suggest Redcliffe is not a happy hunting ground, yet this will be his first appearance at the track under Trent Dawson's training. Not suited last start when parked and looking for 3 successive wins, conditions look right this time. LE TISSIER (4) had the speed to lead them all the way last start, aided by a very steady second quarter. The wider gate at his first look at the track is a query. OUR BONDI BEACH (2) is best suited when finding the pegs and taking a probing shot. Despite not getting those conditions, he should not be too far away. WE SALUTE YOU (8) is an opportunist and from this alley a 3-pegs position looks available and matches his best pattern.

SELECTIONS: 1-4-2-8
SUGGESTED BET: BELLA BALL TERROR (1) to win
---
RACE 5
RAANI (2) does not draw to lead too often and when she has found the front, the record sits at two wins from three attempts. One of those wins was on this track two starts back and conditions looks right for a repeat. BRILLIANT ART (4) has developed a superb record at this track and her form has been better than the numerical returns suggest. This race arrives at the right time. MOLLIESMARYELLE (9) has no favours from the tough gate, but her form is pleasing, including a 2nd to Shes Koala Tee 3 starts back. SHEZALUCKYLADY (1) faces tougher competition than her past two where she has been runner-up in each, but the gate helps.

SELECTIONS: 2-4-9-1
SUGGESTED BET: RAANI (2) to win
---
RACE 6
GOVERNOR JUJON (5) was massive last week when sitting parked in a 1.51.2 mile and then having the temerity to launch a closing raid after angling back to the poles and coming up a lip short of victory. The star 5YO is undefeated in four starts here on The Triangle. ROCKNROLL ICON (1) made the most of conditions last week to lead all the way for a stylish win, setting a new career PB in the process. He wins big from the barrier draw again. MAJOR FERNCO (2) makes his first appearance for the season at a track where he has raced on just one previous occasion with the barrier a bonus. EL AGUILA (7) looks set for a soft trip in behind the action and will be searching for gaps.

SELECTIONS: 5-1-2-7
SUGGESTED BET: GOVERNOR JUJON (5) to win
---
RACE 7
HEMSWORTH (9) was an effortless winner of his heat for this Final when only needing to sprint the last 300m. The gate makes it a little tougher this time, but there looks a big class differential with his opponents. SHAKATIE (1) held 3rd in her heat and has been sent around again since the heat where she finished 2nd on Tuesday at The Creek. The fence run will aid her chances. DOCTA FEELGOOD (5) faces the tough gate and although not likely to pressure the favourite, three of his four wins have been on this track. MISSTREPO (7) was first-up from a spell in the heats when best of the chasers behind Hemsworth. The fence is the place to be in this contest.

SELECTIONS: 9-1-5-7
SUGGESTED BET: Flexi trifecta 9 / 1-4-5-7
---
RACE 8
PIPPA MAGUIRE (9) is one mare that just cannot land a marble, starting from wider than five on a continual basis. The run last start had merit when bridging the gap set by a dictating leader and tackling her own sex might just be the right tonic. CALL ME TRISH (1) finished 3rd behind American Flyer last start at Albion Park and comes up with the ideal gate to throw down a challenge in this line up. MAFFIOSO GIRL (4) was too tough for them when winning after sitting parked three runs back and has early hustle to get forward. ASHLEE NITRO (5) is a swooper and if the tempo is suitable, she is the off-pace runner to be watching for. A super record at this track helps the cause.

SELECTIONS: 9-1-4-5
SUGGESTED BET: PIPPA MAGUIRE (9) to win
---
RACE 9
ZAHVEN BANNER (7) gets back to veteran's company which should be the tonic required to return to winning form. Fading from the trail behind L L Cool J last week, he has the bonus of being the lone 2nd line runner in the small field. JONAH JONES (5) chased hard for 2nd to Rocknroll Icon last time. Not much went in his favour his previous two starts. GOODBOY COWBOY (2) has not been too far away in two starts since arriving in Queensland and takes his first look at Redcliffe for this. BEAU CISHLOM (6) secured the easy trip last week and had the speed to dart up the passing lane to score. The gate dents his hopes for a repeat.
SELECTIONS: 7-5-2-6
SUGGESTED BET: ZAHVEN BANNER (7) to win
---
RACE 10
DOUG (4) -the enigma- has been at his best, claiming a hat-trick of wins last start. One of just two runners in this field that can boast a win here on The Triangle, that win came at his last start back on December 22 in the Christmas Cup. SIR FAHRENHEIT (5) finished the season beaten 14m behind Doug at Albion Park when giving over a 30m deficit at the tapes. With just 10m between them this time, he is yet to taste Redcliffe victory after four attempts. KINGDOM COME (2) is also winless on this deck but looks best served at the handicaps. He starts 20m in advance of Doug who he started off equal terms with last start. IM THE COMMANDO (1) is the other runner with a win here and from the front can give cheek, while GARLAND GREENE (3) has trialled nicely to prepare for a race return.
SELECTIONS: 4-5-2-1
SUGGESTED BET: DOUG (4) to win
---