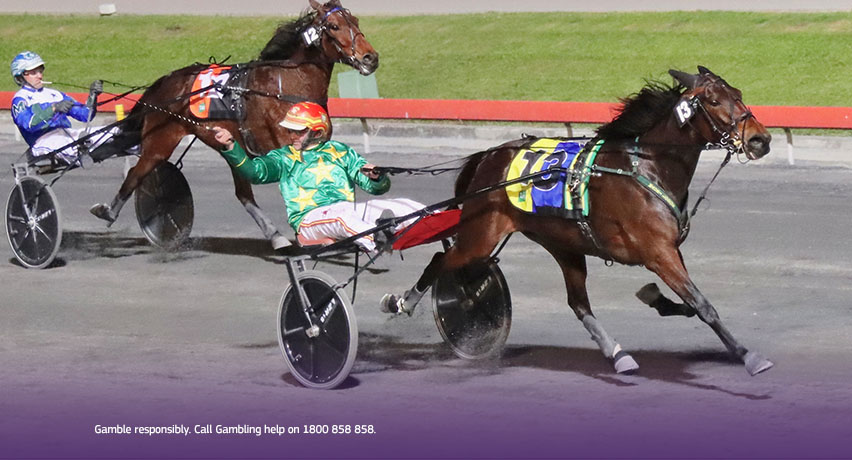 RACE 1
TURN IT UP (10) only did what he had to last week, made easy by being gifted a middle half in 63 seconds and then scorching the stretch. This is a tricky FFA despite being two less runners, but the hunted can be the hunter. DEUS EX (6) was sharp here last week carving out a slick 54.2 closing half from the front end to demolish his rivals. This is another step up in grade but there is every indication he could try to take hold of this. COLT THIRTY ONE (4) grabbed 3rd in the Christmas Cup behind Turn It Up last start, fighting all the way. Not sure where he maps from this alley, but his record on this track is impeccable. L L COOL J (3) bounced back into the winner's circle last start at Redcliffe. Shane Graham opting for this guy over Turn It Up could be a lead?
SELECTIONS: 10-6-4-3
SUGGESTED BET: TURN IT UP (10) to win
---
RACE 2
FIRST STRING (1) does his best work out in front and lands the gate to match the pattern. Asked to sit parked last start when fading late, his win here two starts back was smart with this looking firmly in the wheelhouse. COMMODORE JUJON (8) lands the gate to stalk the speed, with his versatility a key asset to call on from this alley. Forget his last start where he struck trouble. THE ANNOUNCER (12) capitalised with a clinical win from the front in a reduced field here on Tuesday when stacking and racking. The gate is the obvious dampener, but he cannot be overlooked. DIKERRY (3) might just prove to be the sleeper, moving to the front line for the first time since arriving in Queensland. All three runs here have had merit.
SELECTIONS: 1-8-12-3
SUGGESTED BET: FIRST STRING (1) to win
---
RACE 3
ROCKNROLL ICON (1) secures his opportunity to move back up the charts after nothing has been in his favour in recent starts. Forget his figure form, there is a deeper story to be told including an individual last 800m last start in 54 and change. The improved gate can see him hit the right notes.
JONAH JONES (8) will be looking for the 1 to try for an all the way win as that will allow him to have the snipers target locked. Close up behind Misterfreeze last start, he is never far from the action and the map looks in his favour. SUBTLE DELIGHT (10) should appreciate a return to this company after tackling the FFA last week when sound considering the pattern. SAM IS PERFECTION (3) chased hard for 2nd last start as Squire took control. The early scratching to his inside is a bonus.
 
SELECTIONS: 1-8-10-3
SUGGESTED BET: ROCKNROLL ICON (1) and Flexi trifecta 1-3-8-10
---
RACE 4
SCOOB OPERATOR (7) franked his recent efforts at Menangle when putting away his opponents in style here on Tuesday, running a sharp last 800m from the chair and posting a winning 14m margin. This will be little harder but the run on Tuesday was impressive. FRANCO HAMPTON (6) should appreciate the mile conditions after the middle trip really did not suit, especially how it was run last time. With early speed, they might just fire some early bullets. KEY LARGO (10) is at his best on the front end and displayed that here last week when holding on after setting the speed. The alley makes it tough. ROLL WITH ROCKY (1) has won his past two in succession with a pair of dictating wins here at The Creek and at The Triangle. The gate gives him options.
SELECTIONS: 7-6-10-1
SUGGESTED BET: SCOOB OPERATOR (7) to win
---
RACE 5
RECIPE FOR DREAMING (9) was claimed victory here three starts back when taking the trail and then making the winning move in the closing strides. This race looks a tough contest to dissect and playing wide in the multiples looks the way to attack. LIFEOFBRIAN (5) grabbed 2nd behind the in-form Spike Bromac two starts back and followed that with a close margin in a blanket finish. His win record on this track is the concern. TRACER BULLET (2) completed a threepeat of wins last start, all here at headquarters and all in a 7-day window. This will be a step up in grade, but winning form is hard to knock. SOHO SINATRA (10) did not cope last start when forced to work hard in the run. The gate makes it tough, but this is wide open.
SELECTIONS: 9-5-2-10
SUGGESTED BET: RECIPE FOR DREAMING (9) to win
---
RACE 6
OBI ONE (2) has put together a smart record despite going winless since arriving here in Queensland. Only 2m from First String last start when finishing 3rd, his record shows 6 minor placings here at headquarters and he lands the alley in a tough race. GOLIGHTLY (6) stepped up to open company last start and was good all things considered last week behind Turn It Up. Back in some nice form, back to the qualifying grade is a big drop on last start. CAPTAINS PICK (5) completed a hat-trick of all the way wins over 2138m last time out when claiming the Members Cup. The gate makes it tough. LE TISSIER (1) was a little plain last start but in the Members Cup two starts back was not too far away. An absence of early speed might be a concern.

SELECTIONS: 2-6-5-1
SUGGESTED BET: OBI ONE (2) to win
---
RACE 7
VOODOO LOU (5) will strip fitter from her return to the track here last week when a game 2nd after sitting parked, only the passing lane winner Left A Terror beating her to the wire. That was allcomers and back to mares only company here is an added plus. ARTFUL MAID (2) has placed in three starts since scoring an all the way win five runs back. Not much went her way last start and will also appreciate meeting her own sex. SHES KOALA TEE (4) claimed two wins in five days here last week, backing up her Tuesday win with a close-out after securing the prefect trip in the pocket trail on Saturday night. The small field is a plus. SWEET JEMMA (6) was asked for some early hustle to hold the front here last week from gate 1 but then could not finish them off. The gate makes it tougher.
SELECTIONS: 5-2-4-6
SUGGESTED BET: VOODOO LOU (5) to win
---
RACE 8
RAANI (5) had been facing wide gates owing to her starting manners that had her out of the draw. With the restriction removed, she took full advantage at Redcliffe last start to lead throughout. This mare's race is open enough for a back-to-back performance. GOALKICKER (9) converted here two starts back when finishing strongly from gate 10 to claim victory. Beaten by a wide gate here last week, she has been hitting them well enough to overcome the gate. SNUGGLES BANYULA (6) was collared in the closing stages last start after trying to lead throughout. The gate makes that a little tougher this time. BETTOR MEMORIES (1) has the gate to be tucked in behind the action and look to chime in once again, the same way she has in 2 of her past 3 when filling a minor.

SELECTIONS: 5-9-6-1
SUGGESTED BET: RAANI (5) to win


Market
Market