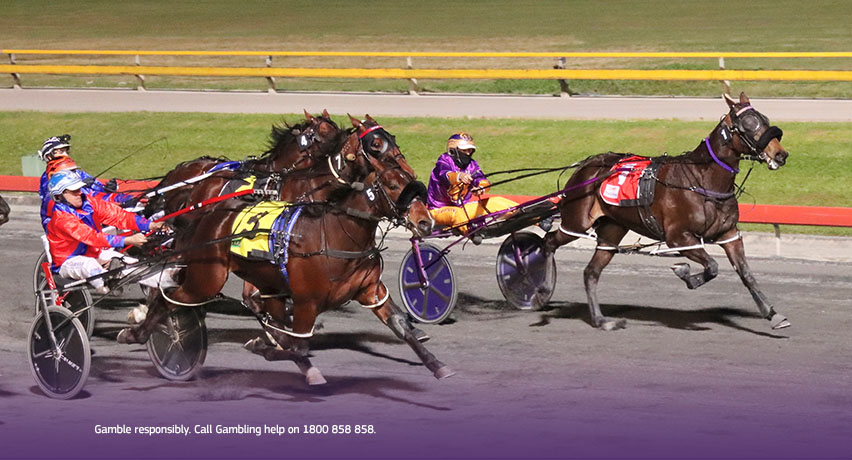 RACE 1
MANILA PLAYBOY (10) should strip fitter from his run in last week's 3YO event where he drew gate 7 and was making good ground in the closing stages. The tempo looks solid, and he can make the step up to tackle the older performers. EL AGUILA (3) pulled clear for victory by a 9m margin last start after pressing on to the front from gate 5. He comes up with the alley to optimise his early speed. MAJORCA (7) has only missed victory once in 7 starts in Queensland, with that defeat by the barest possible margin behind Uncle Shank. The gate makes this a big ask. IDEAL ESCAPE (8) started from outside the 2nd line last week when strong to the line, beaten just 4m.
SELECTIONS: 10-3-7-8
SUGGESTED BET: MANILA PLAYBOY (10) to win
---
RACE 2
FOND MEMORIES (9) has been sectionally superb at her past two against the FFA mares where she has had to come from gate 7 on both occasions. Back to a conditioned race gives her every hope.
SQUARE DEALER (2) had to spend a bit just to chase the gate here on Tuesday. Taken back when the arms folded, he then did not have the smoothest transit with the improved gate in his favour.
PACIFIC DRUMS (6) will be having just his second start since June following a midfield finish when resuming. The gate is a query, although he can fly early. ROLL WITH ROCKY (1) sat parked last start and was game in defeat. The improved alley with his gate speed is a big plus.
SELECTIONS: 9-2-6-1
SUGGESTED BET: FOND MEMORIES (9) to win
---
RACE 3
THE IDEAL DANCER (1) has promised more than he has delivered here at The Creek with just the solitary win in 21 attempts. That said, he looks to find perfect conditions here- as he did 4 starts back when landing that only win. GLENEAGLE WARRIOR (3) has set the tempo at his past two starts and been collared in both, firstly by Herbs Hero and then Balducci last week. He has the speed to try again. BEACHBOY BUTCH (2) was devoid of luck last time out and when they found position, he was at the back of the bus. Go off his previous two starts where he was runner-up in each. LA SAFRON (9) has been in great form at Redcliffe in recent weeks which includes a last start victory and comes up with the right trail.
 
SELECTIONS: 1-3-2-9
SUGGESTED BET: THE IDEAL DANCER (1) to win
---
RACE 4
L L COOL J (7) has now faced the starter on four occasions since returning from a spell with opinion divided on how effective he has been. The ODM embargo certainly does not aid his cause, but his Be Good Johnny run was good and then last week he was stuck in traffic. SPEECH IS SILVER (5) has a brilliant closing sprint that was nullified last week when he was sent forward to sit parked outside Mach Da Vinci. A return to normal transmission will suit in this line up, especially in the smaller field.
KANENA PROVLIMA (3) attacked the line with a weaving and jinking run for 2nd to Mach Da Vinci in the Be Good Johnny and settling close to the action is a plus. MAJOR FERNCO (1) faces a steep rise in grade and must tackle his less preferred 2138m trip. The gate does give him sniping opportunities.
SELECTIONS: 7-5-3-1

SUGGESTED BET: L L COOL J (7) to win
---
RACE 5
GOLIGHTLY (6) should be close to a fitness peak after a few runs back from a spell. Despite the wide gate he should also find this a drop in grade to what he has been facing, the latest when just 1m from Our Major Day. NOTORIOUS (1) was stung by an early burn looking for the front when a sub-27-second opening panel proved too costly last start. Back to the ace gives him some advantage. LIFES BLACK (5) powered home over the top of them at Redcliffe last start for a smart win. The sticky gate makes it tough here. SHADOW MINISTER (10) had a soft trip last start and had the best speed to arrive for the prize. A strong tempo will be in his favour.
SELECTIONS: 6-1-5-10
SUGGESTED BET: GOLIGHTLY (6) to win
---
RACE 6
FRANCO HAMPTON (9) has faced this veteran's grade just once previously that returned a win here two starts back. Absolutely deserted by luck last start, his form has been super and trailing through early has him in perfect position. STOMPEM (4) was just 2m from Sam Is Perfection over 2138m here two starts back and has the gate to be close to the action. WATCH PULP FICTION (7) is never too far away against this company. He will need to overcome the outside front line as he continues to face tough gates week-in week-out in this grade. KEY LARGO (8) will be requiring a slice of luck on his side from this gate. Only 3m from the winner last start despite a tough run, he cannot be ruled out.
SELECTIONS: 9-4-7-8
SUGGESTED BET: FRANCO HAMPTON (9) to win
---
RACE 7
SQUIRE (1) did it the tough way when sitting parked and finishing 2nd here 3 starts back when under 1.5m from the winner. The two times he has drawn tight in his past five starts, the winners were Kanena Provlima and Mach Da Vinci. This looks ideal. OUR MAJOR DAY (2) grabbed 3rd in the same race where Squire was 2nd. Resuming from a spell in that contest, he franked the effort with a win at his next outing. MISTERFREEZE (5) made some late ground last time along the inside when just 7m from Rocknroll Icon, but the gate makes is tricky. FEELINGFORARAINBOW (3) will strip fitter again from his last start where he was second-up. Settling handy from this gate will help.

SELECTIONS: 1-2-5-3
SUGGESTED BET: SQUIRE (1) to win
---
RACE 8
SCOTTS RAIN (10) has run into a purple patch with 3 wins in her past 4 starts, the latest when charging over the top and pulling clear to a 6m margin. This looks open and she can secure the right run. MOLLYS SECRET (9) hit a flat spot last week and could not go on with it from back in the pack. Nothing went right the start prior, but she can look to atone. GET READY TO ROCK (5) was runner-up to Scotts Rain last time after moving forward to take control, just fading over the closing stages. SHEZ ALL STYLE (2) handed over last time from gate 1 when using the passing lane for 3rd and has the speed to get to the pegs.
 
SELECTIONS: 10-9-5-2
SUGGESTED BET: SCOTTS RAIN (10) to win
---
RACE 9
B MAC C (1) was hitting the line with power here on Tuesday after retreating to the rear soon after the start. He does his best against the pegs and 5 of his 9 wins at headquarters have been at this trip.
BOMBADIER JUJON (5) took up the running from gate 1 in a Final here last Saturday and handed over at the bell and from there was able to cling on for 3rd behind Governor Jujon. HERBS HERO (2) had the closing speed to arrive for victory here last start, expanding his superb record at this track. This is another step up, but the gate helps. CHASING THE WIND (7) has been in nice touch, including a half-neck margin from the winner last start that had followed 4 wins in 5 outings.

SELECTIONS: 1-5-2-7
SUGGESTED BET: B MAC C (1) to win
---
RACE 10
IM THE COMMANDO (4) was sent forward from the 20m handicap last time when required to work hard in the run. At his best when on the speed, he should appreciate the front line for this battle.
KINGDOM COME (6) was attacking the line hard here 2 starts back when 3rd behind Red Castleton. From the 10m, the smaller field suits his style of making one closing challenge in the stretch. MAJESTIC SIMON (9) was looking to bounce back to winning form last week over the mobile mile when unable to fight them off. The 30m might be an ask over the 2138m. CLAUDYS PRINCE (8) made a costly error that ended his chances last week from the mobile. The 10m handicap is a plus.
SELECTIONS: 4-6-9-8  
SUGGESTED BET: IM THE COMMANDO (4) to win
---
RACE 11
GOLDIES A DELIGHT (1) backs up from a mid-week win at Redcliffe where she led throughout for an easy victory. Resuming when 6m from Teddy Disco, this is far from a clear-cut 2YO event. BANGKOK DEEJAY (2) was first up in last weeks stronger race when striking trouble that ended his chances soon after the start. That was just his 3rd career start and came off the back of a sharp trial. RACY ROXY (5) has been runner-up to Teddy Disco and then Leap To Fame at her two runs back from a spell but receives no favours from this alley. O B LEGAL (3) and GOTTA GO MILKING (4) are far from out of this.
SELECTIONS: 1-2-5-3
SUGGESTED BET: GOLDIES A DELIGHT (1) to win
---
Market
Market