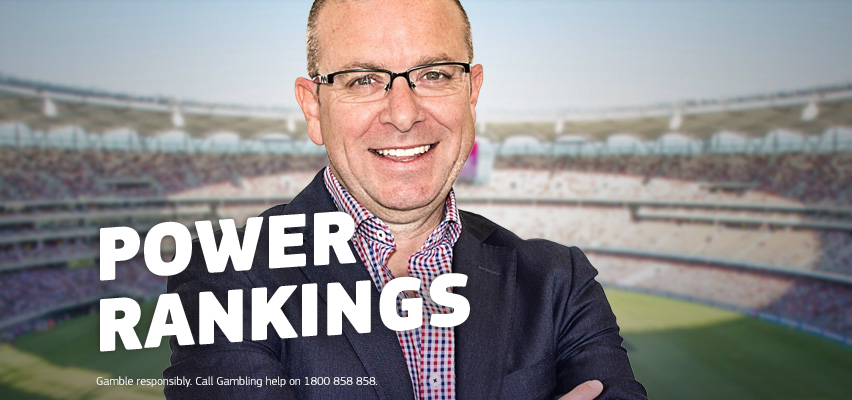 1. MELBOURNE
Last week: 1
No getting away from the fact they were poor late against Hawthorn. Still on top of the ladder and their record against the better sides is super. Backing them in still.
Next up: Gold Coast
---
2. GEELONG
Last week: 3
It is a build towards September which has a real identity about it. Experienced and travel like pros. Have the big-game exposure which will serve them well.
Next up: Geelong
---
3. WESTERN BULLDOGS
Last week: 2
Going along nicely. If you are to be super critical, their lack of talls behind the ball remains a concern. The COVID-19 scare involving Josh Dunkley doesn't help.
Next up: Adelaide
---
4. SYDNEY
Last week: 5
What's not to like? Might have been slow to become a true believer, but am now on the train. Love the blend between experience and youth, and the willingness to embrace all challenges.
Next up: Fremantle
---
5. PORT ADELAIDE
Last week: 6
Really significant win over St Kilda on the weekend. Have battled manfully in the face of an extensive injury list. The reinforcements aren't far away.
Next up: Collingwood
---
6. BRISBANE
Last week: 4
From coasting to vulnerable. Back-to-back defeats to St Kilda and Richmond, coupled with injuries to Eric Hipwood and Marcus Adams will do that.
Next up: Hawthorn
---
7. WEST COAST
Last week: 7
Beat up on a bad Adelaide side yesterday. Doesn't matter though. Needed that win and now can springboard off that back at home.
Next up: St Kilda
---
8. ESSENDON
Last week: 11
Have gone from the best side outside the eight to a worthy finalist. Would love to see them get a scalp, but clearly are trending the right way.
Next up: GWS
---
9. RICHMOND
Last week: 10
Loved the performance against Brisbane. Alarmed by the impact of Dustin Martin's season-ending kidney injury. They can't win it without him, can they?
Next up: Geelong
---
10. ST KILDA
Last week: 9
Fluffed their lines against Port Adelaide. It might be the game that haunts them given they have West Coast this weekend.
Next up: West Coast
---
11. FREMANTLE
Last week: 8
Had their failings exposed by the class of Geelong. Banged up and short-staffed. In trouble.
Next up: Sydney
---
12. GWS
Last week: 12
One has to feel for them. The loss of Toby Greene pre-match against Sydney was huge. That said, they should have won from the position they were in.
Next up: Essendon
---
13. CARLTON
Last week: 14
If Sam Walsh isn't a future Brownlow medallist, it would be a massive shock. Remarkably, are still a chance to play in September.
Next up: North Melbourne
---
14. GOLD COAST
Last week: 15
Getting better and better which is important. Have normally been AWOL in the second half of seasons.
Next up: Melbourne
---
15. COLLINGWOOD
Last week: 13
Coughed up a winnable match against the arch enemy yesterday. Disappointing.
Next up: Port Adelaide
---
16. HAWTHORN
Last week: 18
Hard to keep them on the bottom of the rankings after they draw with a side which sits atop. Their best is really good. Their worst is horrible.
Next up: Brisbane
---
17. NORTH MELBOURNE
Last week: 17
Their second half of the year has been heartening. Will think they can yet avoid the wooden spoon.
Next up: Carlton
---
18. ADELAIDE
Last week: 16
The backside has fallen out of them. Looking for the finish line.
Next up: Western Bulldogs
Market
Market