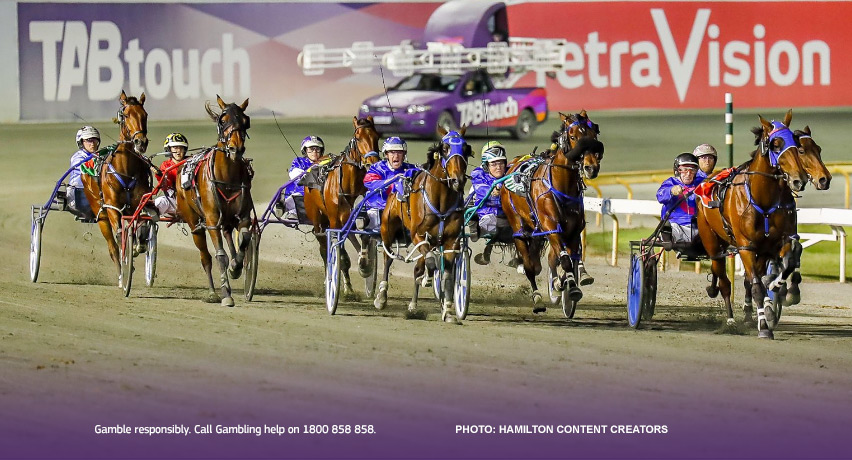 1. Chicago Bull
Previous Ranking: 1st
Last Start: October 16, Mount Eden Sprint (1st) 
No need to deviate from the little champ for top spot this week. He will renew the rivalry with Shockwave this week in the Howard Porter Memorial. He probably only has one more run between this week and the Fremantle Cup on November 20 so it's getting to crunch time now.
---
2. Shockwave
Previous Ranking: 2nd
Last Start: October 16, Mount Eden Sprint (2nd) 
Doesn't move from number two this week. He will be sweating on getting a draw advantage over Chicago Bull this time around. Bully has had the advantage on him the last two starts. It would be such an intriguing watch if Shockwave got the advantage this time around.
---
3. Vampiro 
Previous Ranking: 3rd  
Last Start: October 23, Better Your Club Pace (2nd) 
Was beaten as a $1.30 favourite on Friday night by Galactic Star. It was a sprint home in 56.2 and while it was disappointing to see him beaten, he wasn't disgraced. Galactic Star was in the perfect spot sitting close to the speed and showed a slick turn-of-foot to mow him down. I still feel as if Vampiro has real X-factor for the Cups with that gate speed and will put himself in a position to beat more horses home than beat him home.
---
4. Mighty Conqueror
Previous Ranking: 3rd
Last Start: October 23, Better Your Club Pace (4th) 
Second-up on Friday night and battled away to finish fourth to Galactic Star. Not sure if he's quite at the January 2020 WA Pacing Cup winning form just yet. It feels as if he might just be going a touch below his best. His reputation demands he stay in the top four for now but it's starting to get to a crucial time in his campaign.
---
5. Galactic Star
Previous Ranking: Unranked
Last Start: October 23, Better Your Club Pace (1st) 
I did have a few question marks over him after he was put to the sword by Chicago Bull in the Navy Cup. The five week break did him the world of good. He was back in a big way last week in beating the stablemate Vampiro. If he's able to sit just off the speed in the big races, he could present like the winner on the corner and has got a powerful finishing burst to play a part in the finish.
---
6. Perfect Major
Previous Ranking: Unranked
Last Start: October 23, Preux Chevalier (1st)   
Three runs in 10 days and won them all. Friday night was the best of them to rate 1.55.5 in the breeze. He sat outside Euphoric Moment, who was very good in his own right. It's a huge gamble to have him in the top six off the races he's won and the horses he's beaten. The way he's done it though suggests he's up to the second-tier Free-For-All horses we have here in WA. He probably isn't quite up to Chicago Bull and Shockwave, but it would be a lot of fun to see how he measured up against them.
---
Honourable Mentions: Bletchley Park and Convert Denario miss out on the rankings this week, but they will get a chance to re-enter the rankings next week, given they're expected to run this Friday. Ocean Ridge is absolutely flying. His run behind Galactic Star last week was terrific and he just needs a decent draw to show his wears. Tyler Brett won the Conditioned Pace last week but still looks a little bit below fast class.  
Market
Market