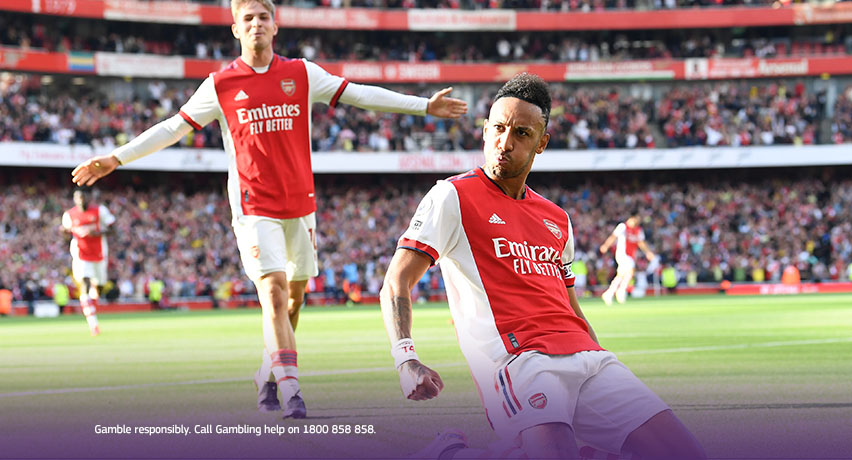 Gunners shoot down Spurs
How North London has been transformed in just a few games. After starting their season with three defeats, Arsenal have now strung together three successive victories to change the mood at the Emirates Stadium.
Their latest victory, a 3-1 win over North London rivals Tottenham Hotspur, means far more to Gunners fans than the three points earned.
And the fortunes of the two clubs could hardly be more contrasting. Defeat for Spurs was their third on the spin and erased the good work done at the start of the season when they won their first three games to climb to the top of the table.
Their lacklustre performance allowed Arsenal to look like the Gunners of old. A team with breakneck pace, sweeping up the pitch and scoring fine goals – on this occasion through Emile Smith Rowe, Pierre-Emerick Aubameyang and Bukayo Saka.
Stuttering, stumbling Tottenham's performance could be summed up in the scoring of Arsenal's third goal. England striker Harry Kane tripped on the ball and lost possession and Arsenal countered. Kane sprinted back to make a desperate challenge only for the ball to ricochet back to Saka, who accepted the invitation to score.
---
Feel good about Jimenez story
Whoever you support, you would have to have a cold heart not to feel delighted for Wolverhampton Wanderers striker Raul Jimenez after he scored his first goal of the season.
The Mexican striker's playing days appeared to be over back in November 2020 when he fractured his skull in an horrific collision with Arsenal's David Luiz.
Doctor's told Jimenez he was lucky to be alive and there were doubts he would play again.
But 11 months after his last Premier League goal, Jimenez was on target again with the only goal in a victory over Southampton on Saturday.
Jimenez, wearing a protective cap as a precaution, jinked past two defenders and slotted home in the 61st minute to the delight of Wolves' travelling fans.
---
Aussie ref makes history in Premier League
It might be great recognition of Australia's standing in world football, but referee Jarred Gillett's little piece of history is unlikely to be applauded by diehard Perth Glory fans.
Gillett became the first overseas official to referee an English Premier League match when he took charge of Watford versus Newcastle at Vicarage Road on Saturday.
This is rare territory and well deserved for Gillett's dedication to the game.
But while he now occupies a place in the history of England's top tier competition, Perth Glory fans might continue to remember him for entirely different reasons.
After all, Gillett was the referee who controversially awarded a stoppage-time penalty that was converted by Brisbane Roar's Besart Berisha to sink Perth Glory's grand final in 2012.
What Gillett saw at the time did not appear in the TV replays as Berisha appeared unimpeded before taking a "fresh-air" swing at the ball and falling to the ground.
There was no Video Assistant Referee (VAR) in those days and so Gillett made a snap call that these days would almost certainly require a second look at the TV monitor – at the very least.
In his first Premier League fixture, Gillett awarded two goals, gave no penalties and handed out seven yellow cards in the 1-1 draw.
---
If Benzema is big, Haaland is huge
Real Madrid manager Carlo Ancelotti described Karim Benzema as the best striker in the world recently, a hefty claim given the high standard of top marksmen banging in goals in various competitions.
Benzema, at 33, is no spring chicken but eight goals in his first seven LaLiga games prompted Ancelotti to consider the Frenchman as a contender for the Ballon d'Or, football's player of the year.
But let's not talk about Saturday's 0-0 draw with mid-table Villarreal.
Instead, consider the feats of Erling Haaland, the Borussia Dortmund striker who has scored 47 goals in 48 Bundesliga games for Dortmund. And he doesn't just score goals in Germany. Haaland's incredible knack has also included 21 goals in just 17 UEFA Champions League matches.
For the record, he became the youngest player to reach 20 Champions League goals and did so in record time – just 14 games.
If he isn't already the best striker in the world, he's on his way, which is why several clubs are rumoured to be preparing big-money bids for his services. Of more immediate concern to Dortmund is his availability for their Champions League clash against Sporting Lisbon on Wednesday (3am WA time).
A muscle injury kept Haaland out of Dortmund's 1-0 defeat to Borussia Moenchengladbach on Saturday.
Benzema is a fine player with a history of success, but with so much of his career ahead of him, Haaland looks set for even greater club-level achievements.
---
New Sheriff in town
You might not have heard much about Moldova champions Sheriff, whose only previous European adventures were in the UEFA Europa League.
But in beating Red Star Belgrade and Dinamo Zagreb in the final stages of qualification they reached the UEFA Champions League group stage for the first time.
This was history-making for the club and also for the Moldovan football league.
Any sense that they might just make up the numbers in Europe's top international club competition were dispelled when they beat Ukraine's Shakhtar Donetsk 2-0 in their opening group game recently.
If you love an underdog, this is a team to take an interest in. Remarkably, albeit after just one game, Sheriff, whose entire squad is valued at around AUD$20 million, are top of their Champions League group.
No-one will be getting carried away with this early success. After all, up next is a trip to the Bernabeu where they take on Real Madrid on Wednesday (3am WA time) before travelling to the San Siro to take on Inter Milan on October 20.
For the sake of comparison, Real Madrid's squad is valued around AUD$1.3 billion and Inter comes in at AUD$920 million.
---
About Jonathan Cook
Jonathan has spent more than 25 years playing, watching, analysing and writing about football. A former winner of the Western Australian Media Awards Sports Prize, he has reported at two FIFA World Cups and three Olympic Games, where he also sat ringside to provide coverage of his second sporting passion – boxing.