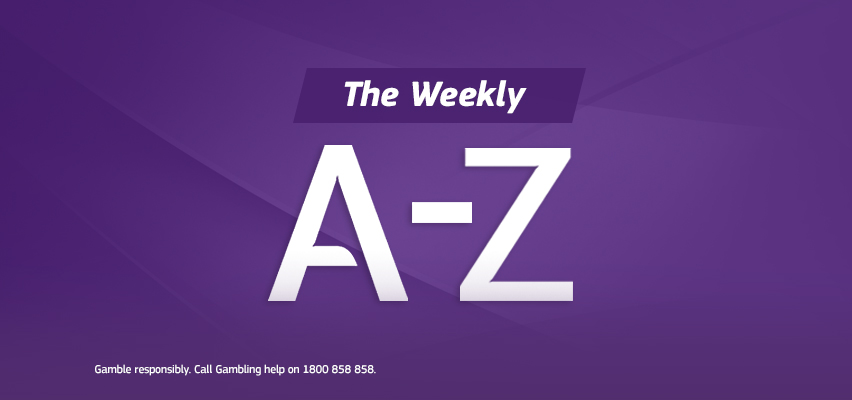 A – ALL EYES ON AUSTRALIA (and New Zealand)
The awarding of the 2023 Women's World Cup to Australia and our mates across the ditch overnight is a massive tick for the code in this country. The joint Australian-New Zealand bid received 22 of the 35 votes, well ahead of Colombia's 13. Being able to witness Sam Kerr represent her country on home soil in a World Cup is salivating to put it mildly.
B – BRAGGING RIGHTS
They will be up for grabs when the Brisbane Broncos and Gold Coast Titans square off in the south-east Queensland NRL derby at Suncorp Stadium tomorrow afternoon. The Broncos have been dreadful since the competition resumed. The Titans have been dreadful for, well an eternity to be brutally honest. Besieged Broncos coach Anthony Seibold better not lose this one.
C – COVID-19 CALAMITY
If anybody out there knows what to make of the Conor McKenna negative test to COVID-19 last week, then his positive test a few days later and then the false positive on earlier this week followed by a negative test on Wednesday, you are a smart individual. The saga probably encapsulates the year to date to be perfectly honest.
D – DOUBLING DOWN
Heritier Lumumba's feud with Collingwood and the AFL shows no signs of abating. In fact, it continues to escalate at an alarming rate. Refusing to engage in dialogue with the club he won a premiership at in 2010, citing long-term racist remarks, Lumumba continues to direct a blowtorch in the direction of the Magpies, coach Nathan Buckley in particular. This is going to get worse before it gets better
E – ENGLAND
Thanks for your support … NOT. It is unfathomable to think England could vote in favour of Colombia ahead of Australia and New Zealand for the 2023 Women's World Cup. Last time I checked, we were part of the Commonwealth. Betrayal of the highest order. By the way, we've got the Ashes too.
F – FOLLOW ME
There is something about a captain showing the way. Marcus Bontempelli is new to the role in 2020, but it is one he is warming to. His back-with-the-flight mark with little regard for his safety last night was an act we have witnessed from some of the game's greats. Great captains impose themselves in moments within games. The Bulldogs have got a beauty.
G – GRAND PLANS
The push for the AFL grand final to be played outside Victoria has started. And it will continue to simmer until that State gets control of the Coronavirus pandemic that is eerily similar to a second wave we have been warned about. The Victorian Government and the Melbourne Cricket Club insist the grand final won't be moved. The AFL has been tight-lipped.
H – HANDLE WITH CARE
There are few more serious charges that can be levelled at a jockey than one pertaining to handling. James McDonald, having made a successful comeback from an 18-month disqualification for betting, was charged by stewards this week for failing to give Joe Pride's favourite Threeood every conceivable last weekend. The case will be heard today.
I – INVERSION
Box one in the Paradise Street Trophy at Cannington tomorrow night is enough for Callum Robson and David Shortte, two experts in the greyhound space, to have him in their numbers. But the voice of WA greyhounds, Peter O'Neill, is adamant Inversion will not be winning, instead settling on Cindy's Oliver. All will be revealed at 8.56pm.
J – JUMPING BACK ON
The Western Bulldogs bandwagon that is. The Bulldogs were horrible in rounds one and two against Collingwood and St Kilda, but have revived their finals aspirations with stirring wins over Greater Western Sydney and Sydney. The effort against the Swans last night was more meritorious considering it was the third game in 12 days for Luke Beveridge's men and they were missing several high-class performers before the game, and lost forwards Aaron Naughton and Sam Lloyd early in the match.
K – KING BROWN
We're not talking about the venomous snake or large beer bottle that many West Australians are familiar with. Rather Peter King and Maddison Brown, who combined last Friday night to record their maiden Group 1 triumphs with Longreach Bay. Trainer King and driver Brown might be at the opposite end of the spectrum when it comes to their careers in the sport, but that doesn't diminish in any way the enormity of the occasion.
L – LONG WAIT IS OVER
Hundreds of thousands of Liverpool fans were finally able to rejoice this morning when their side finally clinched the English Premier League title after 30 years of near misses and devastation. Chelsea's 2-1 victory over Manchester City gifted the crown to Jurgen Klopp's charges. COVID-19 threatened the resumption of the EPL, so the relief from Reds supporters is understandable.
M – MUST WATCH
For those not fully understanding the impact of racism, please watch Eddie Betts' heartfelt plea earlier this week on AFL 360. Betts said he was "sick and tired" of the abuse he copped, often when he ventured to the supermarket or doing nothing more than driving his car. Surely, we are better than that in 2020. Sadly, it would seem not.
N – NO STOPPING HIM
Patrick Carbery will be chasing the rarest of clean sweeps at Belmont tomorrow when he links up once more with Perfect Jewel. The diminutive dynamo took out the Group 3 Roma Cup aboard Vega Magic and then guided Perfect Jewel to victory in the Group 3 Belmont Sprint and Hyperion Stakes. Success in the Group 3 Strickland Stakes would be quite remarkable.
O – OLD MATES BAR
With the general public being allowed back at Belmont Park tomorrow, the gathering at this popular watering hole should be large. If not, questions need to be asked. It's a great little spot. Fair to say the excitement levels are high from many, including yours truly.
P – PRODUCTION LINE
The cerise and white colours of Bob and Sandra Peters have quite the arsenal for the winter months and the looming new season, as evidenced by what we witnessed during Wednesday's meeting at Belmont and yesterday's card at Pinjarra respectively. Magical Dream, Mystical View, Expressionist and Secret Statue all broke their maiden status and Giant Leap was gunned down in the shadows of the post. He won't be a maiden for much longer.
Q – QUIET PLEASE
That is what Wayne Bennett is saying, but with considerably more hostility, to the media who are watching his tenure at South Sydney. Contracted to the end of next year, there is a school of thought that the master coach will look to shore up his future at a rival club before his time runs out. A grumpy Wayne Bennett … life is returning to normal after all.
R – R.I.P
John Kennedy Sr, recently elevated to legend status at the Australian Football Hall of Fame, passed away yesterday morning after a long battle with illness. His overall contribution to the game, indeed his profound influence at Hawthorn, will never be forgotten. A great man. Rest easy, Kanga.
S – SICK IN THE GUTS
It is how everyone who has followed the Sam Naismith story felt when he injured his right knee in the final quarter last night. The Sydney ruckman is facing another 12 months out of the game with a torn anterior cruciate ligament, the second time he has suffered that fate. It comes on top of the anguish of losing his sister Kristi to pancreatic cancer during the AFL's enforced COVID-19 break.
T – THIRTY THOUSAND
That is how many fans can attend Optus Stadium on July 17 when Collingwood and Geelong square off. Brace yourself for plenty of talk over the next fortnight on whether that match will actually attract the magical mark. What we can safely assume is that the capacity of 60,000 for Fremantle's home derby against West Coast two nights later will be challenged.
U – UH OH
As soon as Grigor Dimitrov announced this week that he had tested positive to COVID-19 after playing at Novak Djokovic's exhibition events in Serbia and Croatia, the sporting world held its collective breath. Sure enough, fellow players Borna Coric and Viktor Troicki announced they too had been infected. Then Djokovic released a statement saying he and his wife Jelena had also contracted the illness. The pile-on since has been predictable.
V – VORACIOUS
There are many other words used to describe William Pike. Before you flick through the thesaurus, consider the following. From 15 rides at Belmont and Pinjarra this week, Pike booted home seven winners. He has now piloted home 209 (yes, 209) winners this season with a month remaining. It is a staggering figure, further underlining not only his greatness, but insatiable thirst for success.
W – WHERE THERE'S SMOKE…..
First starter Willygood opened up at $101 when prices were released for yesterday's Moe meeting earlier this week. The money streamed in and the price kept shortening. After scratchings yesterday morning, she was at $4.60. A good old-fashioned cave-in it was. However, she did not start after Racing Victoria's compliance team found she was not stabled at trainer Cliff Murray's registered property. Hmmmm.
X – X-RAYS
You know you are in the heart of a football season when the stock-standard story of a player being sent for scans (new-age term to best describe an x-ray) gets plenty of air time. The Western Bulldogs' Josh Dunkley had scans this week and they revealed a dreaded syndesmosis injury, while Sam Naismith (knee) heads in for his own set today.
Y – YOU CAN'T SAY THAT
Infectious diseases expert Clay Golledge has been a critic of Premier Mark McGowan's refusal to open up the interstate border and likened his approach to Nazi Germany in the 1930s. For a smart man, it was an incredibly stupid comparison.
Z – ZION
Only the very best in the NBA are known by one name … Magic, Michael, LeBron and Steph are the most recent examples. Expect Zion Williamson, the 19-year-old who was the first selection in last year's NBA Draft to join the lost. Reports out of the US are the powerhouse teenager has been preparing like a veteran pro in readiness for the resumption of the league next month.