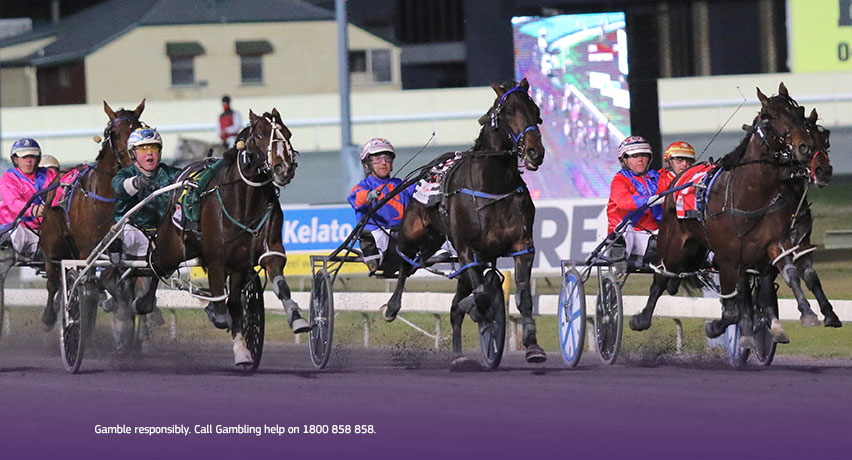 RACE ONE

UNDER WORKED (10) looked like he had arrived in time to land a hat-trick of victories here last week, but the nostril verdict went against him. A strong tempo can see him bounce back to make it 3 from 4. KEY LARGO (5) has good speed out of the machine and will be firing the early bullets here. Taking them all the way last week, this is not that much harder. TWENTYEIGHTBLACK (1) has been thereabouts in recent outings but just cannot seem to land the winning blow. The gate gives him the chance again. FRANCO HAMPTON (8) will face a task from this alley but should find this easier than his last outing behind Will The Wizard.
SELECTIONS: 10-5-1-8
SUGGESTED BET: UNDER WORKED (10) to win
---
RACE TWO
ROCK FISHERMAN (11) was good when 3rd to Deus Ex last week, making ground out of the pack in a sizzling mile. Winning his previous 3 on the bounce, he has the form to overcome the gate. WAHS FIRE BUG (6) has faced the starter 8 times this Brisbane campaign and finished top-2 every time. Coming out of the same Deus Ex race when holding on for 2nd, she too can challenge despite a tough draw. SCARLET BABE (7) opened the pipes with a smart trial in readiness for her return. Ran some huge races last prep that keep her in the mix first up. BLUE MOON RISING (4) does his best off the speed so look for him swooping late.

SELECTIONS: 11-6-7-4
SUGGESTED BET: ROCK FISHERMAN (11) to win
---
RACE THREE
KING TRITON (1) lands the marble and the opponents to finally get a breakthrough in this grade. The 2138m from a bad gate hampered him last start, he looks to receive all the favours this time. DOUBLE OR NOTHING (8) may just have a fear of the winning post, he seems to have had plenty of chances in this grade but just comes up short. He should get every chance again. GLENEAGLE WARRIOR (9) has returned a pair of tidy efforts since winning here 3 starts back where he led throughout but maps awkwardly. LIFES BLACK (5) heads to town after racing in smart order at Redcliffe in recent starts where he has hit the board his past 5 in succession including a pair of wins.

SELECTIONS: 1-8-9-5
SUGGESTED BET: Flexi trifecta 1-5-8-9
---
RACE FOUR
FAME ASSURED (8) sat in the trail last start but could make no ground on Turn It Up. The tempo made it as close to impossible to achieve that, yet she still ran sub 55 and sub 27 for her own closing splits. If the lane arrives with momentum, she is worth a chance at odds. BLACKSADANCE (5) has been freshened since his last appearance when he made a statement from the front in sizzling time. The wide gate and no trial are the query. REPLACED EYE (1) comes up with the alley at his 3rd start since arriving in Queensland. Fitter and with the required early speed, his chance has arrived. SPEECH IS SILVER (4) was again sectionally brilliant last week when just a flared nostril from the win. He is the off-pace runner that can swoop.
SELECTIONS: 8-5-1-4
SUGGESTED BET: FAME ASSURED (8) win/place
---
RACE FIVE
THE IDEAL DANCER (9) was a real eye-catcher last start when retreating early from gate 7 before threading a passage and charging to the wire when just 3m away. He can settle closer in this. NOTORIOUS (3) led every step bar where it counted last week when grabbed up the passing lane. He may not find the front here but is racing well and will be forward enough to go one better. ITS MR CLOONEY (2) did all the work last start when just 3m from The Rocknroll King. That was from the second line and will relish the improved alley. BALDUCCI (8) started an odds-on favourite last start but folded the tent after asked to work hard. He maps for an economical trip but will need a slice of luck.

SELECTIONS: 9-3-2-8
SUGGESTED BET: THE IDEAL DANCER (9) to win
---
RACE SIX
OUR ANTONIO ROSE (10) makes her first race appearance in the Sunshine State for Graham Dwyer who has a super record at producing them first up. With sound NSW form, she prepared with a sharp trial hit out in readiness. TOTAL DIVA (6) can be forgiven for her last start when never suited buried in the run. Finishing 2nd in successive starts to Wahs Fire Bug, the gate dampens the enthusiasm. VOUCHERS (9) was just 5m from the winner El Aguila last time out and should enjoy returning to race her own sex. MOLLIESMARYELLE (2) will receive a boost if she can be first to the pegs here after a nice effort last time out when strong in 2nd place.
SELECTIONS: 10-6-9-2
SUGGESTED BET: OUR ANTONIO ROSE (10) to win
---
RACE SEVEN
KASH US BACK (5) has had nothing go his way at his past 4 starts. Required to tackle FFA company in successive runs, his efforts were full of merit and back to his own grade the past 2, he has been deserted by luck. KANENA PROVLIMA (8) was impressive in winning at his first Queensland attempt here last week, holding off Speech Is Silver in the stretch. The run should tighten him further. LOMBO HEAVEN (2) is the early speed in this battle and will be looking to make a sharp left turn once the green light illuminates. Back to the mile is in his favour. SQUIRE (3) was a nice winner 2 starts back and has been in the money at his past 3. He has early speed to find a forward spot.
SELECTIONS: 5-8-2-3
SUGGESTED BET: KASH US BACK (5) to win
---
RACE EIGHT
BARIKA (4) has early speed and from this gate can show the hustle to get across to lead. Only collared on the line here on Tuesday by Nina Simone, tackling her own sex is a plus. SHE OWNS THE DAY (9) was 2 from 2 since arriving in Queensland going into her latest assignment which was the same race as Barika on Tuesday. Attacking the line from this same gate, she was only beaten a half-head. ROCKINDOWNUNDER (3) spent some gas trying to protect the leaders back position and did not really go on with it last start, this is slightly easier. MAGGIE (5) claimed second here on Tuesday behind Going For Gold, which is the right type of form to be a player in this race.
SELECTIONS:  4-9-3-5
SUGGESTED BET: BARIKA (4) to win
---
RACE NINE
IMASPORTSSTAR (1) has had a few mid-week runs since returning from a spell and has not landed the gate or conditions to suit. This looks a better scenario that is complemented with a good alley. KENSINGTON BILL (4) was fresh heading into his latest outing when not featuring as he chased Misterfreeze. Fitter, the smaller field and settling closer are favourable factors. NURBURGRING (5) found the sizzling 1.51 and change mile of Will The Wizard too slick 2 starts back and then was perhaps jaded at his next start. This looks more suitable. DREAM TO SHARE (6) steps out of the claimers and has not really been aided by the tough gate. The offset is that he is the only runner with winning form having won his past two.

SELECTIONS: 1-4-5-6
SUGGESTED BET: IMASPORTSSTAR (1) to win
---
RACE TEN
RED CASTLETON (4) owns good speed out of the machine and used that when winning under mobile conditions at the 2138m here 2 runs back. Similar tactics to that win hold him in good stead. SIR FAHRENHEIT (5) has won his past 2 in succession over the long trip from the tapes including a track record performance. Searching for the threepeat, he is a three-time mobile winner. NORTHERN MUSCLE (6) was a smart winner from the 30m handicap here last week. Amazingly, he has only contested the mobile mile here twice in over 100 career starts- one of those was a win. JUSTABITNOISY (1) has been without a win for some time and while he may not threaten again here, will enjoy an economical trip.
SELECTIONS: 4-5-6-1
SUGGESTED BET: RED CASTLETON (4) to win
---
About Darren Clayton
Darren provides Racing Queensland with his expert form analysis, tips and speedmaps for all TAB races in Queensland. Darren is a highly respected form analyst which complements his passion for the harness racing industry which he has been involved in for over 30 years.