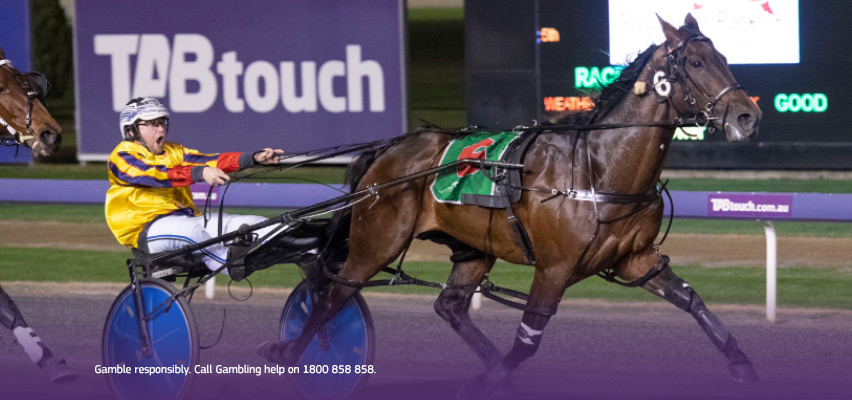 1. Shockwave
Previous Ranking: N/A
Last Start: September 11, James Brennan Memorial (1st)
The new kid on the block was extremely fresh in Friday night's James Brennan Memorial, as shown by his 26.6 second quarter. He held on to score by a half-head over Chicago Bull and as a result can sit atop the rankings for the time being. We haven't seen him driven out as aggressively as he was on Friday night but he showed he can be used off the arm and hang on to win against formidable opposition.
---

2. Mighty Conqueror
Previous Ranking: N/A
Last Start: January 17, WA Pacing Cup (1st)
Unlucky not to be the number one. Prior to the James Brennan Memorial he occupied top spot but it was too hard to ignore Shockwave. We haven't seen the Bond runner since last summer's Pacing Cup but you only need to watch the replay to see just how enormous it was. He's a significant player again this summer and clearly has the toughness to win these big races. He's the clear standout of the team Bond runners and his return to the track in the coming weeks will be highly anticipated.
---

3. Chicago Bull
Previous Ranking: N/A
Last Start: September 11, James Brennan Memorial (2nd)
Did the bullocking work in another terrific performance behind Shockwave in the James Brennan Memorial. Connections would be well satisfied in his first start for a month. He's got the versatility the top two possess. He should also relish being in a full field of 12 runners on Pacing Cup night where he won't have to do the bullocking work and can be saved for the one run. The 2017 WA Pacing Cup champion is trending the right way to adding another one.
---

4. Lochinvar Art
Previous Ranking: N/A
Last Start: August 22, Simonds Homes Bendigo Pace (1st)
A large part of Lochinvar Art's chances of participating in the WA Pacing Cup is beyond the control of trainer and driver David Moran. He has indicated he's a 95 per cent chance to get the horse to Perth but the WA border closure could throw a spanner in the works. He was beaten second-up this campaign but looked like he was back on track with his last start win at Bendigo. He's class with a capital C and he showed that in the Chariots Of Fire success and runner-up effort to King Of Swing in the Miracle Mile. Providing he gets here, he's a live chance.
---

5. Vampiro
Previous Ranking: N/A
Last Start: March 28, Narrogin Cup (2nd)
Vampiro finished second in both the Fremantle and WA Pacing Cups last summer and went on to win the Pinjarra Cup a little more than a month later. He also took out the Village Kid Sprint prior to the Cups. He's got blistering gate speed and showed that in both Cups last year which makes him incredibly difficult to leave out of the rankings. He's now a consistent Free-For-All performer and deserves his place at number five.
---

6. Bletchley Park
Previous Ranking: N/A
Last Start: August 28, Glenroy Chaff Pace (2nd)
The bolter in this week's half-dozen. He's put together a respectable record of 15 wins and 15 placings from 37 starts. Towards the back end of his most recent campaign he started to live up to the hype that surrounded him as a younger horse. His win on August 21 saw him go past Handsandwheels in the straight which is no mean feat. He's got to raise the bar significantly to match the top five ranked pacers. With the right run on the night he's more than capable of making his presence felt.
Honourable Mentions: Alta Orlando, a $5 chance with TABtouch, and My Field Marshall ($8) are two horses from the east coast that have been touted as possible Pacing Cup candidates.
Market
Market