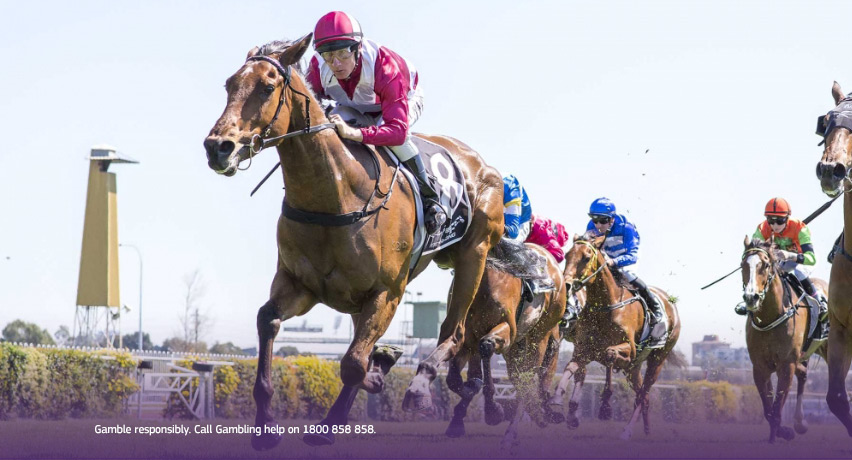 A – AIRING IT OUT
Is normally a term associated with a quarterback in American football when he looks for a receiver downfield. It also applies to big-hitting American Bryson DeChambeau, who launched bomb after bomb as expected in the first round of the US Masters overnight. Having used the COVID-enforced break mid-year to bulk up significantly, DeChambeau's unrivalled length off the tee is a nightmare for tournament officials and golf course architects alike.
B – BOW TO THE QUEEN
Glamour WA mare Arcadia Queen did exactly what most punters around Australia anticipated last weekend when she obliterated her rivals in the Group 1 Mackinnon Stakes (2000m) at Flemington. Presented with a good track and a beautiful middle draw, she jogged up and let down powerfully to nab a second elite-level victory this spring. Throw in a Group 1 placing in the Underwood Stakes (1800m) behind Russian Camelot and she has claims alongside Verry Elleegant as the best mare in the country.
C – CLASH OF THE TITANS
Headline acts Chicago Bull and Shockwave will renew acquaintances tonight in the Pat Cranley Memorial, a fortnight after their most recent battle in the Howard Porter Memorial. Just like on that occasion, Chicago Bull has drawn inside the Ryan Bell-trained star and should be in a position to dictate proceedings. It is another tantalising tussle ahead of the Pacing Cups.
D – DROUGHT-BREAKER
Basketball Australia has entrusted the responsibility of delivering the country a maiden Olympic Games men's medal to Brian Goorjian … again. A six-time championship winner at NBL level, Goorjian was today appointed to the post after Brett Brown stepped down earlier this year following his axing by the Philadelphia 76ers. The American-born mentor led the Boomers to the Olympics in Athens (2004) and Beijing (2008) and has worked with Japan and China since. He will be at the helm of the Australian side until the end of the 2023 World Cup.
E – EMERGING TALENT
The Merson Cooper Stakes (1000m) at Sandown isn't a race which normally attracts a great deal of attention. Many of the better two-year-olds have already stepped out in more high-profile races or are being readied for the summer-autumn riches. But we get to see Forbes, a $750,000 Capitalist colt prepared by Anthony and Sam Freedman, lock horns with the Phillip Stokes-trained Brazen Boy, a winner of a recent trial in Adelaide by 14 lengths. Both are firm in the market and will be heavily scrutinised on what is an excellent day's racing.
F – FATHER TIME
Boxing commentators regularly reference the fact that Father Time is undefeated — a pointer to fighters who press on in their careers beyond their prime and end up succumbing. Tom Brady signed a two-year deal with the Tampa Bay Buccaneers in the off-season, ending his glittering career with New England. His performance against the New Orleans Saints earlier this week was atrocious and prompted those who have witnessed his greatness over two decades to question whether the end was coming. That is up for debate. As for Father Time coming out on top eventually? That is not.
G – GRILLED
The interview conducted by Tom Morris and David King on Fox Footy's Trading Day on Thursday night was must-watch TV. The hard questions were asked time and time again and Collingwood list manager Ned Guy was steadfast and unapologetic about the club's approach in relation to Adam Treloar, Jaidyn Stephenson and Tom Phillips. He insisted they hadn't conducted a fire sale, rather a carefully executed strategy to inject fresh talent into the club. Hmmmm.
H – HOUSTON, WE HAVE A PROBLEM
The Houston Rockets added Russell Westbrook to their squad entering last season, an acquisition that ensured there was no spot at the franchise for Chris Paul. Westbrook's arrival to work closely with James Harden was meant to propel the Rockets to the Western Conference Finals and then ultimately the NBA Finals. That didn't happen. So, coach Mike D'Antoni was jettisoned and now Westbrook is considering his options. Where that leaves former league MVP Harden is anyone's guess.
I – INSPIRATION TO ALL
It's not hard to see why the Grant and Alana Williams-trained Inspirational Girl will carry the hopes of many in next Saturday's Railway Stakes. She is on the 53kg minimum, three weeks between runs — just as Galaxy Star was in 2018 — and will have the services of William Pike. Currently $2.90, her price will trim up if she draws favourably on Tuesday afternoon.
J – JERICHO CUP
Love the fact that Albany will play a key role in the WA push to win the Jericho Cup (4600m) at Warrnambool next year. The announcement yesterday of a 3100m qualifying race for 66+ rated gallopers at Albany, worth $100,000, got traction on a national level. And so it should have. We should never forget the role Albany played in the lead-up to the Great War.
K – KING'S RANSOM
Geelong made it known in the lead-up to the grand final that they were hellbent on luring Jeremy Cameron to the club. GWS were furious and stood their ground. Good on them. Their resistance to engage in discussions after matching the Cats' free agency offer meant this year's runners-up needing to up their sights. And up their sights they did. Handing over first-round selections 13, 15 and 20 and a future fourth-rounder for Cameron and two second-rounders was an enormous price to pay. It sets a scary precedent for future trades.
L – LIES, LIES, LIES
The fallout from Adam Treloar and Jaidyn Stephenson's defection to the Western Bulldogs and North Melbourne respectively created a hailstorm of criticism and commentary. And accusation of untruths from the ex-Magpies pair. Treloar fanned the raging flames yesterday when he labelled Nathan Buckley a liar for telling him that some senior players didn't want him at the club. This story will have a very, very long tail.
M – MALE MAN
Ashley Maley's stable might not be one of the more fashionable yards in the State, but there is no denying its effectiveness. Maley's excellent start to the season continued this week when he took out the York Cup with evergreen stayer Push To Pass and then won in town with three-year-old All Day Session. Maley's eight metropolitan winners has him sharing sixth place on the trainers' premiership alongside Dan Morton.
N – NEW ERA
Good on the Australian selectors for including tyros Will Pucovski and Cameron Green in the 17-man squad ahead of the first Test against India next month. Pucovski could be ahead of Green in the chase for a Baggy Green cap, but it would seem it is only a matter of time before the angular West Aussie cracks a debut. They are the future and the sooner they can be among the elite at Test level, the better.
O – ONE TO REMEMBER
We have been blessed to witness many high-calibre WA Champion Fillies Stakes in recent times. This year's race is no different. Dan Morton has two cracking girls, Snickerdoodledandy and Kissonallforcheeks, while Magical Dream, a winner of the Belgravia Stakes (1200m) in scintillating fashion, will no doubt make her presence felt. And the list of contenders goes deeper than just those three. Cracking race.
P – PACIFIC EXPRESS
Neville Parnham has always held Indian Pacific in high regard. He was quite happy to throw the son of Zoustar in the deep end in the Crawford Stakes, knowing full well that he would be burning serious ratings points should he be successful. Indian Pacific did it at both ends on that occasion to salute and now is presented with another searching challenge in the Group 3 Colonel Reeves Stakes (1100m) at Ascot tomorrow. The market is confident he will again rise to the occasion.
Q – QUICK TO ACT
News filtered through over the weekend just gone that William Pike had been booked to ride interstate raider Trekking in the Group 1 Winterbottom Stakes (1200m) on November 28. Those with their finger on the pulse wasted little time getting involved in the TABtouch all-in markets. And get involved they did. As of this morning, the proven Group 1 performer is the $2.70 favourite. He looks awfully hard to beat.
R – RIVERS FLOWS FREELY
Veteran quarterback Philip Rivers doesn't boast a Super Bowl ring, but he has been remarkable durable and prolific in his 17 years in the NFL and this morning moved into sixth position on the all-time passing yards list, surpassing the revered Miami Dolphins signal caller Dan Marino. He now trails only Drew Brees, Tom Brady, Peyton Manning and Brett Favre. A salute to longevity and professionalism.
S – SILLY SEASON
Has ended. And what drama it was. The trade period came to a close last night, EST, with massive news regarding the late trading of Adam Treloar and Jeremy Cameron to the Western Bulldogs and Geelong respectively. The exchange period is becoming a mini-season of its own which attracts just as many eyeballs and ears as we have become accustomed to throughout the year of home-and-away and finals football.
T – TRUE THAT
Truly Great or True Attraction. Which corner are you in? The pair, not stablemates but owned by Bob and Sandra Peters, look to have the Group 3 RJ Peters Stakes (1500m) at their mercy. They are progressive, talented and looking to triumph and then back up in the $1 million Railway Stakes (1600m) next weekend. The gentle applause, akin to what you receive from a respectful gallery in golf, that accompanied Truly Great's most recent win could be replaced by a far more raucous response tomorrow.
U – UP THE MOTORWAY
That is what NSW racing participants will be doing today to be on course for The Hunter at Newcastle. The M1 will be far busier on a Saturday than usual, with the seemingly endless NSW spring carnival continuing to take in the second running of the $1 million feature over 1300m.
V – VINDICATION
Well done to the Godolphin team. It would have been extremely tempting to retire Bivouac earlier this year after he failed to mark his territory against Loving Gaby in the Group 1 William Reid Stakes (1200m) and unplaced efforts in both the TJ Smith Stakes (1200m) and All-Aged Stakes (1400m). But they pushed on into the four-year-old season and he is now a three-time Group 1 winner after his slashing victory in the Darley Sprint Classic (1200m) last weekend. A son of Exceed And Excel, his value has skyrocketed.
W – WIN AND YOU'RE IN
The RJ Peters Stakes isn't the strongest race on the card at Ascot tomorrow. However, it is impossible to dispute its importance given what is on offer — direct entry into the Group 1 Railway Stakes (1600m) at Ascot the following Saturday. It has produced some seriously good winners in years gone by. Twenty years ago, a quirky gelding by the name of Northerly won the race. He turned out OK.
X – X-RAYS
And more x-rays and more x-rays. That was the advice from Irish training legend Dermot Weld this week when asked for his response to the alarming number of fatalities of international horses during the Melbourne spring. Weld, the man who engineered Vintage Crop's historic 1993 Melbourne Cup win, said he advocated full body scans and x-rays of fetlock joints on home soil before the raiders were cleared to head Down Under. It is sage advice.
Y – YESTERYEAR
Those who have had the good fortune of attending a rugby league State of Origin encounter can't help but speak about the occasion. Two tribes, NSW and Queensland, collide in a cauldron that isn't replicated in any sporting contest in this country. Surely that is sufficient in the current climate. Not so if you listen to some former league hard-nuts and media commentators who wanted the Blues to go the knuckle in game two on Wednesday night. With the agitation and urgings, it was no shock to see players exchange punches. The game deserves better.
Z – ZIPPING CLASSIC
This WFA feature at Sandown tomorrow needs something or someone to revive it. Worth just $250,000 now, it is often an opportunity for those who failed to get amongst the spoils in the Melbourne Cup, to add some funds to the bank. Surprise Baby was nominated and didn't accept. Ditto Southern France, who was victorious last year. Named in honour of leviathan owner Lloyd Williams' warrior, it deserves better.