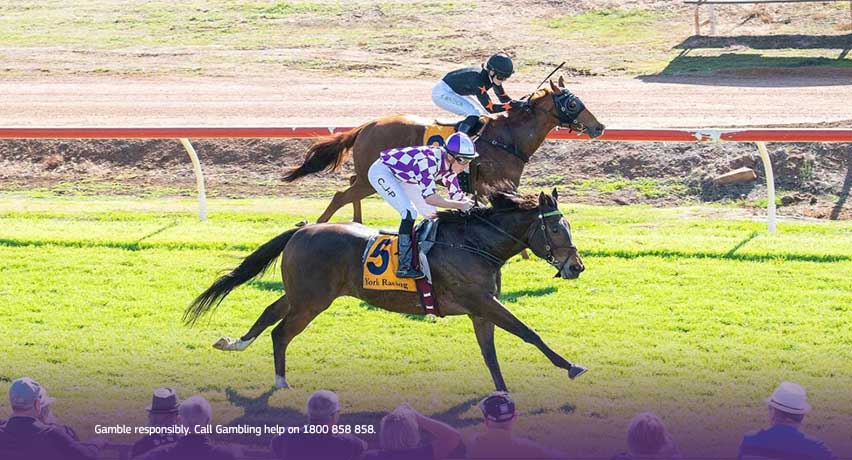 RACE 1
MASARU ran third on debut behind Dream Evil, ran fourth at start two behind Gorgeous Gus, The Invisible Man and Flower In The Wind, finished only 2L off Mystery Moment and Gold Friars at start three and most recently stepped to a mile and was solid in fifth with a 3kg claimer aboard. Regular rider CJP back on, drawn the inside and into a maiden handicap. Provided she doesn't get too far back she should be hard to beat. BLACK MELODY finds a new home and Darren Taylor does a wonderful job with these tried types. No surprise to see her win a recent Lark Hill trial and no surprise to see her return a winner for the new yard. FOR OUR NIC beat home Masaru two starts back. INSIDE VOICE showed glimpses at York in the past.
Numbers: 2 – 1 – 5 – 8
Suggested Bet – MASARU WIN
---
RACE 2
BIN SHALAA looks very well suited to maiden handicap conditions as a 3 year old filly taking on the older horses with only 56.5kg and clearly holding stronger formlines than the majority of her rivals. Fourth first-up down the straight beaten only 1.5L by Ozzy Boy, Miami City and Gypsy Gee. Sixth behind War Gem, Prince Ragnar, Endless Bounty and Ruleee. Good form for a York maiden and looking to breeze. QUINTUS finished third when ridden for speed at 1300m at Northam in a maiden. Jump, run style of York racing suits him. STYLISH PIP should position up from the barrier. TINYNTUFF tries her hardest and has been finishing close to them recently.
Numbers: 6 – 3 – 5 – 7
Suggested Bet – BIN SHALAA WIN
---
RACE 3
PEPPI GROVE is a throw at the stumps in an open 1200 maiden. On debut was eye catching when held up at various stages of the straight in a handy maiden field that included The Invisible Man, Nitro Fred and Finest Clobber. Didn't fire last start and was beaten out of sight but going to go her way in this purely on speculation from the first-up debut run. NUTWOOD did it tough fresh when wide throughout only beaten 3L Arcadia Grace and Born To Talk. Shades on, jump and run. BIG BREAK hasn't been able to break through at Kalgoorlie but there's probably an argument to be made that this is just as thin as a mid season Kal maiden. THAT'LL BE NICE improved sharply last start.
Numbers: 2 – 7 – 1 – 3
Suggested Bet – PEPPI GROVE EACHWAY
---
RACE 4
CHOIX DE LACE is importantly 1 from 1 undefeated at York, a track which can definitely be a horses for courses location. Recent trial under a junior rider was excellent when looking to have plenty to offer late and when you consider the likes of Image Keeper and Antique Jewel finished in front of her it should be strong enough trial form to be going close here. Stable apprentice Rosie Mahony given a great leg up to a grass winner. MAGNUSON MAN is likely to be up there right over the speed. Profiles like a nice York horse. METALLIC QUEEN is a York specialist with 2 wins and 4 minors from 8 outings. Only finished 3.5L off Little Flirt two starts back. TRADE PRIZE rates well but isn't an easy steer from the barrier.
Numbers: 3 – 5 – 8 – 2
Suggested Bet – CHOIX DE LACE WIN
---
RACE 5
DATALKA resumed in a Westspeed Platinum 58+ Saturday race when finishing worse than midfield but in a handy line-up which contained the likes of Gunmetal Grey and Ohbeeh. Steps immediately out in trip and after the claim for Hannah Fitzgerald looks to have struck a winnable race. Last campaign finished fourth in a 3 year old 0MWLY 3L off Jedi Mind and should be a suitable on speed York type. WILD GALAH has come back to racing well. First-up run at the sprint trip (for him) was particularly good. COSTA LANTE finished third in a 58+ at Kalgoorlie only two starts back and is now in a 46+. YOURTHEONEFORME could roll to the top and give cheek.
Numbers: 6 – 8 – 1 – 7
Suggested Bet – DATALKA EACHWAY
---
RACE 6
LIES N DECEPTION returns to the stables of Ray Vincent after having three starts in Broome and recording a last stride win at Newman. There will always be question marks on horses returning from the dirt to the grass but this horse is a 3 time winner at York when leading. Rosie Mahony brings the weight down to a winnable 59kg and provided she can hold the top early he'll look the winner at some stage. Faster the better has always been his go. OLD BAILEY is a fellow speedster returning from racing in Broome and a last start Newman winner himself as well. Expecting them to put the speed on a long way out. CRISTAL DANE is the back marker who will get last crack at them if they overcook it. FROSTY BELLE should be the map horse following the two leaders.
Numbers: 2 – 3 – 9 – 1
Suggested Bet – LIES N DECEPTION WIN
---
RACE 7
BLAZING PASSION looks really well placed here in a 46+. Three starts ago finished third behind Justhandy (subsequent winner) and Starlift (subsequent winner) in a hot C1 form reference race after leading them up. Was thrown into a Westspeed Platinum two starts ago when outclassed and last time out raced in restricted room when unable to lead. Runs for Lisa Staples, Paul Jordan has a great career strike rate at York and from the gate she looks mighty hard to beat. PLAYING UP only won a Geraldton maiden when last in work but had shown ability in town and at the provincials beforehand. ALLURING returns to Neville Parnham and is a 2x York winner. SWEET DEMAND will be looking to hold a position close to them early.
Numbers: 5 – 3 – 2 – 4
Suggested Bet – BLAZING PASSION WIN
---
RACE 8
ALL MAN hasn't won a race since he saluted in a 1900m 46+ at York in October 2020. In the last 2 months he has finished second in a 60+ to Melarab (beating Sugar Cain), finished 2L off Zaratite and Bella's Idol in a 78+, finished half a length off Sugar Cain, Decoy Noxious and Overthought in a 66+ and finished 2.5L off Picture Perfect, Sowar, Sugar Cain and Born to Try last Saturday. Right race. CELEBRITY WITNESS steps out to the 1920m which is a slight unknown but she's a leader, she's at York and she's a fighter. Going super. CHOKSLAM showed last start she'll be pinching a staying race at some stage. SAN CRISPINO should be right over the speed and draws a gate.
Numbers: 2 – 4 – 9 – 3
Suggested Bet – ALL MAN WIN
---
Quaddie (Race 5 – 8)
1,6,7,8,9
1,2,3,9,10
5
2,4
Market
Market