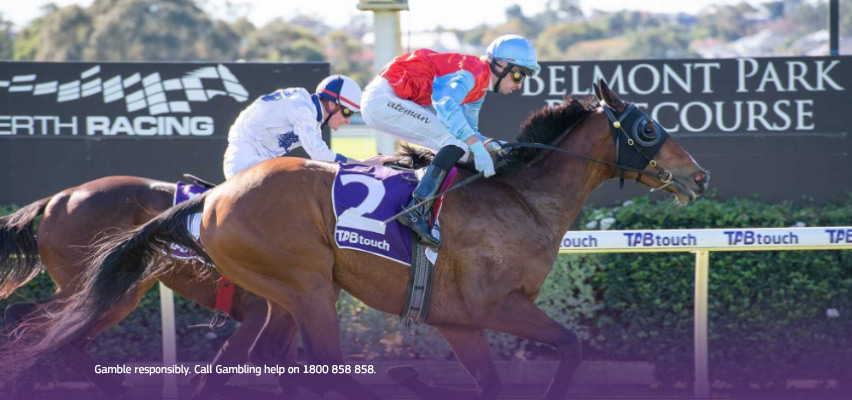 RACE 1
FIRE GODDESS has the senior rider aboard for the first time in the campaign and should roll straight to the top. Always looked like making the grade and the two runs in have both been sound. First-up was hitting the line strongly after her rider dropped the whip and second-up was simply outsprinted by a horse along the cutaway. Should give backers a big sight in this. GOODBYEFEDS is the obvious danger on paper. Has a few lurks and has had a number of brilliant opportunities to open his account but ran well first-up and with Pike aboard should only improve further. PETITE LA FEMME has the speed to hold leader's back and was big first-up before a slightly flat run last start. TRADED CROWN was well backed on debut and now has blinkers added.
Numbers: 6 – 1 – 7 – 4
Suggested Bet – FIRE GODDESS WIN
---
RACE 2
PANZDOWN was all the rage on debut and duly saluted. It was a stylish win for a horse who did a lot wrong in the run. Should derive great experience from the outing and looks like landing one out one back in a fairly straight forward map on paper. Pike should have him stalking the hot speed and if he lets down like he did on debut takes a stack of beating. CLAIRVOYANCE has real X-Factor and looks to hold untapped ability. Likely gets crossed by the Jordan pair so interesting to see how she handles box seat racing. HOW'S THE SERENITY trialled super for Chloe Azzopardi and was enormous against the pattern on debut. STARFIELD IMPACT is a two-time black type filly resuming. 60kg is a leveller but she is all class.
Numbers: 2 – 4 – 8 – 1
Suggested Bet – PANZDOWN WIN
---
RACE 3
BURNING PRIDE put the writing on the wall last start. Was bolting in behind heels and then probably peaked on her run in the last 50m. Should be ready to fire third up into the campaign and William Pike returns to the saddle. The Wizard has guided her to all six career victories and from three back the fence she's dangerous. MAROCCHINO has been brave in the 3 year old staying features. Worked very hard midrace in the Aquinita and then finished third to classy fillies Chantrea and Heaven's Gift in the Belmont Classic, beating home subsequent winner Queen Takes King by a margin. DARK PROSPECT is knocking on the door and draws soft. GANGBUSTER finally gets out to a trip.
Numbers: 2 – 8 – 7 – 1
Suggested Bet – BURNING PRIDE WIN
---
RACE 4
MILITARY RULER finds the fence for the first time in the preparation, backs up off 7 days and drops a stack in weight. Noted front running apprentice Chloe Azzopardi aboard, he should give cheek. NOT TO BE MIST is always vulnerable in his races as punters found out last start because his normal race pattern is settling last and coming with a sustained run late. Thinking that back on top of the ground onto a Good4 for the first time in the preparation is a big positive for him. FRED DAG was heavily commissioned last start and didn't get much luck. Wasn't travelling that well into the corner but found a second wind in the home straight. JERAFT has to go close off what he produced last start.
Numbers: 5 – 3 – 6 – 8
Suggested Bet – MILITARY RULER EACHWAY
---
RACE 5
SERENITY BAY is yet to miss a place from her 9 outings and while this is a tough map for her from the draw she should hold sufficient firepower to get herself out of trouble. Looks like being a three deep train with Position of Power drawn in no-man's land so Pike likely creeps into the race three deep with cover and her form from last weekend behind Inspirational Girl and Massimo should prove too strong. INFLATION likely kicks through to lead and took the entire length of the straight and the strength of Paul Harvey to run him down last start. WAR GOD should land in a lovely spot and looks a great use of the 3kg claimer. CRYSTAL SPIRIT was super first-up for 600 days. Gate makes it tougher for him here.
Numbers: 8 – 7 – 3 – 2
Suggested Bet – SERENITY BAY WIN
---
RACE 6
APOLLO certainly doesn't win out of turn but is undeniably racing at the top of his game. From the draw he should stalk the speed from Choice Command and Round The Point and the way he is going he'll loom into the race as the winner at an eachway quote. Hard to knock what he's been doing. REWRITE THE STARS has been flying at the provincials. If she had drawn a gate she would be awfully hard to beat but slightly concerned here that she may have to park three deep the trip and do it tough. DARK MISSION was afforded a 12/10 first-up to score and there is no reason why she won't enjoy all the favours again from the draw. ROUND THE POINT is going particularly well and is as honest and consistent as they come.
Numbers: 3 – 2 – 5 – 4
Suggested Bet – APOLLO EACHWAY
---
RACE 7
FLOYD is no longer the speed demon he was in his early days but he still packs a serious punch. From the draw it looks like Jarrad Noske will have him sitting midfield with cover and with even luck in the home straight he looks a great eachway proposition in a very evenly graded feature sprint. MERVYN only knows one way and from the inside gate he should get a breather in the first couple of furlongs before going for home. GUNS OF NAVARONE is deliberately kept fresh in his races and from the draw is a definite blow out hope. ESSENTIAL SPICE produced a career best last start to win the Beaufine but with 59kg and the outside gate will need to go to a new level again.
Numbers: 5 – 7 – 9 – 3
Suggested Bet – FLOYD EACHWAY
---
RACE 8
SILKINIZE looks like the characteristic William Pike sit and sprint kind of ride. From gate 5 he can let the speed go in front of him and keep Silkinize within striking distance of the leaders. He was super last start from an impossible gate and this time round should enjoy every chance in running. DANNY GEORGE may end up three back the fence in traffic but if he sees daylight then he'll ping late. SHINJU probably ended up a pair further back than expected first-up and that was the difference between finishing 5th and 3rd. Improved out of sight second-up last campaign when gunning down This'll Testya. AMELIA'S ON FIRE endured a horror run last start and should be a big improver from the draw.
Numbers: 10 – 5 – 6 – 9
Suggested Bet – SILKINIZE WIN
---
RACE 9
BOMBAY STYLE is in super form winning his last two. This race is completely devoid of speed and from gate 1 he either leads or box seats and from there he is a big chance of making it a hattrick of wins. Sat on the back of Aberdeen Queen last start and nailed her on the post and this race looks to have no more depth to it. OVERTHOUGHT won well at the provincials last start and should take up a prominent position from the draw. MONTELENA hasn't won since her 2 year old days but has contested a lot of quality features. She is her own worst enemy but from the draw has to go close (again). SCINTILLATING looks like he is almost ready to run a race.
Numbers: 3 – 12 – 11 – 13
Suggested Bet – BOMBAY STYLE EACHWAY
---
Quaddie (Race 6 – 9)
1,2,3,4,5,8,9
3,5,6,7,9
5,6,7,9,10
3,11,12
Market
Market