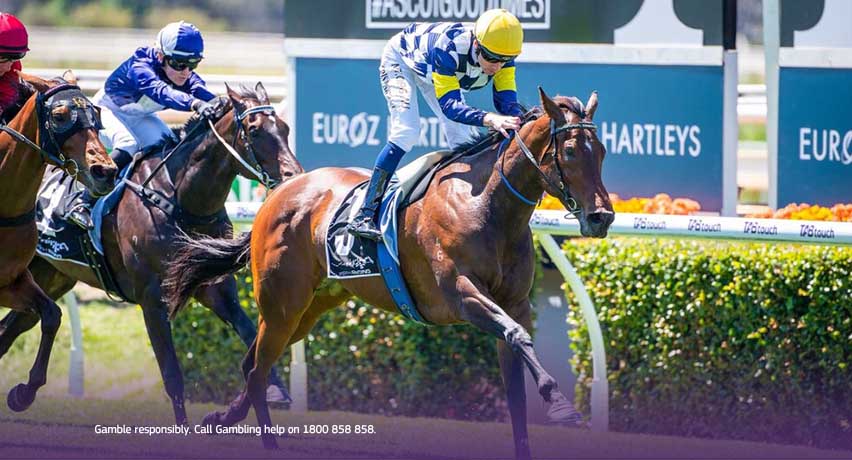 RACE 1
THE FRONT BAR has to lump 59.5kg on a 35 degree day with an Easterly breeze blowing and will likely settle in the back half. Lots of negatives and certainly not a betting proposition to start Winterbottom Stakes day, however, does look the filly they'll need to hold out. She's versatile and her turn of foot is electric. Needs to stay within striking distance. HE'S GOLD looks the map horse in the race. Can sit leader's back and track the hot tempo through Bopping Blue and Sockoff. Deep into the campaign but still racing well. BOPPING BLUE and SOCKOFF will be looking to use the full advantage of the Easterly breeze. Both high-speed jump run types.
Numbers: 1 – 2 – 4 – 8
Suggested Bet – HE'S GOLD PLACE
---
RACE 2
THAT'S FUNNY AZ was attacking the leader throughout running in the Northam Cup, incredibly the two leaders broke 57 seconds for the first 1000m in a mile race. He was entitled to be beaten 20+ lengths off that kamikaze mission. Dion Luciani has been set the task of getting him back off that run and historically this horse has grown a leg off a 5 week spacing. After Holly Watson's claim he gets in with a winnable weight and he gets conditions to suit. COCKNEY CREW will no doubt be sitting to his outside and ensuring the race is turned into a staying test a fair way from home. Excellent run in the Peters. DOM TO SHOOT showed a glimpse last weekend in the Carbine. Thought he finished off well. MONEY MAHER will be sitting back and watching the race unfold, saved for one last run.
Numbers: 3 – 2 – 5 – 7
Suggested Bet – THAT'S FUNNY AZ WIN
---
RACE 3
SECRET PLAN ran second to Wilchino last start in the highest rating 72+ of the last 5 years. The money was predictable and accurate last Saturday through Hot Zed and Son of A God when they split the line together as the only two supported runners in the Carbine Club and Wilchino has been the target of smart money in the Winterbottom Stakes over the last 7 days. Secret Plan and Triple Missile meet again and both come through the logical form reference race. TRIPLE MISSILE is E1 for the Winterbottom Stakes and you would think if there is to be a scratching before 8am on Saturday that he'll be withdrawn from this race to start there. Makes for a tough decision if you back Secret Plan early and risk deductions or you wait and quite possibly watch the price disappear #foodforthought. RESORTMAN is no slouch and is a gun fresh. ALL DAY SESSION ran well in the Colonel Reeves. Better suited to ratings races.
Numbers: 9 – 6 – 4 – 5
Suggested Bet – SECRET PLAN WIN
---
RACE 4
NOWHITEFLAG jumped awkwardly last start and was unable to find the front. From there he looked all at sea and had no idea what was going on around him. He over-raced, he wobbled into the corner and he was simply not the same horse. If he finds the front then Shaun McGruddy can control the tempo and roll him through his gears from the 600. From there he'll have them chasing a long way out. STANDOUT ROSE should position up one out, one back. She's a very consistent mare with a turn of foot to put herself into the mix. DAIS is drawn in no-man's land. With the favourite and main danger likely to lead on a predicted leader's day logic says they'll likely roll forward to the breeze. WILD FUSION loomed into the race first-up and peaked on the run. Should benefit greatly from the outing.
Numbers: 2 – 4 – 12 – 3
Suggested Bet – NOWHITEFLAG WIN
---
RACE 5
GOD HAS CHOSEN will have punters queuing up to get a piece of the action in this 60+ 1400m. Backing up off 7 days, dropping in grade from a 66+ to a 60+ and stepping back out to a more suitable trip. Last time he was in a 60+ 1400m he was backed as if unbeatable and he didn't let anyone down. Found traffic last week and still got to the line as well as anything. Ready to charge through the grades and should be taking care of these. Black figures will do. THE FUGAZI has raced competitively in 72+ and 66+ grade over the past few years. Hasn't won a race for a long while but he's going well enough to stretch the favourite with the right run. SON SON is a handy 4 year old resuming. He can park up outside of likely leader No Surrender and be put right into the race. MR MT WALKER maps to get a lovely run into it.
Numbers: 3 – 2 – 1 – 5
Suggested Bet – GOD HAS CHOSEN WIN
---
RACE 6
Siding up with the Geraldton form in the Tabtouch Regional Championship Final and going with former Peters Investments galloper SIGNIFICANT HERO who has returned in a blaze of glory this campaign for Tony Scally. Minor query is that he tends to do his best fresh but if he can hold form then he's a live hope at an eachway price in an open race. Big win first-up and was massive in defeat second-up. DELAGO DEHERO should be able to get across into a nice enough position from a wide gate. With likely leader Warm 'N' Fuzzy drawn inside of him and breeze horse Little Punga drawn outside of him he should be able to work forward and get some cover. Provided he doesn't get posted three deep the trip he's a live hope. SCANDOLO is a new horse under team Fernie and the booking of William Pike shows you which one the stable thinks is their best chance. KENDEL'S MEE DAD was doing his best work late fresh. No weight relief but a senior takes over from a 3kg apprentice.
Numbers: 10 – 6 – 7 – 1
Suggested Bet – SIGNIFICANT HERO EACHWAY
---
RACE 7
MIDNIGHT BLUE is ready to clean sweep the staying features on his way to the 2022 Perth Cup. Brilliant winner of the Ascot Gold Cup, horse to beat in the Japan Racing Association Trophy and then likely to dodge stablemates Regal Power/Western Empire in the WFA Van Heemst and head long the Towton Cup/ATA Stakes route. See no reason why he can't head into the Perth Cup having won three or four in a row and we're keeping our seat on the Midnight Blue train until it stops. BAD WOLF was a super run last start stepping out to 1800m. Again on trial at the 2100m but maps perfectly with a noted staying hoop taking over from the recently retired Boy Hill. MEDIA BARON is a tease but his run last start caught the eye. STAFFORD'S LAD reeled off a faster L600 than Midnight Blue last start and will stay all day.
Numbers: 4 – 7 – 6 – 10
Suggested Bet – MIDNIGHT BLUE WIN
---
RACE 8
ELITE STREET won the Crawford first-up, the Prince of Wales second-up and the Colonel Reeves last start. Meets every key rival from those races better at the weights and it's hard to see any of those horses turning the tables on him with even luck in running. That makes the logical danger Wilchino as the unknown who he has never raced before. From the barrier he'll be 3 deep with cover looming into it and if she's stopping late, he'll be flying. His fastest furlong will be her slowest. WILCHINO grabbed nationwide attention with the fastest 1200m win that Ascot has seen since Hey Doc's Winterbottom Stakes win of 2019. They'll all be coming at her late but if she can run anywhere near 1:08:58 again it might be too little too late for the chasers. RED CAN MAN will need to get across from an awkward gate but if he does, he's a proven WFA sprinter. CUP NIGHT continues the 'Elite Street has the Crawford/Prince of Wales/Colonel Reeves runners covered' theory. Dynamite fresh and targeted at this race with 3 trials.
Numbers: 2 – 16 – 3 – 8
Suggested Bet – ELITE STREET WIN
---
RACE 9
EM TEE AYE drops down to 52.5kg after the claim for Laqdar Ramoly. Lucky is having a lean run of it at the moment but this looks a great chance to kick one home at an eachway quote to remind trainers he's the reigning leading apprentice in WA. With Apple Schnapps and Lorentinio likely to lock horns throughout it's horses like Em Tee Aye and Bruce Almighty who can be tucked away in behind them ready to pounce if they overcook it. LORENTINIO might be destined to breeze outside of Apple Schnapps which makes it that little bit tougher but the form through Comfort Me and Proconsent is hard to ignore. BRUCE ALMIGHTY was held tight for a fair portion of the home straight first-up. Drops in weight, senior goes on and he maps a treat. DOWNFORCE is about ready to win one.
Numbers: 12 – 1 – 8 – 11
Suggested Bet – EM TEE AYE EACHWAY
---
Quaddie (Race 6 – 9)
1,2,4,5,6,7,8,9,10,14
4
2,16
1,2,4,8,11,12
Market
Market