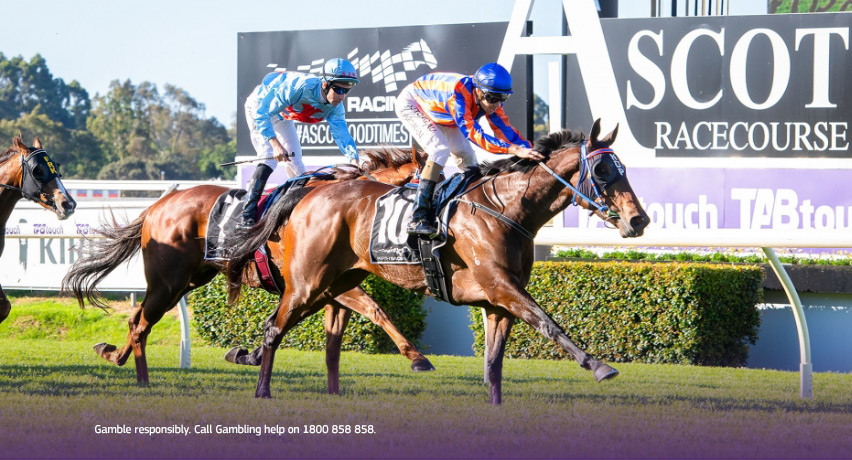 RACE 1
LONG BEACH is the first favourite on the card and marks the return of William Pike. Would be iconic for the great man to get us off to a flyer on Railway Stakes Day and while he will likely settle last the small field suits and he put the writing on the wall last start. At flip of the coin odds there will be literally thousands of punters at Ascot cheering home the Wizard in the opener. BOOMTASTIC is no slouch and will come out running in an attempt to find the front. Most likely scenario is that she has to breeze and then is left a sitting duck for the Cerise and White. NICCOVI was big at her return to racing and then flat last start. DON'T FUSS has a big weight but is ultra-consistent.
Numbers: 3 – 5 – 4 – 2
Suggested Bet – LONG BEACH WIN
---
RACE 2
DIAMOND BLUE couldn't have done any more in his two starts to date. On debut sat no better than three deep the trip when looming large at the top of the straight before fading late. Was almost an even better run last start when getting out well, caught deep, restraining and then making another run in the last 200m. At double figures he's definitely worth a throw at the stumps. LIWA was truck loaded on debut in a passionate betting move that missed the mark. Where there's smoke there's fire and Simon Miller knows how to produce a 2 year old winner on the big days. HEAVENLY WATERS has only had one public appearance in Albany but looked to have ability. FLYING MISSILE was electric over a 400m jump out.
Numbers: 1 – 5 – 12 – 11
Suggested Bet – DIAMOND BLUE EACHWAY
---
RACE 3
MIDNIGHT BLUE broke through last start with a rails hugging ride from Laqdar Ramoly. Looks even better suited stepping out in trip, having run second in the Melvista Stakes at 2200m. Lightly raced, progressive, maps soft and has William Pike lobbing in the saddle. He looks capable of going through the grades and becoming a country cups type horse come early 2021. COME RIGHT BACK will settle in front of him in the run and went close last start to knocking off Treasured Crown (extremely similar profile of horse to Midnight Blue). He'll be winning his fair share of staying races and Peter Hall will look to out fox Pike. MOSSERATTI is brilliantly consistent and always goes round at a double figure quote. PADDY'S SHADOW was a far better run than it looks on paper last start.
Numbers: 4 – 6 – 11 – 5
Suggested Bet – MIDNIGHT BLUE WIN
---
RACE 4
CHANTORQUE faces her acid test but every time Rusty Stewart takes her to the races she seems to get better and better. Initially was looking to take her on because she steps out to unchartered waters at 1200m but when you map the race she's going to be afforded the sweetest of trips in the box seat tracking every move of Charleton Eddie and Acromantula. MYSTICAL VIEW backs up off 7 days, drops sharply in trip and has blinkers attached for the first time. Is a move that the Williams team have successfully pulled off in the past and will flash late. QUEEN BROWN in a similar vein abandoned ship from the Champion Fillies preparation to come back in distance. Has a short sharp turn of acceleration. ACROMANTULA is raw and green but looks to have an abundance of natural talent.
Numbers: 4 – 5 – 3 – 2
Suggested Bet – CHANTORQUE WIN
---
RACE 5
TIFF HAS SPOKEN will clearly be far less fancied in the market than Western Empire but maps to get a soft run after impressing first-up no trial at 1400m. Honest type who can go through his grades and has relatively strong 3 year old form from last campaign behind Captain Kink which would see him run a cheeky race eachway. WESTERN EMPIRE could be one out of the box and if he doesn't get a run in the Guineas will jump a pronounced favourite against the older horses. Very rare to see maidens in 66+ races but he could be a star of the future. SWEET DREAMIN' doesn't know how to run a bad race. SOPHIE'S SONG sits right over the speed and has a senior rider engaged.
Numbers: 8 – 12 – 5 – 2
Suggested Bet – TIFF HAS SPOKEN EACHWAY
---
RACE 6
DOM TO SHOOT has looked the best of the boys for a little while and this race should have a fair deal more pace than the Fairetha Stakes which was a pedestrian track gallop. Paul Harvey did all he could to put him into the race and he clocked the fastest last 1000, 800, 600, 400 & 200. His final furlong was more than 1L quicker than any horse in the race suggesting he'll eat up the mile. Eachway on offer, he'll run you a race. WATCH ME DANCE won last weekend's Champion Fillies and can box seat from the draw. Gets weight, is tough as nails and enjoys the run of the race. BRAVE ANGEL looks highly progressive and was charging through the line last week. GEMMA'S SON eye catching at WFA in the Lee Steere but looks a tough steer for Joey Azzopardi.
Numbers: 2 – 11 – 14 – 1
Suggested Bet – DOM TO SHOOT EACHWAY
---
RACE 7
FLOWER OF WAR is brilliantly placed back into fillies and mares' company. In the Set Weights and Penalties conditions she is weighted to win. She is a m97 who gets in with a feather weight 57.5kg. Her next closest rival from a handicap perspective is Flower of Scotland (m87) and even she only gets 2.5kg on Flower of War. Winner of a Cyril Flower beating Valour Road and a Marjorie Charleson Classic beating Angelic Ruler and Flirtini. She nearly finds the fence here and takes a power of beating. TYCOON STORM might be poorly weight relative to Flower of War but she's highly progressive and expecting Brad Parnham to be aggressive out of the machine in an attempt to take up a stalking position. WHY CHOOSE HER is in career best form and continues to savage the line. FLOWER OF SCOTLAND is the biggest X-Factor in the race.
Numbers: 1 – 8 – 4 – 5
Suggested Bet – FLOWER OF WAR WIN
---
RACE 8
TOO CLOSE THE SUN will come out running from gate 12 (if the emergencies are not required) and likely positions up outside likely pace maker Great Shot. From there he will hold a tactical advantage over his main rivals and will eye ball Great Shot from the 600 and ensure this is a high speed, high pressure mile. He'll have them chasing a fair way out and on the 7 day back up from a career best 1800m win is rock hard fit and extremely hard to get past. Was super first-up in the Asian Beau when only beaten in the last stride by Inspirational Girl and gets a half kilo on her here. RED CAN MAN gets huge weight off rivals from the WFA Lee Steere Stakes dropping down to 53.5kg. He can land one out and one back and is suited by the hot anticipated tempo. INSPIRATIONAL GIRL is a star and no doubt the Cerise and White will be charging down the centre late. KAY CEE loses her best mate Stevie Parnham and that's enough to push her down the order.
Numbers: 14 – 8 – 11 – 4
Suggested Bet – TOO CLOSE THE SUN EACHWAY
---
RACE 9
LAVERROD back into set weights and penalties conditions is much more suitable than his most recent where he had to carry 59kg at Weight For Age. Gets in with 55kg here and the start prior in a high rating 78+ he beat home subsequent Colonel Reeves Stakes and Winterbottom fancy Celebrity Queen. Not a lot of exposed speed here so Pat Carbery will have him right over the top of them and be hard to beat. FLOW stretched the neck of Truly Great last week in the Group 3 R.J Peters and is racing extremely well. NEUFBOSC has been flying since coming to WA and really caught the eye last week. PYM'S ROYALE has the X-Factor and turn of foot to win this.
Numbers: 9 – 2 – 5 – 8
Suggested Bet – LAVERROD WIN
---
Quaddie (Race 6 – 9)
1,2,4,9,11,12,13,14(17)
1,8
1,4,8,9,11,14
2,5,8,9,12
Market
Market