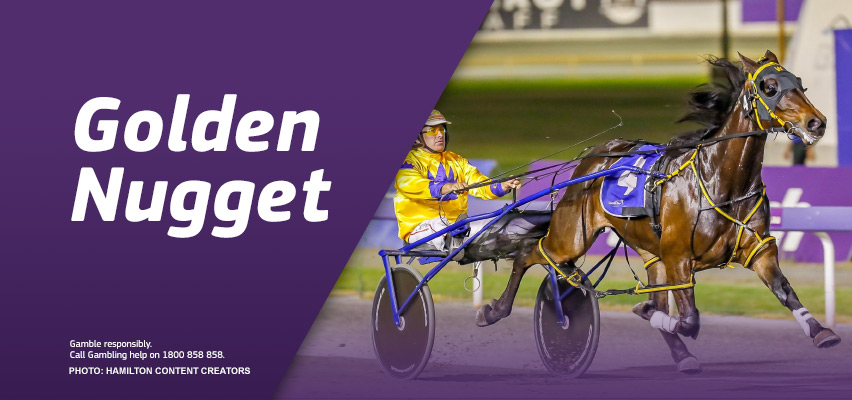 1. Power And Grace
Trainer: Mike Reed
Driver: Michael Grantham
Consistent 4YO who is a rung below the top echelon of his age group but has shown that he can be competitive from good barriers. He sat behind Magnificent Storm and ran a 2.7m 2nd to that pacer two starts back and it won't be a surprise to see him in the money.
---
2. Mirragon
Trainer: Debra Lewis
Driver: Chris Lewis
Former Victorian who wasn't in the top bracket of 3YO's last season but did finish midfield in the $130,000 Vicbred Classic at his last start in the state. He resumed from a short break with an impressive Pinjarra victory in weaker company but comes right into calculations after drawing inside his main rivals.
---
3. See Ya Write
Trainer: Greg & Skye Bond
Driver: Deni Roberts
Quick beginner who is likely to contest the early lead here. He hasn't finished further back than 2nd in his five Australian starts but will need to find a couple of lengths if he is to feature in the finish against this star-studded line-up.
---
4. Howard Hughes
Trainer: Greg & Skye Bond
Driver: Dylan Egerton-Green
Impressive 4YO who won 12 of his first 15 starts but hasn't had much luck in his past three runs against similar fields to what he meets here. He did defeat Patronus Star in 1.55.3 four starts back and could be the blowout chance if they run this event at a hot tempo.
---
5. Al Guerrero
Trainer: Kyle Anderson
Driver: Kyle Harper
Flies the gate and he will be looking to cross at the start if he can. He attempted to lead throughout here two starts back and found Magnificent Storm too good but he battled on well to finish 3rd in front of some nice types. His chance of finishing in the money virtually disappears if he doesn't find the pegs so expect him to launch at the start.
---
6. Patronus Star
Trainer: Greg & Skye Bond
Driver: Ryan Warwick
The reigning WA Derby winner who has looked the main danger to Magnificent Storm in this event for quite a while but the gloss has come off after running into trouble in two of his last three starts. There is no doubting his ability and he appears over the odds in early markets if he has any luck in running.
---
7. Terror In Texas
Trainer: Garry Butler
Driver: Garry Butler
Has won six of his 13 career starts but they have been against moderate opposition and he looks completely outclassed tonight.
---
8. Minstrel
Trainer: Greg & Skye Bond
Driver: Colin Brown
Talented 4YO who is proven over this trip and has impressed at his last two starts. He sat outside See Ya Write and proved too strong for his stablemate before taking up the undesirable position outside of Magnificent Storm and fought on bravely to finish 2nd to that star pacer. He is drawn inside him here and could look to make it a staying affair by staying in front of the favourite.
---
9. Magnificent Storm
Trainer: Ray Williams
Driver: Aldo Cortopassi
Has taken everything before him in winning all 12 of his WA starts in scintillating times. He worked his way to the front after starting from a backline draw in the 4YO Classic when demolishing his rivals in a 1.53.0 mile rate. He looks set for a tough trip from this draw but his undeniable class means that he is still the horse to beat.
---
10. Copy N Pace
Trainer: Gary Hall Snr
Driver: Stuart McDonald
Will start big odds against a line-up of this nature but he is not without a blowout chance if there is a really strong tempo. He ran on from well back to be placed behind Magnificent Storm four starts back and he will enjoy a soft run on the pegs and can figure in the placings with the right breaks.
---
11. Longreach Bay
Trainer: Peter King
Driver: Maddison Brown
Surrendered the lead to Magnificent Storm at his last start and did well to battle on into a distant third. He won't enjoy that trip in this race and it is hard to see him being in the finish.
---
12. Silent Major
Trainer: Gary Hall Snr
Driver: Gary Hall Jnr
Has similar formlines to the other Victorian in the field and did beat him home when 4th in the Vicbred final. He did win at his WA debut at Pinjarra in solid time but he will need to find a few lengths to challenge the topliners in this field.
---
13. Typhoon Banner (1st Emg)
Trainer: Dylan Egerton-Green
Driver: Dylan Egerton-Green
Has battled bad draws at his past three starts in hot company but they would know he was around if he gained a start from a favourable barrier.
---
14. Euphoria (2nd Emg)
Trainer: Gary Hall Snr
Driver: Gary Hall Jnr
Has been racing in weaker company but showed that he was up to this class when 4th to Howard Hughes in the Pinjarra 4YO Classic and he could play a part from a nice draw.
---
SELECTION: Magnificent Storm
Has been the long-time favourite for this race and his form is impeccable. He has shown that he is capable of doing it tough in his races and he will have to go to another level to outstay a classy crop of 4YO's from his horror draw but he does looks something special.
Market
Market