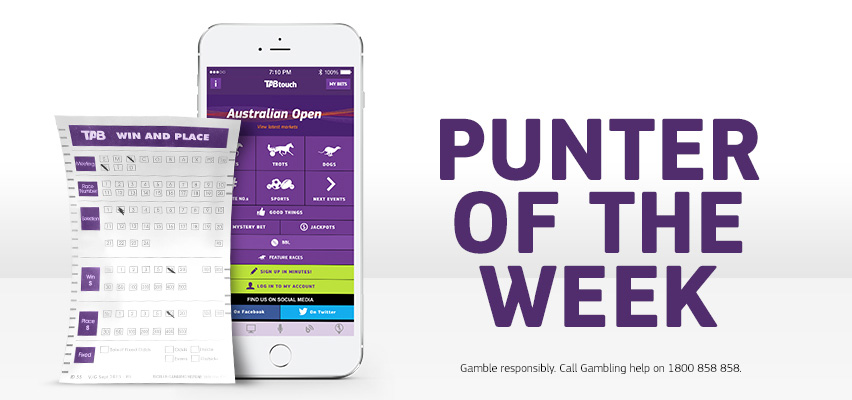 TABtouch Punter of the Week
$2.50 into more than $1,400 for our Punter of the Week who took on eight legs from the AFL, WAFL and NRL.
It was a range of bet types too with Margins, Pick Your Own Line's and Margin / Total doubles all in the mix. Well played!
Winning Multi
GWS vs Sydney
Leg 1: Margin / Total Double (GWS 1-39 / Over 159.5) @ $3.90
Result: GWS 83 def Sydney 81
Melbourne vs Richmond
Leg 2: Pick Your Own Line (Richmond -5.5) @ $1.33
Result: Melbourne 60 def by Richmond 93
Adelaide vs St Kilda
Leg 3: Tribet / Total Double (Adelaide Over 15.5 / Over 161.5) @ $3.10
Result: Adelaide 92 def St Kilda 70
East Perth vs South Fremantle
Leg 4: South Fremantle 1-39 @ $2.15
Result: East Perth 73 def by South Fremantle 106
West Perth vs East Fremantle
Leg 5: West Perth 1-39 @ $1.96
Result: West Perth 96 def East Fremantle 74
Carlton vs West Coast
Leg 6: West Coast 1-39 @ $2
Result: Carlton 75 def by West Coast 99
Manly vs Newcastle
Leg 7: Pick Your Own Line (Manly -2.5) @ $1.63
Result: Manly 30 def Newcastle 6
Sydney Roosters vs Gold Coast Titans
Leg 8: Margin / Total Double (Roosters 13+ / Over 42.5) @ $2.65
Result: Sydney 58 def Gold Coast 6
Investment
$2.50 with a multi price of $585.37
Paid Out
$1,463.45