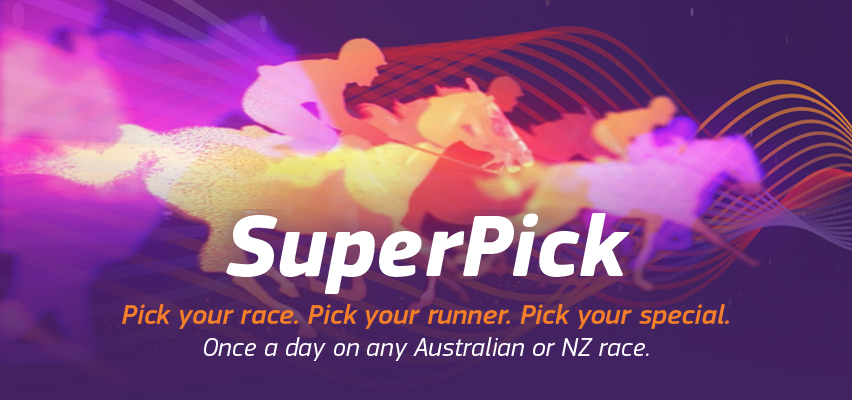 The power to choose your special.
Punters love nothing more than a good bet special – that's why we created SuperPick! With SuperPick, TABtouch customers get the power to choose their own special on any Australian or New Zealand race. It's easy – just pick your race, pick your runner and pick your special!
There are three standard SuperPick options. If you think you've found a sure thing, you can boost your odds with Win Boost or even Place Boost to increase your potential return. If you're looking for a bit of safety, you can use the Run 2nd – Money Back option.
Every customer gets one SuperPick per day which can be used on any Australian or New Zealand race. We occasionally offer extra SuperPicks too – keep an eye on the TABtouch website so you're the first to know.
Bet Now
---
SuperPick FAQ
Betting with SuperPick couldn't be easier – but here are some of our most asked questions just in case!
What is SuperPick?
SuperPick allows you to choose your own racing special from a range of options. TABtouch customers get one SuperPick per day to use on any Australian or New Zealand race.
Is SuperPick Available to Everyone?
SuperPick is available to eligible TABtouch account holders only. SuperPick cannot be activated by customers residing in NSW.
What Races Is Superpick Available On?
All Australian and New Zealand races where a fixed odds 'final field' market is available. SuperPick can only be used on win and place markets.
How Is SuperPick Activated?
Once you've made a selection for a race, a menu with your SuperPick options will appear.
How Do I Know How Many SuperPicks I Have Available?
Your SuperPicks will appear once you have logged in. For desktop users, this information will be located at the base of the bet slip. Mobile users will find their SuperPick under the "My Bets" menu.
Can I Use SuperPick on a Future Race?
SuperPick can be activated on any fixed odds 'final field' market that is open for betting, including pre-post markets for future race days.
What Specials Can I Choose From?
The following three SuperPick options will form the standard offering for general Australian races (subject to field size).
Win Boost
Place Boost
Run 2nd Money Back, up to $25
Can I Use Multiple SuperPicks on the Same Race?
You can only use one SuperPick on any given race.
What Happens If a Runner Is Scratched?
If your horse is scratched your SuperPick will be reissued (as long as the race is on the same day the play was activated). For a full list of conditions please refer to the Terms & Conditions.
If a SuperPick Is Successful, When Do I Receive My Payment?
You will receive your winnings as soon as the dividends on the race are released.
When Does SuperPick Reset?
SuperPick resets at 12am WST daily.
Can I Save up My Superpicks?
Each SuperPick must be used the day it is allocated and will expire at 11.59pm WST.
---
Bet specials exclude NSW, SA and VIC residents. Terms and Conditions apply. For a full list of offer Terms and Conditions, visit TABtouch.com.au/specials.