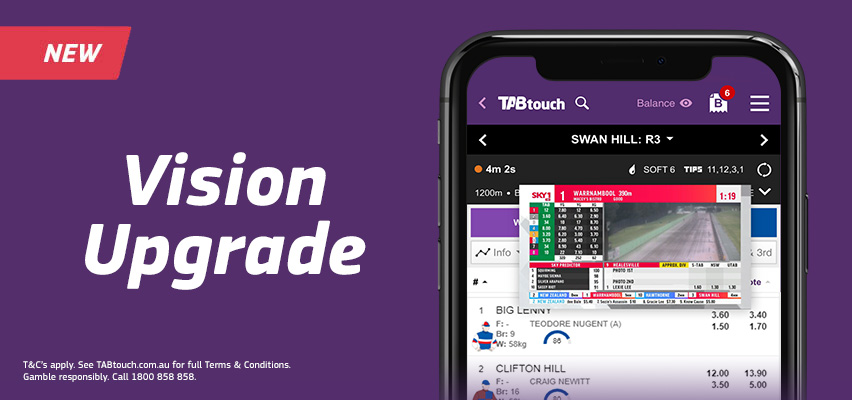 Your TABtouch experience just got even better with our latest upgrade to the Vision player!
With the new Picture-in-Picture feature, you can now place your bets as you stream live racing on SKY 1 or SKY 2.
The upgraded player is available for existing customers on our iOS and Android TABtouch apps, and on tabtouch.mobi.
How do I access Vision?
Vision can be accessed from the home page by clicking the "Watch" button found at the bottom of the screen.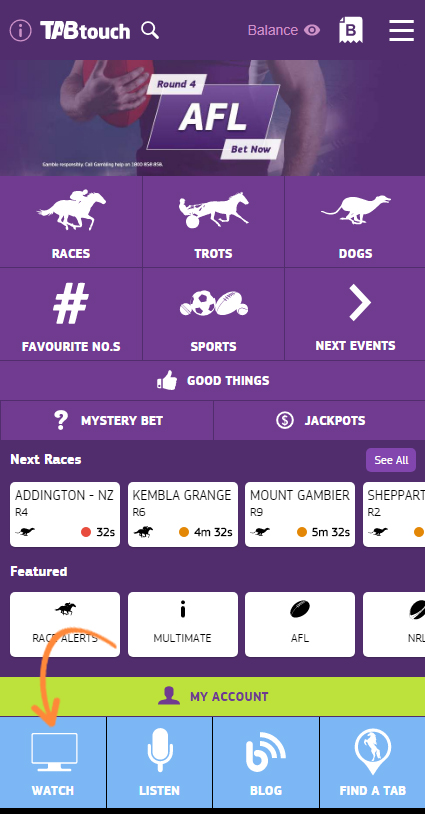 The player will pop-up and be launched on mute. If you want audio switched on, simply unmute the video using the volume icon located bottom left of the player.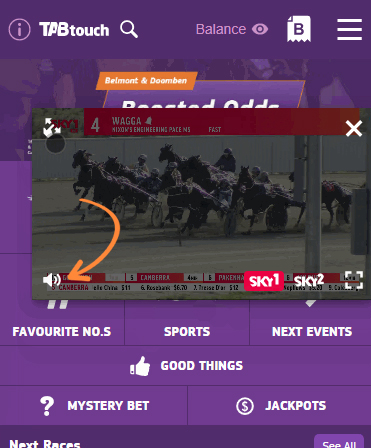 Using Vision
So that you can place your bets easily while a race is streaming, our upgraded Vision lets you to resize and move the player around, as well switch channels.
Resizing your player
Select and drag the icon on the top left of the player until it is adjusted the size of your liking. Alternatively to watch Vision on full screen, tap the full screen icon at the bottom right of the player.
Moving your player
To move your player around the screen, tap the player and drag it to your desired position on the screen.
Channel Selection
Channel Selection is available at the bottom right of the player where you can select between streaming SKY 1 or SKY 2.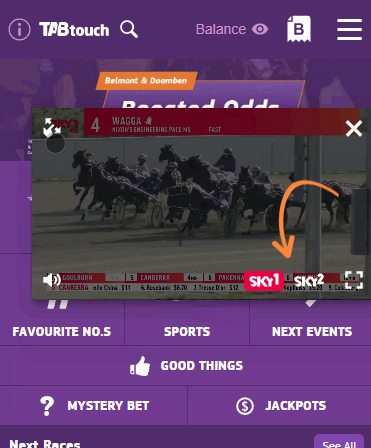 FAQs
Why did I not get the upgraded Vision Player?
This upgrade will be rolled out to all customers and will require a minimum app version of 2.0.17 for iOS, and 2.0.16 for Android.
If you haven't received the upgrade, check your latest app version by selecting "More" at the bottom menu of the TABtouch app.
If your app requires an update
For iOS users: Open up your App Store and select Updates, and look for TABtouch.
For Android users: visit https://www.tabtouch.mobi/Content/landing/bet-mobile to install the latest app version.
If you are require further assistance with an update or checking your app version, please contact our Customer Management Centre for assistance on 1300 36 36 88.
What is Vision?
Visit our Help Page to learn more about SKY Vision and Replays