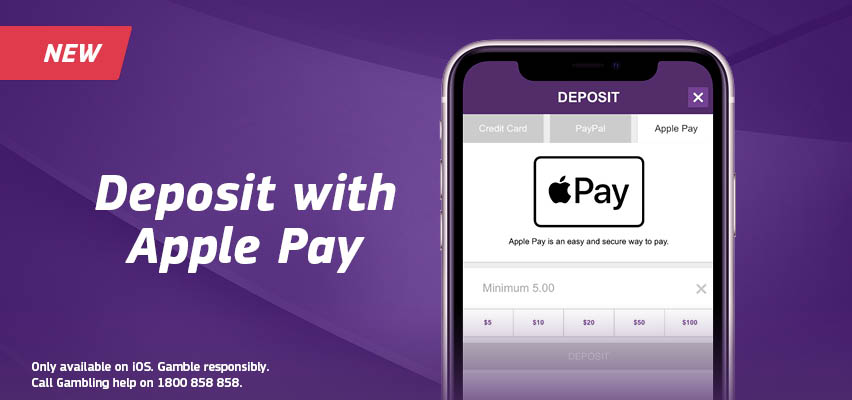 Deposits
Deposits to your TABtouch account can be made via Credit Card, Apple Pay, PayPal or BPay.
Accessing Your Deposits Page
You can deposit via PayPal and Credit Card when logged in online.
If you're on our app or mobile site, open up the main menu on your TABtouch account and select the green Deposit button at the top of the page.
If you're on our desktop site, select My Account on the top right hand corner, followed by Account Deposit.
Credit Card Deposits
Credit Card deposits are instant and available for both Visa and MasterCard.
TABtouch customers have a daily Credit Card limit of up to $500 which increases to $1,000 after your account has been open for 3 months.
We do not charge fees for Credit Card deposits but your financial institution may charge cash advance fees directly to you or prevent wagering related transactions.
Apple Pay Deposits
Apple Pay offers an easy, secure and private way to pay on iPhone and iPad without physical card or cash.
You can link credit / debit cards for online payments.  Please note, not all banks permit Apple Pay at this time.
To remove Apple Pay from your TABtouch account please contact our Customer Management Team on 1300 36 36 88.
You may need to further verify ownership of your bank account or credit/debit card with Apple Pay.
PayPal Deposits
PayPal deposits are and instant, secure and free way to deposit funds into your account.
You can link a credit/debit card and/or bank account to your PayPal wallet for online payments.
Find out how to set up your PayPal account here or view PayPal's help page on how to link a bank account or a credit/debit card.
BPay Deposits
BPay deposits are not instant with a next working day clearance for transactions made prior to 12pm AWST (Monday to Friday).
Biller Code: 1214
Reference number: Your TABtouch account number
Cash Deposits
Please note cash deposits are currently unavailable until further notice.
---
Withdrawing Funds
EFT Withdrawals
EFT withdrawals are credited directly to your bank account. You can do this via your TABtouch account or by calling the Customer Management Team on 1300 36 36 88.
To use this service you will need to provide your BSB and account number.
Please note that your bank account must be in the same name as your TAB account. Proof of bank account details may be required.
Transfers can take 24 hours or more depending on your nominated bank account.
Cash Withdrawals
Please note cash withdrawals are currently unavailable until further notice.
For further help contact the Customer Management Team on 1300 36 36 88 or contactus@tabtouch.com or visit our full Deposits and Withdrawals help page.